2012 Olympic Games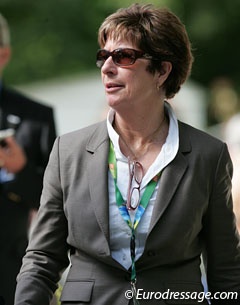 There are a number of ways one may represent one's country at an Olympic Games, and sometimes a person's devotion to the sport they love can open up new and exciting avenues outside the arena. Australian judge Mary Seefried, chair of the Australian Judges Committee, has been appointed reserve judge for the 2012 Olympics in London.
"I was first a dressage competitor at both state and national levels, and also early on, competed in both jumping and eventing," says Mary Seefried.
"However when my family and professional life became so busy I could not continue competing, and I especially could not find the time needed for training. So I decided to put my commitment into becoming a dressage judge and volunteer committee worker at state and national level. I became a national dressage judge during the 1970's and attended my first FEI course in 1975 in Denmark. I was made an accredited 4* FEI judge in 1983, and a 5* judge in 1998."
Selected as reserve Judge at this year's LONDON Olympics, Mary is one of just 8 judges from around the world who will be offered gold class seats as the world's best dressage pairs ride it out for the golden spot!
"I am of course very excited about watching the dressage competition. It is going to be a close competition and much more open than in previous years. The standard is so high now, with very good riding and excellent horses. It is great to see that in London the equestrian events are one of the first sold out, and will have some of the biggest crowds of any sport."
As one of the major highlights of her judging career, I wondered how judging at an olympic event is different to other 5 star competitions?
"The Olympic Games is the pinnacle of the dressage sport and as a judge you are part of an enormous sporting structure and event - one sport amongst all others, so it has a very special feel. I will never forget judging at the Sydney Olympic Games in 2000. When the Olympics came to Sydney it was even more special , as the teams travelled all the way to Australia. It was the first time that Australians were able to watch such a high quality dressage event without having to fly out of the country to Europe. The stands were packed with 15,000 enthusiasts and in hindsight I am sure it inspired many riders to create new goals, including those who are now representing Australia in dressage."
As the only Australian ever to judge at an olympic games, Mary is not only dedicated, but certainly has that something extra that the world's elite judges require.
"A good judge needs to be technically proficient, able to focus almost automatically, judge each movement of each test, and remain as consistent as humanly possible throughout the competition. A top judge must learn to shut out subliminal influences. Of course it is also important to practice the judging skills often, and be very involved in the sport....One must keep up with the developments in the sport and in dressage judging itself."
Devoting so much of her life to the dressage community, Mary was made Chair of the national Judges Committee and remains the first and only Australian ever to judge the Grand Prix dressage at an olympic games, after her role as one of the core 7 in Sydney.
The Committee allows Mary to expand her knowledge into sports outside Equestrian, as the sporting bodies help one another to find solutions to problems that are often universal!
"The role of the Committee is to establish policy and standards for technical education and accrediting official dressage judges in Australia. The accreditation of Dressage Judges falls under the National Officiating Accreditation Scheme conducted by the Australian Sports Commission so our dressage judging officials are part of a national sports officials scheme. Opportunities arise for interaction and dialogue between sports – often having specific courses where officials from many sports can meet together . Those judges who attend are always surprised by the degree of commonality in the issues that arise as a sports official, when they may have previously thought of themselves as being very different and isolated."
To be selected for London, Mary had to of course be a 5 star judge, and then also be amongst those listed on the FEI long list of names for Championships and Olympic Games, in conjunction with the FEI dressage committee and other stakeholders.
"The actual selection is a draw in front of FEI Legal department officers, keeping in mind the requirement that the judges of the ground jury must all come from different countries," says Mary.
Once selected the seven person team were united at various events throughout the year, hoping to forge a relationship and make sure all the judges were on the same page.
"The preparation with the other 7 judges has gone very well and there has been a good collegial team spirit developing."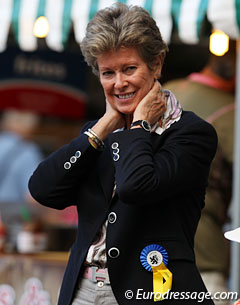 With just two 5* judges in Australia, the other being Susie Hoevenaars, Mary is clearly paving the way for future Aussie judging representatives, and can hopefully inspire others to see judging as both a rewarding and challenging experience.
"I must confess I enjoy the challenge of getting it "right" and I enjoy being part of the judging teams. In addition, the best dressage is truly inspiring and I can think of a number of performances I have felt privileged to judge. At a national level here in Australia I enjoy being a mentor to our riders through the judging and assessment process and seeing the sport develop."
But to encourage more dressage enthusiasts to follow Mary's path, the olympic judge says the motivation must be both active and easily accessed.
"The first encouragement should be at the national level – each nation needs to work on developing accessible programs for educating their dressage judges to the highest standard, providing collegial support for them as a group, especially in the face of what can sometimes be strong criticism from the press and riders. A fast track for suitably motivated and skilled state and national level riders should also be considered. Then the best national judges need to be supported to step into the accreditation process, and become an international official, accredited by the FEI."
Judging under the half point system for over 12 months, Mary is now in favour of its introduction, and says she does not believe it has made judging any more or less difficult.
"I think the half point system allows a finer granularity of ranking, but the warning is it should not be used to avoid commitment as a judge!"
However, the other recent controversial issue over the visibility of a running score board is something that Mary agrees should be left out.
"Judges must focus on their job of judging each movement, of each test. The score board must not become a distraction. It is really for the audience and preferably it should not be able to be seen by the judges."
Hoping to continue her Judging career long into the future, Mary has already seen the dressage world evolve, and with the constant advancements in horse breeding, says it is set to keep on improving.
"I plan to judge internationally for several more years, and nationally would like to keep going as long as I am able – I enjoy giving back, and participating in the sport. Over the years it is the development of the horse quality through selective breeding, not just in Europe but in North America and Australasia, that has strengthened the sport of dressage so much. The technical quality of the riding has also improved across a broad cross section of riders, and from a greater number of countries. Dressage has truly become a sport through the series and competition structure now led by the FEI – just think, at this Olympics there are more nations being represented in dressage than in Eventing. That is a huge milestone for the sport!"
However every sport has its areas of weakness, and every horse lover must remember that the health and happiness of their four-legged friend must ALWAYS come first!
"Maybe dressage's greatest negative is to do with becoming a sport, with all the pressures that that can bring; for riders, judges, and trainers alike. We must always think of the welfare of the horse, and ensure that we keep that uppermost in our mind."
With the dressage greats taking the Olympic centreline in less than a month's time, I wondered if, as reserve judge....Mary was secretly hoping for a strategic traffic jam.....?
"I am just happy to be part of the Olympics – whatever will be will be!"
Text by Sarah Warne for Eurodressage.com
Photos © Astrid Appels
Related Link
Ready, Set, Clarke!
Eurodressage On the Scene at the 2012 Olympic Games