2012 European Pony Championships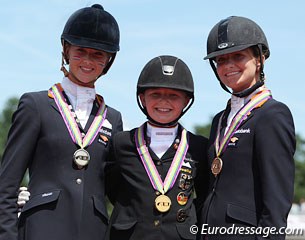 The 12-year old Semmieke Rothenberger forged gold in the Kur to Music finals at the 2012 European Pony Championships in Fontainebleau, France, on Sunday morning 22 July 2012. Aboard her 10-year old German Riding Pony mare Golden Girl Semmieke added a second gold medal to her set of three achieved in Fontainebleau at her second European Championships in her still young career. Dutch Sanne Vos swapped places and earned silver, while Dutch Rosalie Bos grabbed her second individual bronze of the weekend.
The Kur to Music Finals were fun to watch with young, upbeat music being used compared to many stuffy freestyles to be seen at Grand Prix level, for instance. Many kids chose age-appropriate music which fits their ponies, though few of them had real professional productions made to measure their pony's gaits. The quality of riding was again very high, though the individual test class was superior to the freestyle. A few ponies appeared a bit tired and less together even though the music did sweep them into an energetic pace.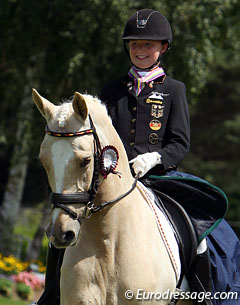 As last rider to go Semmieke Rothenberger held an advantage with the scores of her rivals' known. Her 10-year old palomino mare was very obedient and showed very good differences between medium and extended trot, something was was not so clear with the other top ranked competitors. The trot work flowed, was always in balance and clean in the rhythm. The extended walk was outstanding with good relaxation and two hooves overtrack. The canter tour was well ridden with overall good simple changes, except for one in which there was a loss of clarity in rhythm. However, Golden Girl's canter in the freestyle lacked oomph. The pony fell apart in the collection and became long in the frame, even though she remained obedient. Rothenberger rode to a Joost Peters' arranged freestyle based on music from children tv-shows such as Pippi Longstocking and Maya the Bee.
The panel of judges, which included Stukelj (SLO), Sanders-Van Gansewinkel (NED), Saleh (FRA), Christensen (DEN), and Holler (GER), awarded Semmieke's test 81.975% with Christensen's 79.500% as low score and Holler's 84.750% as high score. Only two judges had Rothenberger on first place, three had placed her second.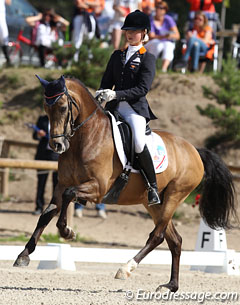 The individual test gold medalist Sanne Vos was again Semmieke's ruling rival for gold and the 16-year old Dutch girl had a wonderful test as well, but just like Rothenberger her individual test ride was superior. In the Kur Vos and Champ of Class were very expressive and energetic with outstanding trot and canter work, but the pair lost track of some details. The halt at entry was not immobile, the half pass right was rushed and also in canter the pony lost some balance in all its forwardness, especially in counter canter. The canter did improve towards the end of the test and the extensions were fantastic. The extended walk was very good with super activity. Overall the simple changes were well executed but one was a bit of a rolling stop. Vos made no mistakes. The buckskin Champ of Class brimmed with energy and bounced off the ground, but in general he is strong in the contact and not really through in the neck. Vos rode to a freestyle arranged by Joost Peeters, based on Italian songs.
The judges awarded Sanne's Kur with 81.750%, which was a fraction less than Rothenberger. However the two could easily have swapped places. Three judges ranked Vos first, two second, but overall they were on the same wavelength with low and high scores ranging between 81.000% (Stukelj) and 82.625% (Holler). The battle for bronze was again between Dutch Rosalie Bos and the Danish Victoria Vallentin and the two were also a hair's breadth apart from one another. While the Dutch rider excelled with her overall expression, the Danish duo stood out with more self-carriage and a better walk.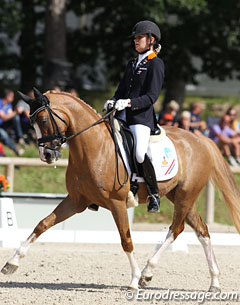 The 16-year Rosalie Bos and the youngest pony of the show, her own 6-year old Paso Double (by Bodo x Inselfurst), showed outstanding trot and and canter extensions. The trot was very cadenced with good ground cover and cross-over in the half passes. The first steps of the half pass right were quite short but the pony improved and traveled more ground. The collected walk was slightly uneven with short and long steps in the front legs, but the walk pirouette was good. The contact was very consistent but Paso Double could be slightly lighter in the bridle. One simple change was short behind and the quality of the walk in the simple changes deteriorated towards the end of the test. Paso Double was always active and engaged from behind and is impressive to watch in the show ring. The end halt was not square nor immobile. Bos brought no original music of herself but re-used Dana van Lierop's 4-year old freestyle for Equestricon's Lord Champion with songs by Natalie Imbruglia and U2.  Bos scored 78.125 % to rank third and all judges were in unison with one another.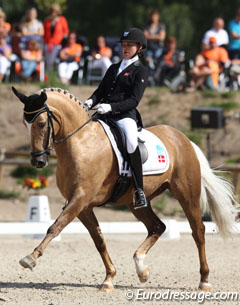 For Danish Victoria Vallentin it was a bitter pill to swallow when she ranked fourth with 78.100%, just 0.026% short of bronze. Vallentin and her dark palomino mare Natalina started off strongly with a good halt at entry and a very regular and well-carried trot. Vallentin rode beautiful simple changes. The extended walk had good overtrack but could have been more relaxed. Vallentin had quite a high degree of technical difficulty in her test with a transition from canter straight into a walk pirouette. The end halt was against the bit though as the mare was distracted and lifted her head. The contact was good and the mare was a bit more out with the nose as in previous test she was held behind the vertical. There is still room for improvement in the head position though, but overall Vallentin and Natalina had a wonderful test and medal would not have been wrong for this pair.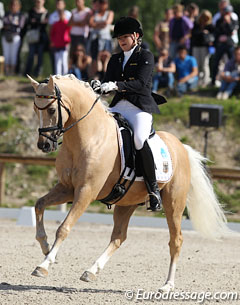 German Anna Christina Abbelen and the palomino gelding Dornik's Donovan completed the top five with a 76.925% score. Abbelen rode to very becoming music with lovely troubadour, mediaeval tunes. Only the use of the barchime was totally exaggerated in every single transition. Dornik's Donovan often moved synchronous to the music, especially in the trot extensions. The lateral movements in trot were good but the gelding tends to get a bit stiff in his legs, losing elasticity and flex in the limbs. The walk could have been more active and in the extension the ground cover was good but the rhythm should have been clearer. Abbelen had her pony nicer in the bridle today.
At the press conference the three medal winning riders were proud of their achievements and looking forward to some celebration and a holiday upon their return home. Rothenberger confirmed that in her opinion Golden Girl improved each day. "She went really well in the warm up and today especially the extended canters were very good," she said. "She felt even a little better today. She really worked with me." With a big set of medals achieved at two European Championships in the past two years, Rothenberger refuses to put pressure on herself for next year. "I will just do my best again next year. I don't want to ride with pressure. I don't have to win a medal. It's nice to win but not necessary."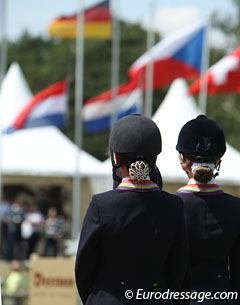 Sanne Vos raked in two silver and one gold medal at the 2012 European Pony Championships and will make the transition to junior riders level in 2013. She was pleased with her last international ride on Champ of Class, who will be moving to new owner Lisanne Zoutendijk in four weeks. "I had a great feeling in the ring," Vos said about her freestyle. "He was nice and loose and on the aids. I did choke up when I rode my final centerline on Champ," she admitted.  Sanne explained that she has already been riding three horses; two of her own and one of her trainer Coby van Baalen.
For Bos the 2012 Pony Europeans were her last as well. With no horse yet at her disposal the family is contemplating selling Paso Double to be able to acquire a horse for Rosalie or keep the pony for her youngster sister Evelyn but leaving Rosalie's future on horses uncertain. Bos was super pleased with her second bronze of the weekend. "I'm very content," she told Eurodressage. "He was really nice to ride. I was able to ride the trot even more but lost a few points in canter. I was first ranked fourth and then the points were changed and I became third. It was very thrilling for me and it's fun to go home with three medals."
Text and Photos © Astrid Appels - No reproduction allowed
Show Photography - Eurodressage's Astrid Appels is on the scene and took photos of ALL riders competing at the Championships. if you are interested in ordering photos, send us an email with the name of the rider/horse you are interested in. Serious request only please
Related Link
Eurodressage Coverage of the 2012 European Pony Championships
Scores 2012 European Pony Championships