2012 Olympic Games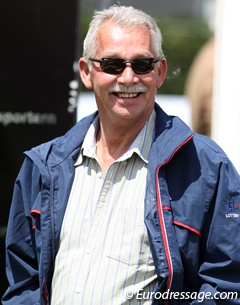 President of the Ground Jury for the upcoming London olympics, Stephen Clarke and his team are busy preparing for their difficult, yet rewarding task, of deciding who will take home the gold!
"I can still remember Eric Lette (previous Chairman of the FEI Dressage Committee) once joking about the definition of a dressage judge....." says Stephen. "He put it very well...that a dressage judge is the person that all the riders say 'good morning' to, but only the winner says 'good evening'!"
With the games kicking off in less than a month's time, Clarke says the feeling in London is one of great excitement, despite some negativity in the press.
"There is a general feeling of optimism right throughout London, and thankfully the negativity we are witnessing is NOT from the equestrian press. It's instead, the general press, and their commentary regarding potential security/ transport problems etc. It's just the usual disappointing British gutter press....gloom and doom stuff… You sometimes get the feeling that they actually want the Games to fail rather than succeed....It makes me mad!"
General press aside, the dressage world; riders, judges, horses, supporters...are staying focused and positive... ready to be welcomed by a world class stage!
"The Equestrian events in London will have perfect facilities, with fabulous views of the city," says Clarke. "And hopefully these venues will be host to the highest level of dressage ever witnessed at an Olympic Games!"
Having scored gold class seats as the world's top dressage riders take to the arena, Clarke says his team are well acquainted, and fully ready to take on the challenge ahead.
"We have been judging many major competitions together all year and have already a very good "team" feeling amongst us."
But to ensure the team are all on the same page, the judges must meet not only on, but off the dressage arena.
"At every show where we officiate together we have several formal and informal meetings, in order to focus our thoughts, with the aim of ensuring we all prioritize the same criteria."
With seven judges, including Clarke, being selected for London, I wondered what would happen if one of them was....stuck in traffic?
"We have chosen a reserve judge in case one of us gets sick.....Mary Seefried of Australia is the Reserve Judge, and has been included already in all discussions."
After the recent controversy over displaying the running total on a scoreboard during the test for all the judges to see, Clarke is glad London will not be working with this system!
"Nothing will be visible to any of the judges during the tests. For each of us, our task is to judge each and every exercise as we see it. I am very happy not to have any outside distractions."
However, the other recent controversial decision to introduce a half point judging system, will be incorporated into the olympic format, and hopefully IF USED CORRECTLY, will help to effectively rank the world's top dressage pairs!
"I think half points are ok, as long as they are used appropriately, and not as something to avoid commitment."
Clarke says there is lots to enjoy about Judging, and whilst there are some negatives, judging at an olympics is like being offered a first class VIEW of the action!
"There is lots of excitement, seeing wonderful performances close up. In fact we do have the best seats in the house! I also enjoy the challenge of "getting it right" and being fair to every rider by scoring as correctly and as accurately as possible, every single movement of the test. I do however dislike some of the negativity that surrounds our role as judges, but we as experienced judges are used to that, and are able to handle the pressure without taking any criticisms personally."
And as for the crystal ball question that is on everyone's mind.
"As President of the Ground Jury I cannot tell you who will be the nation and horse to beat... I'm afraid I have to say "no comment!""
By Sarah Warne for Eurodressage
Photo © Astrid Appels
Related Link
Eurodressage On the Scene at the 2012 Olympic Games