2012 European Junior and Young Riders Championships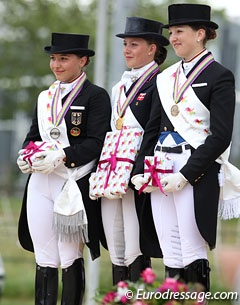 FEI press release -- Dana van Lierop was the show-stopper as The Netherlands scooped all gold in the Junior division, while Denmark's Cathrine Dufour recorded a Danish double in the Young Riders at the 2012 European Dressage Championships for Young Riders and Juniors, which drew to a close in Berne, Switzerland today.
Germany, so dominant when claiming five of the six titles on offer in 2011, took just a single title this time around when topping the Young Rider Teams.
The Championships were staged at The National Horse Centre of Switzerland, a green oasis in the heart of Berne with stabling for over 200 horses, outdoor and indoor arenas, and facilities for a wide range of equestrian activities including Driving, Jumping and Eventing.  The Centre previously played host to this same fixture 18 years ago.
The sport of Dressage has gone from strength to strength since then, and a total of 52 competitors from 17 nations lined out this year.  The countries represented were Austria, Belgium, Belarus, Czech Republic, Denmark, Spain, France, Great Britain, Germany, Greece, Hungary, Italy, Netherlands, Norway, Poland, Russia, Slovenia, Switzerland, Sweden, Turkey and Ukraine.
JUNIORS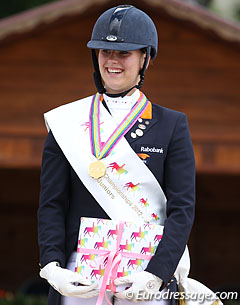 The Netherlands threw down the gauntlet when pipping Germany for Junior Team Gold.  Dana Van Lierop registered the highest score of the team competition with her 11 year old gelding DJ Tiesto - judges Freddy Leyman (BEL), Hans-Christian Matthiesen (DEN), Gustav Svalling (SWE), Beatrice Burchler-Keller (SUI) and Ghislain Fouarge (NED) awarding her a mark of 77.405.  And when this was added to 72.081 for Anotoinette ter Riele (Ziggy) and 71.973 from Suzanne van de Ven (Donna Gracia) - Jeanine Nieuwenhuis and Hexagon's Baldacci's 67.703 providing the discard - then the Dutch completed with a 2.78 point advantage over their German rivals while Denmark claimed the bronze another 11.73 marks further in arrears.  There were 13 countries in the Junior section, and it was the Belgians who just lost out on a place on the podium when just over a point behind the Danes.
Van Lierop then went on to take the Junior Individual title with a high score of 80.000 awarded by Mr Fouarge.  In a class of 58 runners, the 17 year old rider who took Freestyle gold at the FEI European Pony Championships in 2011 showed just why she felt so confident about moving up a grade this season with the family-owned horse she has been competing for the last two years.  She burst into tears when she realised she had taken Individual gold.  "It's unbelievable!  I never expected to do so well because all the best riders are here and they are in great shape!" said the young lady who was already qualified for Junior level last season but who, wisely, opted to remain in Pony competition instead.
Her score of 77.184 this time around left her more than two points ahead of silver medallist Vivien Niemann who steered Wirsol's Cipollini to a mark of 74.711.  And it was Niemann's German team-mate, Vivian Scheve, who slotted into Individual bronze medal position with Bellheim on a score of 74.184.
Today's Freestyle victory was the icing on the cake - DJ Tiesto awarded the No. 1 spot by four of the five judges as van Lierop marched to the top of the line-up with a score of 81.850.  The silver and bronze medals were reversed this time out - Germany's Scheve standing on the second step when pinning Niemann into bronze as only 0.1 points separated them.  And, in a repeat of the Individual result, it was The Netherlands' Antoinette ter Riele and Ziggy who finished fourth.
Dutch Chef d'Equipe, Tinneke Bartels, said her Junior team's success was "quite unexpected".  She added, "I'm over the moon, a year ago we struggled but we've made great progress and the girls having been working extra hard over the last few months".
YOUNG RIDERS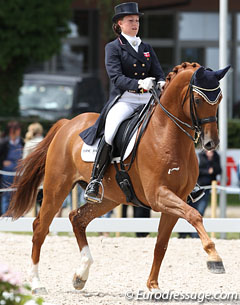 Last year, the talented Sanneke Rothenberger led a German whitewash of the Young Rider medal table, but it would be a different story this time around. Rothenberger produced the second-highest score in the Team event when racking up 75.026 with Wolke Sieben.  When combined with 74.105 from Charlott-Maria Schurmann (Burlington) and 72.842 from Florine Klenbaum (Don Windsor) as Louisa Luttgen's (Habitus) 70.868 provided the discard score, this was good enough for a clear German victory.
But it was no fluke when Denmark's Cathrine Dufour produced the leading score of the Team competition with 76.290 from the exciting eight-year-old Atterupgaards Cassidy.  After joining team-mates Nanna Skodborg Merrald (Millibar), Andreas Kragekjaer (Rozo Soneca) and Rikke Lindberg (Rigoletto) to take the silver ahead of The Netherlands in bronze, Dufour settled into a comfort zone that resulted in a sensational winning score of 84.925 in today's Freestyle.
The 20 year old, who is in her second year at Young Rider level, took Team and Individual Silver as well as Freestyle bronze at the 2011 European Championships and, as her trainer, Rune Willum, points out she, and her young horse "make an incredible pair - they fit so well together".  Yesterday the Danish duo scored 78.816 to pip Charlott-Maria Schurmann and Burglinton for Young Rider Individual gold while Rothenberger and Wolke Sieben claimed the bronze.
But today, the performance of Atterupgaards Cassidy was even more overwhelming as judges Freddy Leyman (BEL), Isobel Wessels (GBR), Dr Dieter Schule (GER), Dr Vincenzo Truppa (ITA) and Adriaan Hamoen (NED) were in complete agreement about their Freestyle champion - Dr Truppa awarding a massive 87.500 for an exceptional display of symmetry between horse and rider.
Germany took silver and bronze, Schurmann (Burlington) enjoying a single-point advantage over Florine Klenbaum (Don Windsor), while Rothenberger finished just outside the medals in fourth.
"I was a bit cautious at the beginning of my test but then it got better and better and I was very happy in the end - we made no mistakes" Dufour pointed out.  "I was so happy I nearly fell off with the excitement - this is a dream come true!" added the rider who has firmly underlined the rising fortunes of Danish dressage.
-- by Louise Parkes for the FEI
Photos © Astrid Appels - NO reproduction allowed! (The big Eurodressage report is coming on Monday!)
Show Photography - Eurodressage's Astrid Appels is on the scene and took photos of ALL riders competing at the
Championships. if you are interested in ordering photos, send us an email with the name of the rider/horse you are interested in. Serious request only please  
Related Links
Scores 2012 European Junior and Young Riders Championships
Eurodressage "On the Scene" at the 2012 European JR/YR Championships