2012 European Junior and Young Riders Championships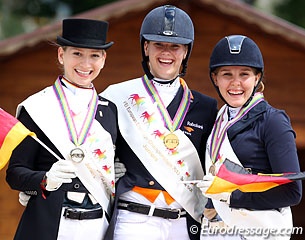 Dutch Dana van Lierop won her second individual gold medal and achieved a hattrick at the 2012 European Junior Riders Championships held at the Swiss National Equestrian Federation in Berne, Switzerland. Van Lierop topped the leader board in the Kur to Music Finals on Sunday 15 July 2012 to cap off an incredibly successful Championships after having won team gold as well as individual test gold. Van Lierop was sandwiched on the podium by German silver medallist Vivian Scheve and bronze medallist Vivien Niemann.
The Junior Riders Kur to Music kicked off on Sunday morning at 9.30 AM. The entire week the show was blessed with the most amazing weather - 21° C of sunshine with some clouds - despite horrendous weather forecast predicting rain every single day. Only on Sunday morning three riders rode their test in a rain shower, but that's all the wetness the riders had to brave during five days of competition.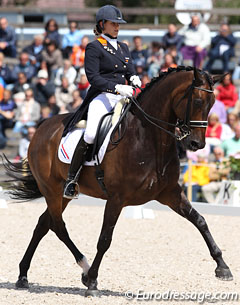 The 16-year old Dana van Lierop and her impressive dark bay Dutch gelding DJ Tiesto (by Rohdiamant x Nocturn) performed to new music by Charles Monterie added to her old choreography. While the trot music was a bit overwhelming, horse and music seemed to match more in canter. In his third test at the Championships, DJ Tiesto continued to appear obedient and eager to please his rider. The flying changes were huge and uphill, even though one change after the extended canter was in two phases. The trot work was flowing with beautiful half passes. Only in walk the combination lost some points as the collected walk was slightly tense and became lateral. The extended walk was excellent but could have been a bit fresher off the leg.
The judges panel, which included Lang, Burchler-Keller, Fouarge, Svalling, and Matthiesen, scored Van Lierop's test a massive 81,150%. Four judges placed her first, one second, but overall they were quite unanimous in their scores. Van Lierop is coached by her mom Nicolette van Leeuwen.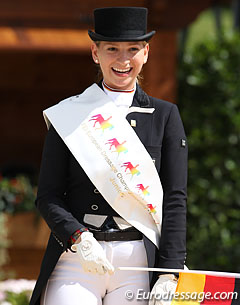 Vivian Scheve swapped places with her team mate Vivien Niemann on the podium for the kur to music. The elegant 17-year old rider, who is trained by Hermann Gossmeier, rode her 7-year old Westfalian gelding Bellheim (by Belissimo M x Warkant) with much pezzazz. While her music was quite monotonous, the horse shone brightly. The impressive bay mover, who reminds one of Rembrandt, executed wonderful lateral trot work and powerful extensions. The horse was always up in the bridle but could still improve on the self carriage.  There was a small mistake in the rhythm in the final extended trot. In canter the horse made good flying changes but could be a bit more uphill in general.
Scheve's score of 78.350% and silver medal winning second place were earned. Her low score was 75.875 (Matthiesen) and her high score was 80.375 (Fouarge).
German 18-year old Vivien Niemann finished in third place on her Hanoverian gelding Cipollini (by Compliment x Western Star). The bright bay gelding appeared a bit less fresh in the kur even though the trot work was elegant and smooth. In the collected walk the horse had to be a bit quicker from behind and fresher in the extended walk. Riding to Lady Gaga music, Niemann had an interesting floorplan with a high technical difficulty in riding the counter canter. This also posed some problems as there were hiccups in two flying changes. Niemann rode a very nice small serpentine across the centerline with alternating flying changes and counter canter.
Niemann scored 78.250% for her ride with marks ranging between 74.450 (Svalling) and 81.625 (Fouarge). German co-team trainer Olivier Oelrich was very pleased with the two German medals. "Vivian's kur was more simple and therefore mistake free. Vivien's was clearly more difficult which caused her to make a few mistakes," Oelrich explained. "In the end it's all a matter of taste."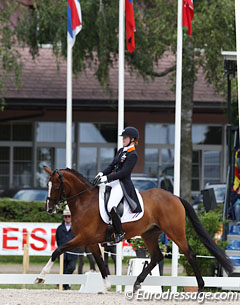 Dutch Antoinette te Riele and Diederik Wigmans and Leida Collins' 7-year old Dutch mare Ziggy (by Riverman x Flemmingh) finished fourth. The former European pony champion used music featuring quite a lot of lyrics, which is a new trend that seems to catch on in the sport. The combination started off strongly. Their transitions between shoulders-in and halff passes were seamless and the horse never lost its balance. The entire trot tour, which is supposed to be ridden in collected trot, was a bit too forward and was done in medium trot. The extended walk was very good with solid overtrack even though the nose of the horse could have been more out. Ziggy tends to be held a bit behind the vertical with her nose, especially in canter. The flying changes were well done and the canter half passes covered much ground.  The pair scored 77.200%.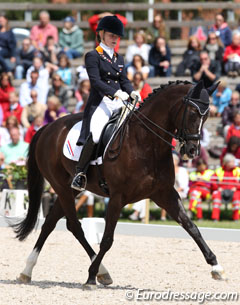 Dutch Suzanne van de Ven was the last rider to go in the class and slotted in fifth with a score of 76.450%. Aboard Stephanie Peters' 16-year old Rhinelander mare Donna Gracia (by Donnerschlag), van de Ven stood out with her very accurate and clean riding. The trot work was flawless. The mare produced amazing ground cover in the traversal movements and extensions but could have been slightly lighter in the hand. The canter work, which was unfortunately ridden to the beaten to death Pirates of the Caribbean music,  had many fluent transitions between the half passes, counter canter and flying change. On change at M was not on the aids.
Dutch chef d'equipe Tineke Bartels was very pleased with the achievements of her foursome. "Dana did an excellent job, but that counts for the entire team. With three combinations in the top five we have establed a super team effort. I'm very proud."
Text and Photos © Astrid Appels - No reproduction allowed!!
Show Photography - Eurodressage's Astrid Appels is on the scene and took photos of ALL riders competing at the Championships. if you are interested in ordering photos, send us an email with the name of the rider/horse you are interested in. Serious request only please
Related Links
Scores 2012 European Junior and Young Riders Championships
Eurodressage "On the Scene" at the 2012 European JR/YR Championships