2012 Olympic Games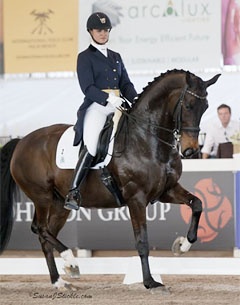 The United States Equestrian Federation (USEF) named its 2012 Olympic Teams in Dressage, Eventing, and Jumping. The USEF will field three full teams in the disciplines of Dressage, Eventing, and Jumping. These teams are comprised of a mix of veterans and rookies, men and women from across the country with 17 Olympic Games between them.


The 2012 U.S. Olympic dressage team includes:
Jan Ebeling (Moorpark, CA) on Amy Ebeling, Beth Meyers, and Ann Romney's Rafalca
Tina Konyot (Palm City, FL) on her own and John Byrialsen's Calecto V
Steffen Peters (San Diego, CA) on Four Winds Farm's Ravel
Individual:
Adrienne Lyle (Ketchum, ID) on Peggy Thomas' Wizard
Jan Ebeling rides Rafalca, who has kicked off a pop-culture sensation on the Colbert Report - the attention largely due to one of her owners, Ann Romney (wife of Mitt Romney, Republican Presidential candidate). Romney owns the horse in conjunction with Beth Meyers and Amy Ebeling. They have represented the U.S. three times at The FEI World Cup Final.
Steffen Peters was fourth individually at the 2008 Olympic Games on Ravel, who was then an unknown entity. Four years, two World Championship Bronze medals, and a Rolex/FEI World Cup title later - Peters will try to add to those accolades with the Four Winds Farm's legend. Peters' will ride alongside one of his teammates from the 2010 Alltech FEI World Equestrian Games, Tina Konyot. She returns to the U.S. Team with Calecto V, a Danish Warmblood stallion co-owned by Konyot and John Byrialsen. This pair won the 2010 USEF National Grand Prix Dressage Championship and finished runners-up this year (and last) behind Peters and Ravel and Legolas  respectively.
Adrienne Lyle has come up under the tutelage of American dressage icon Debbie McDonald in Idaho. McDonald rode at the last two Olympic Games and has produced Lyle into the next generation of winners. Lyle rides Peggy Thomas' Wizard, a horse started by McDonald but finished by Lyle in her first Olympic Games. They will ride as Individuals.
Photo © Sue Stickle
Related Links
U.S. Olympic Dressage Team Takes Shape at 2012 U.S. Championships
Eurodressage On the Scene at the 2012 Olympic Games