New Zealand Dressage News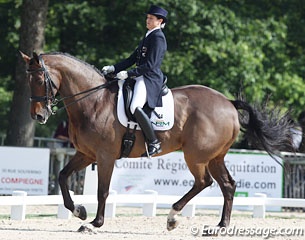 A last minute effort by New Zealand's Vanessa Way to qualify for the 2012 Olympics has failed due to health issues. The opened-up individual Olympic spot will most likely go to Finland pending FEI approval.
Vanessa Way and KH Arvan had hoped to join New Zealand country mate Louisa Hill in the dressage at the 2012 Olympic Games in London. However on 6 July Way had to withdraw from the CDI Hartpury, which was to be her last chance at notching the necessary qualifying scores.
It's been a tough few weeks for Way, who also recently lost her father. Arvan has been dogged with health issues since he arrived in the United Kingdom in the spring of 2012 and has turned unsound again despite having competed at the CDI Compiegne begin June. Way made the very tough decision to withdraw him from the competition at Hartpury.
 
"This heartbreaking decision was not made lightly. The horse had been working well in the build-up to the show, but went slightly lame on Tuesday during a lesson," Way explained. "We localised the pain to being in the foot and after many hours desperately poulticing and icing under veterinary and farrier advice, have failed to improve him enough to compete."
The 39-year-old campaigner who moved to the UK early this year to base herself with world-class dressage rider Carl Hester, will now shift her focus to the 2014 World Equestrian Games held in Caen, France.
"What doesn't kill you makes you stronger," she said, extending a heart-felt thanks to the many who have supported her in their Olympic quest.
As Way is unable to fill up the Olympic spot New Zealand earned by winning the Region F/G Olympic Selection trials, a slot has opened up for the next country on the reserve lists, Finland. This spot will most likely be taken by Emma Kanerva, but this still has to be confirmed by the FEI.
Photo © Astrid Appels
Related Links
Australia and New Zealand Qualify for 2012 Olympic Dressage
Vanessa Way's Final Attempt to Qualify for the 2012 Olympics at CDI Hartpury
Eurodressage "On the Scene" at the 2012 Olympic Games