Westfalian Breeding News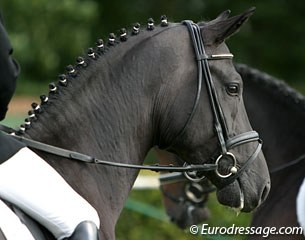 The 2012 German Foal Show season has almost come to a conclusion with the weekend of 29 June - 1 July as final occasion to qualify for the German Foal Championships in Lienen. Furstenball, San Amour, Desperados, Foundation, Chinook, Quaterback, Fidertanz, and Daily Deal were the sires of the winning foals.
The breed society of Hunsrück-Rhein-Nahe-Mosel in Bärenbach, Germany, held their foal show on 29 June 2012. The winning filly is bred by Franz Martin Steinfelderhof and is by Furstenball out of First Lady M (by Fidertanz). The champion colt there is bred by Gisela Strecker and is by San Amour out of Fribiza (by Frisbee). The colt tied on first place with Schmitz-May's Foundation x Sandro Hit.
The breed society of Grafschaft Bentheim-Emsland in Isterburg held their foal show on 29 June and six foals qualified there for the 2012 German Foal Championships. The winning filly is bred by Gerrit Wittmeyer and is by Desperados out of Rolanda (by Argentinus). Christian Lampe bred the winning colt by Foundation out of Rudilore (by Sandro Hit).
On Saturday 30 June the foal caravan moved to Klosterhof Medingen in Bad Bevensen, where Susanne Gattermann's filly by Chinook x Don Romantic claimed the champion's sash. She tied with Pietscher's Quaterback x Can Can. The best colt was a Fidertanz x Le Primeur, bred by breeding station Up 'n Sande
On Saturday afternoon 30 June Gestut Repetal in Attendorn-Repetal opened its doors to the breeders for their Lienen qualification event. Bianka Krali's Dialy Deal filly out of Fleur de Amour topped the leader board in her gender category. The best colt was bred by Antje Mens-Bussmann and is by Quaterback out of Donna Dänemark.
Results - 2012 Foal Show  - Bärenbach
Fillies
1. Furstenball  out of First Lady M  (by Fidertanz)
Breeder: Franz Martin
2. Quadroneur out of Vedita  (by Diamond Hit)
Breeder: Willi Schneider
3. Now or Newer Mout of Vernet  (by Abke)
Breeder: Jörg Frieserg
Colts
1. San Amour out of Fribiza  (by Frisbee)
Breeder: Gisela Strecker
1. Foundation out of Salome (by Sandro Hit)
Breeder: ZG Schmitz-May
Results - 2012 Foal Show - Isterburg
Fillies
1. Desperados out of Rolanda  (by Argentinus)
Breeder: Gerrit Wittmeyer
2. Silbermond out of  SPS Jazzmine  (by Jazz Rubin)
Breeder: Nel F. Ten Heuvel-de Vries
3. Zardin out of Cileste 2  (by De Niro)
Breeder: Margarethe Strohm
3. Fidertanz out of Antara  (by Alabaster)
Breeder: Josef Albers
Colts
1. Foundation out of Rudilore  (by Sandro Hit)
Breeder: Christoph Lampe
2. Floriscount out of SPS Winni  (by Wolkentanz)
Breeder: ZG Pudenz & Frühling
Results - 2012 Foal Show - Bad Bevensen
Fillies
1. Chinook out of Tobana  (by Don Romantic)
Breeder: Susanne Gattermann
1. Quaterback out of Camilla  (by Can Can)
Breeder: Pietscher GbR
3. Fidertanz out of Donna Mia  (by De Niro)
Breeder: Elisabeth Wegert
4. Don Romantik out of Darina  (by De Niro)
Breeder: Susanne Gattermann
Colts
1. Fidertanz out of Lady Gaga  (by Le Primeur)
Breeder: Zuchthof up`n Sande
2. Destano  out of Abendstern  (by Alabaster)
Breeder: Dirk Hoffmann
3. Fidertanz out of  Elite Mare Scarlett O'Hara  (by Sergeant Pepper)
Breeder: Dr. Hubertus von Tiedemann
4. Fidertanz out of De Nira  (by De Niro)
Breeder: ZG Wernicke
Results - 2012 Foal Show - Repetal
Fillies
1. Daily Deal out of Fleur de Amour
Breeder: Bianka Krali
2. Quidam de Revel out of Fiona (by Fan Holland)
Breeder: Johannes Jacobs
3. Sir Heinrich out of Fly (by Fidermark)
Breeder: Nicole Döblin
4. Vitalis out of Happy Sundy (by Hogwart)
Breeder: Josef Platte
5. L'Espoir out of  VPS Ehrenprathia (by Ehrentusch)
Breeder: Volker Kückelhaus
 6. My Lord Carthago out of VPS Pamina (by Argentinus)
Breeder: Lukas Kückelhaus
Colts
1.  Quaterback out of Donna Dänemark
Breeder: Antje Mens-Bußmann
2. Dankeschön out of Rosi (by Rosenkavalier)
Breeder: Maria Happe
3. Dankeschön out of Doris (by Dancing Dynamite)
Breeder: Katja Boer
4. Viatalis out of Levana (by Levados)
Breeder: Josef Platte
Related Links
Boston, Cancara, San Amour, Destano, Danone, Franziskus Sire Winners at 2012 German Foal Shows
Londontime, Sunday, Franziskus, Arpeggio, San Amour, Furstenball Sire Winners at 2012 German Foal Shows
Dante Weltino, San Amour, Count Up, Might Magic Sire Winners at 2012 German Foal Shows
Furstenball, Don Bolero, Franziskus, Quaterback, Decurio Sire Top Foals at 2012 German June Foal Shows
Benidetto and Romanov Foal Win at First German Foal Show of 2012