Westfalian Breeding News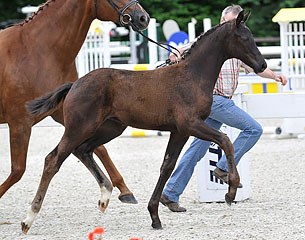 The 2012 German foal show season came to a conclusion on Sunday 1 July 2012 with five final selection events for the 2012 German Foal Championships in Lienen.
The breeders' society Nordbayern/Oberpfalz hosted their foal show at the equestrian centre Behrhof in Moosthenning on Sunday morning. Andrea and Thomas Kaufmann presented the winning filly by Milennium out of Lady in Red (by Ruiz Soler), while Johann and Katja Schmid brought along the winning colt by Boston out of Wildfee (by Fidermark).
A huge group of foals attended the foal show held at Stallion Station Klatte in Lastrup, where Andre Obermeyer's Desperados x Westernhagen filly took highest honour in her gender division. The top scoring colt was Josef Gramann's Fidertanz x Sandro Hit.
The breeders' society of North Hessia held their show in Bad Arolsen on Sunday 1 July and eight foals qualified for Lienen. Two fillies earned the trophy as they totaled the same amount of points. Rudolf and Dieter Turk's Fineliner x Michelangelo and Silke Pelzer's Bretton Woods x Fidermark were the winning fillies. The top scoring colt is bred by Michael Schwarz and is by Sandro Hit x Rubinstein.
At Johann Hinnemann's Krüsterhof in Voerde, Germany, no less than 13 foals obtained an entry ticket for Lienen. The Werth family presented the winning filly, which is by Quaterback x Sandro Hit. Nicole and Peter Gütges bred the winning colt by Den Haag x De Niro.
The Westfalian Trakehner breed society held their foal show at the equestrian centre of the Rhynern riding club in Hamm-Rhynern. Leonard Thiel's Kentucky filly out of State Premium Mare Traumwolke IV (by Arogno) won her gender category, while Luise Bredemeiers' Saint Cyr x Summertime bested the field in the colts' division.
Photo © Tanja Becker
Results - 2012 Foal Show - Moosthenning
Fillies
1. Milenium out of Lady in Red (by Ruiz Soler)
Breeder: Andrea & Dr. Thomas Kaufmann
2. Christ out of Din Frederica (by Don Frederico)
Breeder: Steffi Hummer
3. Boston out of Schöne Maid (by Show Star)
Breeder: Steffi Hummer
4. Destano out of SP Prime Time II (by Rubin Royal)
Breeder: Monika Levay
Colts
1. Boston out of SP Wildfee (by Fidermark)
Breeder: Johann & Katja Schmid
2. Destano out of Geisha (by Abanos)
Breeder: Güther Reim
3. Fürst Wettin out of Withney (by Desperados)
Breeder: Gusti & Bernd Penninger
4. Furstenball  out of Alcantara (by Stedinger)
Breeder: Jakob Reglauer
5. Bailamos Biolley out of Buena Vista (by Lanciano)
Breeder: Sabine Klößinger
6. Royal Classic out of Gachina (by Gardez)
Breeder: Sebastian Lautenbacher
Results - 2012 Foal Show  - Lastrup
Fillies
1. Desperados out of Welle (by Westernhagen)
Breeder:Andre Obermeyer
2. Zonik out of Deluvee (by De Niro)
Breeder: Margarethe Strohm
3. Roi du Soleil out of Ruhm und Ehre (by Sir Donnerhall)
Breeder: Gestüt Vorwerk
4. Sir Donnerhall out of Raritaet-Ra (by Rohdiamant)
Breeder: Peter-Hermann Rabeler
5. Don Romantic out of  Elite mare Chanel (by Kalu xx)
Breeder: Egon Bunjes
5. Dancing Hit out of  VPS Selina (by Depardieu)
Breeder: Heinrich Kayser
Colts
1. Fidertanz out of Fleur (by Sandro Hit)
Breeder: Josef Gramann
2. Rock Forever out of Alida (by Don Gregory)
Breeder: Sieglinde Brandes
3. Spörcken out of De Leila T (by De Niro)
Breeder: Jella Tupay
4. Sungold a out of Daisy (by De Niro)
Breeder: Jürgen Helm
4. Don Schufro out of SPA Cassandra (by Florencio I)
Breeder: Werner Dullweber
6. Dr. Doolittle out of Calimba de Luna (by Continue)
Aussteller: Ludger Tegenkamp
7. Don Index out of Lady (by Londonderry)
Breeder: Dr. Philipp Lingens
7. Destano out of Fürstin Gloria (by Fürst Heinrich)
Breeder: Christof Wienöbst
Results - 2012 Foal Show - Bad Arolsen
Fillies
1. Fineliner out of Melodie (by Michelangelo)
Breeder: Rudolf u. Dieter Türk
1. Bretton Woods out of Femme de la Rose (by Fidermark)
Breeder: Silke Pelzer
3. Jeraldo out of Flo du Camtal (by Florestan I)
Breeder: Marianne Weiß
Colts
1. Sandro Hit out of Rubins Lady (by Rubinstein I)
Breeder: ZG Michael Schwarz
2. Furstenball  out of Wiener (by Weltmeyer)
Breeder: Jürgen Kurz
3. Sir Donnerhall out of Fleur de Lys (by Florestan I)
Breeder: Susanne Tötemeier
4. Perigueux out of Argentina S (by Accord II)
Breeder: Heinz Sprenger
5. Spörcken out of Maxi (by Matula)
Breeder: ZG Philipps + Missal
Results - 2012 Foal Show - Voerde
Fillies
1. Quaterback x Sandro Hit
Breeder: ZG Werth
2. Feedback x Dancier
Breeder: ZG Heinrich & Wolfgang Esser
3. Ampére x  Lanciano
Breeder: Hermann Reckmann
4. Den Haag x Rubin Royal
Breeder: Susanne Reeh-Köpper
5. Den Haag x Rubin Royal
Breeder: Susanne Reeh-Köpper
6. Fürst Romancier x Rubino Rosso
Breeder: Yuri Romanov
6. Feedback x Guy Laroche
Breeder: Dorothee Baumgartner
Colts
1. Den Haag x De Niro
Breeder: ZG Nicole & Peter Gütges
2. Quatto B x Lecroix xx
Breeder: Iris Wenzel
2. Feedback xn Johnson
Breeder: ZG Mölko & Ellen Möllemann
2. Feedback x Sandro Hit
Breeder: Tobias Schult
5. Lord Carnaby x Fidertanz
Breeder: Johannes Baumeister
6. Alvarino x Liatos
Breeder: Johann Hartjes
Results - 2012 Foal Show - Hamm Rhynern
Fillies
1. Kentucky out of  SPS Taumwolke IV (by Arogno)
Breeder: Leonard Thiel
2. Kentucky out of  SPS Heimjune (by Couracius)
Breeder: ZG Cornelia & Dr. Ingo Braun
3. Kentucky out of SPS Sylvana (by Enim Pascha)
Breeder: Jutta Wassermann
4. Florestan I out of Laetizia (by Lauris Crusador xx)
Breeder: Tobias Große-Lembeck
Colts
1. Saint Cyr out of Hanna VII (by Summertime)
Breeder: Luise Bredemeier
2. Kentucky out of  SPS Syntie WH (by Herzruf)
Breeder: Jutta Wassermann
3. Saphiro out of  SPS Belle Epoque (by Partout)
Breeder: ZG Cornelia & Dr. Ingo Braun
4. Don Schufro out of  SPS Fleetstreet (by Fürst Piccolo)
Breeder: Frank Dahlhoff
5. Iskander out of Sarabande (by Germanicus Rex)
Breeder: Jürgen Strunk
Related Links
Top Foals at Final June Qualifers of 2012 German Foal Show Season
Boston, Cancara, San Amour, Destano, Danone, Franziskus Sire Winners at 2012 German Foal Shows
Londontime, Sunday, Franziskus, Arpeggio, San Amour, Furstenball Sire Winners at 2012 German Foal Shows
Dante Weltino, San Amour, Count Up, Might Magic Sire Winners at 2012 German Foal Shows
Furstenball, Don Bolero, Franziskus, Quaterback, Decurio Sire Top Foals at 2012 German June Foal Shows
Benidetto and Romanov Foal Win at First German Foal Show of 2012