Australian Dressage News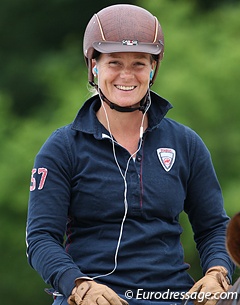 Australian Grand Prix rider Hayley Beresford has lodged an appeal with the Court of Arbitration for Sport (CAS) in Lausanne, Switzerland, following her non-selection on the Australian Olympic team although she is ranked third with her combined Grand Prix scores at the selection trials.
The Australian Equestrian Federation nominated Kristy and Lyndal Oatley on the team with Mary Hanna as third rider.  Beresford, a 2008 Australian Olympic team rider,  and her Westfalian licensing stallion Belissimo scored the third highest qualification score at the two official Olympic selection trials in Mannheim and Compiegne and was nevertheless shunned from the team by selectors Joanne Fowler, Maria Schewennesen, and Virginia Creed.
On 2 July the Australian Equestrian Federation confirmed that the appeal Hayley lodged in relation to the nomination of the Dressage team of the 2012 Australian Olympic Team will now be determined by CAS. The independent tribunal dismissed the original appeal and the rider has now filed an appeal with CAS.
During this time Equestrian Australia and the Australian Olympic Committee are unable to make further comment. The Australian Olympic Committee will announce the Dressage team's final selection.
"Let's not forget just how much our Aussie squad has raised the the bar this year. The team spirit has been high, the riding has been great and our horses all champions. However, I need a fairer explanation for my non-nomination after finishing in the top three rankings than not having as much international experience as Kristy and Mary and not competing as many times between March and June - despite having better performances," Hayley commented.
Also read on Cyberhorse: Olympic Dressage Selection - Last minute changes to Nomination Criteria
Photo © Astrid Appels
Related Links
Australian Team Selected for 2012 Olympic Games
Kristy Oatley Added to 2012 Australian Olympic Shadow Team
Mannheim and Compiegne 2012 Australian Olympic Team Selection Events