Westfalian Breeding News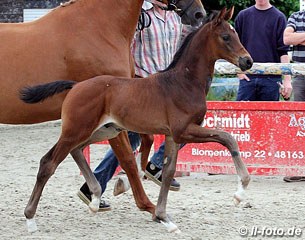 The German foals shows, where breeders can obtain a qualification for the 2012 German Foal Championship in Lienen, are in full swing. Three more foal shows took place last week in Marktredwitz, Filsum and Munster-Albachten and Boston, Cancara, San Amour, Destano, Danone, and Franziskus were the sires of the winning foals.
At the stallion station Heuschmann in Marktredwitz, Germany, a filly by Boston and a colt by Cancara became the champions on 24 June. Bred by the host of the show, Rainer Heuschmann, the Boston x Furst Schölling filly scored the highest points, but she tied with Wilhelm and Petra Kohler's Hot Spirit x Del Mondo for first place. In the colt division, a Cancara x Colman became the top scoring male foal, while a Candillo x Contender was the runner up.
At the Pferde-Reha of Tamme and Carmen Hanken in Filsum, Germany, on 24 June, Tanja Horne's San Amour x Liberty M filly was the show stopper, followed by breeding station Bauer's Royal Classic x Charon filly. In the colt category, Dirk Hoffmann's Destano x Don Vino took the champion's sash and Marlies and Dirk Visscher's Foundation x Friedenstraum was second.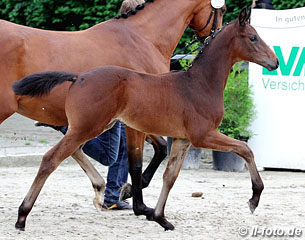 At Stallion Station Holkenbrink in Munster-Albachten on 27 June, Ludwig Kottig's filly by Danone x Andiamo reigned supreme and referred Marianne and Rudolf Pax' Romanov x De Niro to a second place. Antja Mens-Bussmann's colt by Franziskus x Quaterback stood out in the male division earning the highest score while Bernhard Ilting-Reuke's Furstenball x Sir Donnerhall I finished second.
Photo s© LL-foto.de
Results - 2012 Foal Show - Marktredwitz
Fillies
1. Boston out of Look At Me (by Fürst Schoelling)
Breeder: Dr. Rainer & Heidi Heuschmann
1. Hot Spirit out of Prima Donna  (by Del Mondo)
Breeder: Wilhelm & Petra Kohler
3. Candyman out of Alpenhexe  (by Colman)
Breeder: Dr. Rainer & Heidi Heuschmann
4. Connor out of Aziza  (by Colman)
Breeder: Michael Eitel
5. Boston out of Ladylike  (by Fürst Schoelling)
Breeder: Dr. Rainer & Heidi Heuschmannz
5. Connor out of Athene  (by Coriano)
Breeder: Michael Eitel
Colts
1. Cancara out of Turntable  (by Colman)
Breeder: Michael Eitel
2. Candillo  out of aomie II  (by Contender)
Breeder: Michael Eitel
2. Boston out of Lucky Surprise  (by Fürst Schoelling)
Breeder: Dr. Rainer und Heidi Heuschmann
2. Lordanos out of Lucille  (by Lordship)
Breeder: Michael Eitel
5. Furstenball out of Larissa  (by Londonderry)
Breeder: Ricarda Kockerols
5. Bailamos Biolley out of Beautiful Gipsy  (by Donnerschlag)
Breeder: Sabine Klößinger
Results - 2012 Foal Show - Filsum
Fillies
1. San Amour out of Light and Color  (by Liberty M)
Breeder: Tanja Horne
2. Royal Classic out of Cynthia  (by Charon)
Breeder: Zuchthof Bauer
3. Silberschmied out of Fiona M  (by Fischermans Friend)
Breeder: Imke Dittmann
4. Floriscount out of Rhapsodie  (by Rohdiamant)
Breeder: Monika Quarz
Colts
1. Destano out of Dora  (by Don Vino)
Breeder: Dirk Hoffmann
2. Foundation out of Felina  (by Friedenstraum)
Breeder: Marlis &Dirk Visscher
3. De Niro out of Donna Florencia  (by Florencio)
Breeder: Zuchthof Bauer
4. Balesteros out of SPS Elfengold  (by Serano Gold)
Breeder: Birte Ahlers
4. Dante Weltino out of Andiena  (by Andiamo)
Breeder: Zuchthof Bauer

Results - 2012 Foal Show - Munster/Albachten
Fillies
1. Danone  out of  Alles Paletti  (by Andiamo)
Breeder: Ludwig Kottig
2. Romanov  out of  VPS Elfentanz  (by De Niro)
Breeder: Marianne & Rudolf Pax
3. Franziskus out of Rosalie  (by Riccione)
Breeder: Heinrich Dresen
4. Totilas x Sir Donnerhall
Breeder: Gisbert Beckmann
5. Floriscount out of Lilou  (by Laurentio)
Breeder: Gudrun Pötter & Georgia Schulze Lefert
Colts
1. Franziskus out of Querie  (by Quaterback )
Breeder: Antje Mens-Bußmann
2. Furstenball  out of enorita Meyer  (by Sir Donnerhall)
Breeder: Bernhard Ilting-Reuke
3. Franziskus out of Donnerfee  (by Donnerball)
Breeder: Christine Quante
3. Rock Forever NRW out of Sinfonie  (by San Amour)
Breeder: Siegfried Boer
Related Links
Londontime, Sunday, Franziskus, Arpeggio, San Amour, Furstenball Sire Winners at 2012 German Foal Shows
Dante Weltino, San Amour, Count Up, Might Magic Sire Winners at 2012 German Foal Shows
Furstenball, Don Bolero, Franziskus, Quaterback, Decurio Sire Top Foals at 2012 German June Foal Shows
Benidetto and Romanov Foal Win at First German Foal Show of 2012