2012 Olympic Games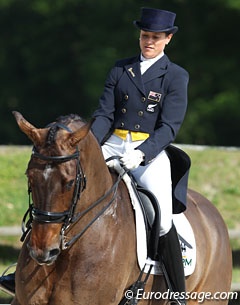 With less than two months to go to the start of the 2012 Olympic Games, the final Olympic selection deadline is looming. New Zealand Grand Prix rider Vanessa Way is still in the running to achieve her second Olympic standard score to qualify for the Games.
All New Zealand Olympic selections have to be finalised and approved by the NZ Olympic Committee selectors by 9 July 2012 at which date the NZ Olympic entries are confirmed.
Vanessa Way and her horse KH Arvan have one more international competition in which the combination can achieve the Olympic standard for Dressage set by New Zealand equestrian federation and the NZOC. Way needs two more scores of 66 per cent or better.  She is entered to compete at the Hartpury International Dressage Festival (CDI3*) in the UK on 6-8 July 2012.
Vanessa has been staying at Carl Hester's yard in Gloucestershire, Great Britain, for her Olympic campaign. Since their arrival early spring, KH Arvan has had several niggling injuries. As a result the combination have missed several international qualifying events, seemingly ending their chances of making the Games.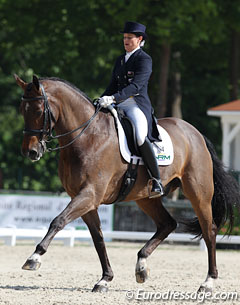 The horse returned to full health and at the CDI Compiegne begin June, the New Zealand rider scored 63.468% to finish third in the Grand Prix. In the consolation Grand Prix, she got 63.68%. 
Equestrian New Zealand has allowed Way and KH Arvan to make a last ditch attempt to qualify for London at the CDI Hartpury, despite the deadline for qualification expiring mid June.
"Compiegne didn't go as well as I would have liked, but considering Arvan had one week's preparation it could of gone alot worse," Way wrote. "With all our drama's having five weeks out of work and no Carl Hester to kick the rider into shape in the warmup, I'm confident we will be able to push up the score at Hartpury CDI."
If successful at the CDI Hartpury, Vanessa and Arvan would be the second NZ combination nominated for selection to the Olympics after Louisa Hill and Antonello. New Zealand will have a maximum of two dressage combinations at London.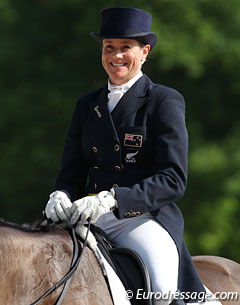 The New Zealand equestrian federation has confirmed that it will not field a dressage team at this year's Olympics.
Vanessa married her longtime partner Brook Hughes in January 2012 and the couple have put off their honeymoon until after the London Olympic Games. Way used all her savings and borrowed money to get KH Arvan over to Europe. "Carl's given me a job riding his horses in exchange for him training and helping me and I will train with him right through to the Olympics," she said.
Photos © Astrid Appels
Related Links
Eurodressage On the Scene at the 2012 Olympic Games
Australia and New Zealand Qualify for 2012 Olympic Dressage
Vanessa Way Claims 2011 New Zealand Horse of the Year Title
On the Road: "Magnifique Alors" at the 2012 CDI Compiegne