Swiss Dressage News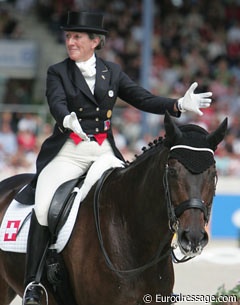 Swiss Grand Prix rider Silvia Iklé has announced the official retirement of her top Grand Prix horse Salieri CH. The 18-year old Swiss warmblood gelding (by Sinclair x Lysander) will be honoured in a special ceremony at the 2012 CDI-W Stuttgart on 14 - 18 November.
Approximately three weeks ago Iklé made her show come back on Salieri at the national competition in Deitingen. She was entered to compete the horse at the 2012 CDI Fritzens last weekend, but scratched before the show. Days later Iklé decided to definitely retire her star horse, with whom she was ranked number 4 in the world on the FEI Riders Ranking.
Iklé and Salieri celebrated many highlights in their career: participating at the 2004 Olympic Games, winning the 2005 Swiss Dressage Championships, an 8th place at the 2006 World Equestrian Games, a fourth place at the 2007 European Championships, and a third place finish at the 2008 CDIO Aachen.
In 2009 Salieri injured himself and had to be pulled from European Championship contention. Ikle took all the time for her horse to recover and had him back in training in 2010 when two other, new injuries interrupted the horse's career again. For three years they were stuck at home until they made a comeback in Deitingen in June 2012.
"I want people to remember Salieri like he was during his best times," Ikle stated. "Anything else would be unfair to this horse and he wouldn't deserve that. Therefore I don't want to risk him sustaining any more injuries."
Related Links
Silvia Ikle to Make Show Come Back with Salieri CH
Salieri CH and Regent Withdrawn from 2010 WEG Contention