Oldenburg Breeding News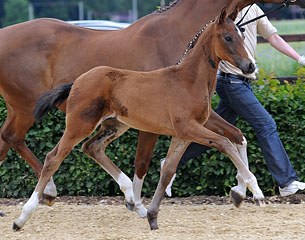 Dante Weltino, San Amour, Count Up, and Might Magic sired the winning foals at the foal shows held in Lodbergen and Plaaz on the weekend of 16 - 17 June 2912.
The well visited foal show in Lodbergen on 16 June 2012 was a big success with especially a large group of colts achieving high scores. The champion colt was Dieter Schmidt's Dante Weltino x Silvio, which scored 81 points. The runner up colt was Johannes Tonnies' Foundation x De Niro with 78 points. In the filly category, Antja Kamper's San Amour x De Niro became the high scoring foal of the day with 83 points. Hans Heinrich Hollmann's De Niro x Sir Donnerhall filly was second with 75 points.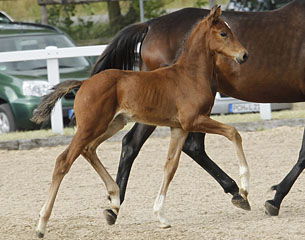 At the foal show held at Gestüt Kempke Hof in Plaaz, Germany, on 17 June 2012 another filly became the top scoring foal of the day. Melanie Ritter's failly by Mighty Magic (by Mytens xx x Heraldik xx) out of Grace Kelly (by Grabensee) received the blue ribbon with 77.5 points and referred Eberhard Mahncke's Quaterback x Just Perfect to a second place.  In the colt division, Christian Platzeck bred the winner. He is by Count Up (by Conteur x Don Primero) out of Riskante (by Rubinbstern Noir) and scored 75 points. Two colts tied in second place with 74 points: a Christ x Paradiesvogel and a Quaterbak x Sandro Hit.
Top photo © Tanja Becker
Results - Foal Show - Lodbergen
Fillies
1. San Amour x De Niro - 83,0 points
Breeder: Antje Kampert
2. De Niro x Sir Donnerhall - 75,0 points
Breeder: Hans Heinrich Hollmann
3. Chinook x De Niro - 74,5points
Breeder: Mari Hejmans
4. Apache x Paradiesvogel - 74,0 points
Breeder: Jessica Frauenrath
Colts
1. Dante Weltino x Silvio - 81,0 points
Breeder: Dieter Schmidt
2. Foundation x De Niro - 78,0 points
Breeder: Johannes Tönnies
3. Bretton Woods x Latimer - 76,5 points
Breeder: Zuchthof Up'n Sande
4. Diamond Hit x Welt Hit II - 75,5 points
Breeder: Isabel Hüppe
5. Touch me x Donnerschwee - 75,0 points
Breeder: Johannes Tönnies
5. Sir Donnerhall I x Don Romantic - 75,0 points
Breeder: Ulrich Brinkhus
7. Dante Weltino x Quattro B - 74,5 points
Breeder: Ludger Hilgefort
Results - Foal Show - Plaaz
Fillies
1. Mighty Magic out of Grace Kelly (by Grabensee) - 77.5 points
Breeder: Melanie Ritter
2. Quaterback out of Jolina (by Just Perfect) - 77 points
breeder: Eberhard Mahncke
3. Dante Weltino out of Helvetia (by Paradiesvogel) - 76.5
Breeder: Steven Gibki
4. Repertoire out of Flair (by First Boy) - 75.5 points
breeder: Dietmar Scheufler
4. Furstenball out of Raritat (by Riccione) - 75.5
Breeder: Dr. Hartmut Rohrmann
Colts
1. Count Up out of Riskante (by Rubinstern Noir) - 75 points
Breeder: Christian Platzeck
2. Christ out of Porta Paradieso (by Paradiesvogel) - 74 points
Breeder: Eberhard Mahncke
2 Quaterback out of Sina (by Sandro Hit) - 74 points
Breeder: Helmut Frahm
Related Links
Furstenball, Don Bolero, Franziskus, Quaterback, Decurio Sire Top Foals at 2012 German June Foal Shows
Benidetto and Romanov Foal Win at First German Foal Show of 2012