2012 Olympic Games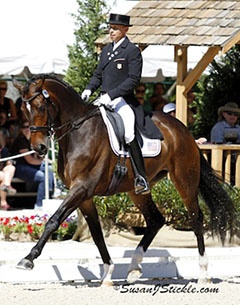 Pending the approval of the United States Equestrian Federation's High Performance Working Group and the USEF Executive Commitee, the nominated riders for the U.S. Dressage Team for the 2012 Olympic Games have been named. Based on the results achieved at the American Olympic selection trials held at the National Championships in Gladstone, the top six ranked combinations are one step closer to London.
U.S. Technical Advisor Anne Gribbons communicated before that the top five combinations of the National Championships will travel to the Pre-Olympic training camp at an undisclosed location in Great Britain on 9 July 2012 after a final veterinary exam.
Steffen Peters, Tina Konyot, Jan Ebeling and Adrienne Lyle will be the core of the U.S. Olympic team + individual slot and according to the rankings Todd Flettrich will be the travelling reserve. Steffen Peters is the only U.S. rider with previous Olympic experience, the other five are all Olympic rookies.
The U.S. is eligible to send a complete team of three riders and, pending final notification from the FEI, one individual to the 2012 Olympic Games.
Athletes and horse are listed in ranked order based on the results from the 2012 U.S. Selection Trials & Grand Prix Championship:
1/3. Steffen Peters and Four Winds Farm's Legolas 92 AND Ravel*
2. Tina Konyot and her own Calecto V
4. Jan Ebeling and Ann Romney, Beth Meyers, Amy Ebeling's Rafalca
5. Adrienne Lyle and Peggy Thomas' Wizard
6. Todd Flettrich and Cherry Knoll Farm's Otto
7. Heather Blitz and her own Paragon
8. Guenter Seidel and Toyon Farm's Fandango
9. Pierre St. Jacques and his own Lucky Tiger
10. Kathleen Raine and Jennifer Mason and David Wightman's Breanna
11. Shawna Harding and her own Come On III
12. Susan Blinks and the Minnesota Group's Robin Hood
13. Jim Koford on Shirley McQuillan's Rhett
Photo © Sue Stickle
Related Links
Steffen Peters Wins 2012 U.S. Grand Prix Dressage Championships
Scores of the 2012 U.S. Dressage Championships
Eurodressage On the Scene at the 2012 Olympic Games