2012 Olympic Games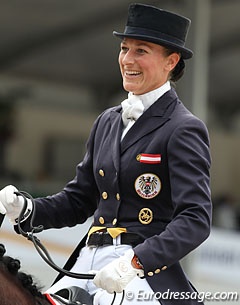 A second Austrian Grand Prix rider, Renate Voglsang, has obtained an entry ticket for the 2012 Olympic Games in London 2 - 9 August 2012 following a failed attempt of Colombian Maria Ines Garcia to qualify for the Games .
With the deadline of 17 June 2012 approaching, Colombian rider Maria Ines Garcia was the only Colombian rider still in the running for an individual spot after having scored her first Minimum Eligibility score of 64% at the 2012 CDI Fritzens a week ago. Last weekend Garcia had to score one more 64% at the CDI-W Lipica to secure a berth at the Games. Unfortunately the rider scored 61.426 % in the Grand Prix for Kur.
Colombia qualified a team of riders for the 2012 Olympics through the 2011 Pan American Games, which are ridden at small tour level. Four Colombians put in a courageous effort to obtain their MES scores at CDI shows in Europe, but Garcia achieved the MES only once.
The vacant spot has now been attributed to the next reserve rider on the FEI Olympic Riders Ranking list which goes to Austria. The Alpine country will send their second best rider Renate Voglsang on the bay Fabriano to the Games. The FEI will confirm this in the next few days.
The Munich based Austrian rider is ecstatic about her chance to compete at the Olympics. "The bigger the test the better Fabriano performs," she told the Austrian Equestrian Federation. "A bigger instigation than the Olympics Games he has never got before," she laughed.
Photo © Astrid Appels
Related Link
Eurodressage On the Scene at the 2012 Olympic Games