What's Happening in the Dressage World?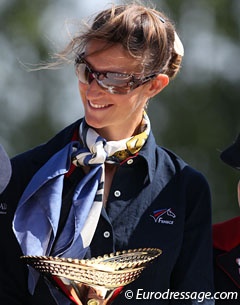 French pony chef d'equipe and Grand Prix rider Alizee Froment has become an assistant trainer at Bernadette Brune's Domaine Equestre des Grands Pins in Vidauban, France. Froment had her own stable but will now be relocating to a professional facility
where she can develop herself better. Alizee is bringing her two horses Mistral and Naxos du Coussoul and will be riding Brune's Sir Rubinstein amongst others.
Danish FEI rider Susanne Barnow gave birth to a baby boy on 29 May 2012. Her son weighs 4250 grams and is 54 cm tall. Congratulations!
Check out the video embedded in the top right corner of this page. It is the latest teaser Cees Slings has provided about the process of composing, arranging, producing and simply making Tinne Vilhelmson's brand-new freestyle for her Olympic horse Don Auriello (by Don Davidoff x White Star). Slings will be producing a DVD soon with tons of unique behind the scenes footage of how a high performance freestyle is created.
Jacqueline Paxton's young rider's horse Cinbad passed away at age 25. The dark bay Holsteiner gelding (by Celebrio) first competed in the U.S. under Dr. Cesar Parra who booked his first FEI successes with him on American soil. In 2000 the gelding sold to Jacqueline Paxton and in that same year Jackie and Cinbad place 5th individually at the North American Young Riders Championships and helped her team to earn a Bronze Medal. In 2002 Jackie and Cinbad were ranked #1 going into the Young Rider Championships, but due to the extreme heat she decided not to compete him and go for her second horse instead. Cinbad passed away due to complications from colic. Read more here.
Australian Grand Prix rider Lesley Anne Taylor lost her top horse Weltklasse (by Welt Hit I). The black gelding, which was important from Hof Kasselmann in Germany as a 6-year old, suffered from a sunken pedal bone due to a hoof injury and had to be humanely put down. Weltklasse was 15 years old.
American O-judge Linda Zang has signed a contract that she will be coaching the U.S. Eventing team in dressage at the 2012 Olympic Games in London. Based in Annapolis, MD, Zang was a member of the U.S. Dressage Team at the 1980 Olympic Games and has been an O-judge for many years. She is now coaching the American eventers at competitions leading up to the Olympics and will continue in the role at the Games beginning July 27. "I'm enjoying it," Zang told Dressage-News.com. "As a judge, I can provide a different perspective for dressage that, as we all know, has become so important in eventing."
On his website, Dressage-News reporter Ken Braddick also hinted at a possible retirement of Lauren Sammis' Sagacious (by Welt Hit II x Cocktail). The black gelding, which is owned by Al Guden, was withdrawn from competing during the second week of the U.S. Dressage Championships. Sammis commented that "I want people to remember Sagacious at his best, which he was last Sunday in the Grand Prix Special." The gorgeous black Sagacious recently struggled with injuries and was sparsely competed on the U.S. dressage scene.
Danish magazine Ridehesten reported that Swiss Grand Prix rider Marcela Krinke-Susmelj acquired a new Grand Prix star in Denmark: Blåhøj's Lazander. The chestnut Danish warmblood gelding by Solos Landtinus x Lebensmann was competed in Denmark by  Jim Rasmussen, Louise Pram, and Jens Erik Marcussen.
Dutch journalist Dirk Willem Rosie displayed oracular talents in his column this week, prophecying that Edward Gal and Undercover will win the 2014 World Equestrian Games in Caen, France "without a doubt" ! Check out the video of their Grand Prix test at the Dutch Championships and judge for yourself!