2012 Bundeschampionate Qualifier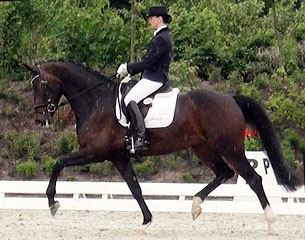 The 5-year old Royal Ascot and the 6-year old Sissy von der Heide won the Bundeschampionate qualification classes at the 2012 Anakenenhof Bundeschampionate Qualifier in Hamburg-Pinnenberg on 6 June 2012. The Bundeschampionate circuit was in full swing on the weekend of 6 - 10 June 2012 with no less than 8 qualifiers being held all over Germany.
In the 5-year old L-level test Anna Sophie Fiebelkorn and the Hanoverian gelding Royal Ascot (by Royal Highness) topped the leader board with an 8.5 total score. The judges' panel, which consistd of Wolgang Schierloh, Bianca Simon-Schön and Jurgen Böckmann, awarded the black gelding 9.5 for trot, 7.5 for walk, and 8.5 for canter, throughness and general impression. Therese Nilshagen and the Hanoverian stallion Sean Connery (by Sir Donnerhall I x Rotspon) was the runner up with an 8.2 score.  This horse received 7 for throughness, 8 for general impression, 8.5 for walk and canter and a 9 for trot. Nadine Plaster and the Oldenburg mare Fullsister (by Diamond Hit x Santander) were third with 8.1. This dark bay mare, who is the fullsister to licensed stallions Diamonit I and II, scored 7.5 for canter, 8 for walk and suppleness, and 8.5 for general impression and trot.
Holga Finken and the Westfalian mare Sissy von der Heide (by Sandro Hit x Fidermark I) reigned in the 6-year old M-level test with an 8.1 score. Judges Gabriele von Appen, Bianca Simon-Schön and Wolfgang Schierloh scored the mare 7 for walk, 7.5 for canter, 8.5 for submission and general impression and 9 for trot. Annemarie Finger and the chestnut Hanoverian stallion Riverdance (by Rascalino x Alabaster) were the runners-up with 8.0. They got 7.5 for trot, 8 for walk, canter and general impression and 8.5 for submission and suppleness. Andrea Müller-Kersten and the Oldenburg mare Apassionate (by Sir Donnerhall x Friedensfurst) were third with 7.6.
Results - 2012 BuCha Qualifier - Hamburg/Pinnenberg
5-year olds
1. Anna Sophie Fiebelkern - Royal Ascot - 8.5
2. Therese Nilshagen - Sean Connery - 8.2
3. Nadine Plaster - Fullsister - 8.1
4. Ants Bredemeier - Download - 8.0
4. Esther Maruhn - Rovereto - 8.0
4. Frauke Struve - Ready to Take Off - 8.0
7. Anna Sophie Fiebelkorn - Summer Girl - 7.7
7. Holga Finken - Schmuckstuck - 7.7
9. Katalin Garrn - Dylas - 7.5
9. Nadja Grabau - Rosenthals Royston - 7.5
9. Thomas Soboll - Hello Kitty - 7.5
12. Derk Wieger de Boer - Ricoletta B - 7.4
13. Markus Suchalla - Dondolo M - 7.3
14. Nadja Grabau - Hayden HR - 7.1
15. Jessica Dahms - Sanciscana M - 6.9
16. Vivien Kust - Calazio - 6.8
17. Hannes Baumgart - Highlight - 6.7
17. Frank Lange - Star of Rubica - 6.7
17. Theresa Nilshagen - Dante Weltino - 6.7
20. Jorg Bongardt - Wendeline - 6.4
20. Mareike Peckholz - Legretto - 6.4
22. Christoph Burghardt - Haya D - 5.3
Caroline Heyser - Stanley - RET
6-year olds
1. Holga Finken - Sissy von der Heide - 8.1
2. Annemarie Finger - Riverdance - 8.0
3. Andrea Muller Kersten - Apassionate - 7.6
4. Eckhard Wahlers - Shadow's Dream - 7.5
5. Isabel Bche - Fairytale - 7.4
6. Katrin Haase - Wii Louisa - 7.3
7. Kristina Bockmann - Der Kleine Lord - 7.2
8. Anna Sophie Fiebelkorn - Hofliebe - 7.0
8. Anna Maria Kopke - Felicity D - 7.0
10. Arndt Honke - Furst Filissimo - 6.7
Anna Maria Kopke - Dornroschen - RET
Back to the 2012 Bundeschampionate Index