2011-2012 KNHS FEI Pony Cup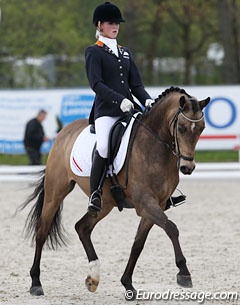 The 15-year old Sanne Vos and her buckskin German Riding Pony Champ of Class were untouchable in the 2012 KNHS FEI Pony Cup finals held at the 2012 Dutch Championships in Hoofddorp, The Netherlands, on 8 - 10 June 2012. The combination was not shaken by the element when extremely windy conditions not only re-arranged the competition ring but also the ranking in round one.
The Finals of the 2012 KNHS Fei Pony Cup took place over two rounds, a team championship test on Friday and the kur to Music on Sunday morning. Sanne Vos and her 8-year old Champion de Luxe offspring Champ of Class won both rounds with top scores of 76.581% and 78.542%.
The Weert based Rosalie Bos and her 6-year old Dutch bred chestnut pony Paso Double (by Bodo) were outstanding as well but her scores of 74.274% and 75.042% still kept her 3% from the lead. Lotte Meulendijks and the German riding pony Boticelli (by Brillant x Colorado) finished third with 72.564% and 71.833%.
Judge at C Mr. Hamoen was very pleased with the quality of riding of the top three, commenting on the slight difference of training between the numbers one and two. "You notice a difference in training with both ponies, but the two rode a test with a high degree of technical difficulty and both riders are totally motivated to do a good performance."
Photo © Astrid Appels
Results - 2012 KNHS Fei Pony Cup Finals - Hoofddorp
Round 1 - Team Championship Test
Judges: Hamoen, Bomaars, Joosten
1. Champ Of Class  - Vos, Sanne - 76.581 %
2. Paso Double - Bos, Rosalie - 74.274 %
3. Boticelli - Meulendijks, Lotte  - 72.564 %
4. Dr Watson - van Zwambagt, Febe - 70.556 %
5. Amaretto -  Zoutendijk, Lisanne  - 70.256 %
6. Sir Donnerwind - van den Hoek, Mandy  - 69.658 %
7. Diamond's Are Forever - Hooge, Marjan - 69.359 %
8. Den Ostriks Dailan - Peeters, Jelle  - 69.274 %
9. Divano Du Bois - van Manen, Floor  - 65.598 %
10. Dollar Girl - Gouda, Kaylee -  64.829 %
11. Nina Van De Beekerheide  - Kurstjens, Demy - 63.333 %
Geronimo B - Peters, Joelle - RET
Round 2 - Kur to Music
Judges:Retera, Hamoen, Sanders
1. Sanne Vos - Champ of Class - 78.542
2. Rosalie Bos - Paso Double - 75.042
3. Lotte Meulendijks - Boticelli - 71.833
4. Febe van Zwambagt - Dr. Watson - 71.458
5. Lisanne Zoutendijk - Amaretto - 69.292
6. Mandy van den Hoek - Sir Donnerwind - 66.917
2011-2012 KNHS FEI Pony Cup - Final Ranking
1. Vos, Sanne  - Champ Of Class - 155.123
2. Bos, Rosalie  - Paso Double - 149.316
3. Meulendijks, Lotte  - Boticelli - 144.397
4. van Zwambagt, Febe  - Dr Watson  - 142.014
5. Zoutendijk, Lisanne - Amaretto - 139.548
6. van den Hoek, Mandy - Sir Donnerwind - 136.575
7. Hooge, Marjan - Diamond's Are Forever - 69.359
8. Peeters, Jelle - Den Ostriks Dailan -   69.274
9. van Manen, Floor - Divano Du Bois  - 65.598
10. Gouda, Kaylee - Velsen    Dollar Girl - 64.829
11. Kurstjens, Demy - Nina Van De Beekerheide - 63.333
12. Peters, Joelle  - Geronimo B - 0.000
Related Links
Vos Takes Tally to Six in 2011-2012 KNHS FEI Pony Cup
Sanne Vos Works It at 2012 KNHS Fei Pony Cup Qualifier in Uden
Sanne Vos Rakes in Fourth Victory in 2011-2012 KNHS FEI Pony Cup
Sanne Vos Takes Third Consecutive Victory in 2011-2012 KNHS FEI Pony Cup Qualifier
Sanne Vos Continues String of Success at Second Leg 2011-2012 KNHS FEI Pony Cup
Sanne Vos Leads the Pack at First Leg of 2011-2012 KNHS FEI Pony Cup