2012 U.S. Dressage Championships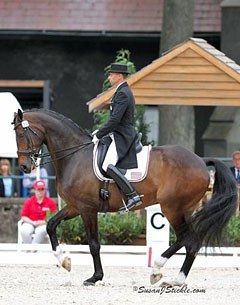 The first portion of the 2012 U.S. Dressage Championships got underway at the USET Foundation Headquarters on Saturday 9 June 2012. The Grand Prix  Championship got the day started in the Dick and Jane Brown Arena. All eyes were watching because this Championship also serves as the USEF Selection Trial for the US Dressage Team for the 2012 Olympic Games.
The Ground Jury of Axel Steiner, Linda Zang, Hilda Gurney, Uwe Mechlem, Janet Foy and Natalie Lamping rotated throughout the day to judge the competitions.
The storied facility, which has been used for both training and competition for decades hosts current champions, as well as future - the Young Rider, Junior and Pony Rider National Championships all got underway on day one of the 2012 USEF Dressage Festival of Champions.
"This place has such wonderful history, a lot of champions have come out of this arena," said Steffen Peters, who leads the Grand Prix National Championship.
Steffen Peters (San Diego, CA) is a consistent winning force on the U.S. Dressage scene, in the last 12 months he scored the 2011 National Grand Prix Dressage Championship, the 2011 National Intermediaire I Dressage Championship, Team and Individual Gold at the 2011 Pan American Games, and the 2012 Exquis World Drrssage Masters - Palm Beach.
But none of those wins came on Legolas 92.
Four Winds Farm's 10-year-old Westphalian gelding is trying to add his own title to that list - and he got off to a great start, scoring 76.064% in the Grand Prix to lead the championship. He only arrived in December from Germany.
"I'm very happy," said Peters. "Since January he's done very well in the piaffe and passage but not as well as he did today. It felt very, very easy. I was able to keep 15 steps in place in every single piaffe. The half-passes felt great."
The scopey gelding also walked with authority, much to the relief of his rider. The flying changes continue to be a work in progress.
"What's quite difficult with him is to get him to walk as relaxed as he did today," said Peters. "But even after the walk tour he was still at 79% that is very exciting. That's the best walk and piaffe passage tour he's done so far. Unfortunately we had the mistake in the one tempis (flying change) - those are still a bit inconsistent. I'm very happy with the twos - the overall feeling was great."
Peters 2008 Olympic and 2012 World Equestrian Games veteran, Ravel, received permission to not attend the Trials based on the Selection Procedures for the Olympic Games - so Peters is taking full advantage of the opportunity to show Legolas the ropes.
"He hasn't seen much of the world yet," said Peters. "He totally stayed with me."
National Champions abound in this division as the 2010 winners: Tina Konyot and Caletco V cruised into the runner-up spot on a score of 72.787%. Konyot (Palm City, FL) was pleased with her horse's effort and feels that they are returning to the form which proved so successful in 2010.
"I had a very, very nice ride," said Konyot. "I had a super warm-up but had a few bobbles in the arena. He felt very relaxed and supple and that is very important with my guy - not that he is a looky horse, but with that big stallion neck of his it is not always that easy to keep him nice and round and supple."
Konyot has made a concerted effort to get the 14-year-old Danish Warmblood fitter - and hacking up the hills at her summer base in Canada has proved beneficial. The strength and stamina were evident in his powerful test, marred only by a mistake in the second pirouette.
Rounding out the top three is another Californian who made the trip worth the miles. Jan Ebeling (Moorpark, CA) and Rafalca have the strength of a long term relationship on their side - their partnership has spanned six years. The comfort level was evident in the ring.
"I think she's really matured over the years and I think she knows me really well and I know her really well," said Jan. "At first yesterday I was a little upset having to go first - but you know what, it doesn't really matter. We go and do our thing and she was great. I'm really happy with her and i think the judging was really good."
They were first to go at 8 am, but Ebeling made the most of his draw and left a lasting impression on the judges. They scored 71.489% for owners Amy Roberts Ebeling and Ann Romney.
Ann Romney is the wife of Republican Presidential candidate, Mitt Romney and is avidly involved in dressage. She was on hand to watch her horse compete.
"I was really happy that they could all make it," said Ebeling. "I think it is wonderful for our sport to have that visibility."
The Grand Prix National Championship takes place over two weekends, with each of the four tests counting equally. It resumes Sunday at 8 AM. The Grand Prix National Championship takes place over two weekends, with each of the four tests counting equally. It resumes Sunday at 8 AM with the Olympic Grand Prix Special and continues June 15 and 16th.
Photo © Sue Stickle
Related Links
Scores 2012 U.S. Dressage Championships
Three Rising-Stars are Half-Way to U.S. Titles at the 2012 American Dressage Championships