2012 Olympic Games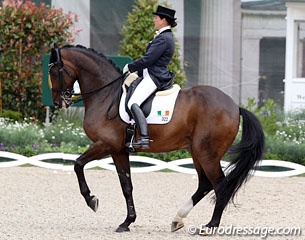 With the Olympic MES deadline rapidly approaching on 17 June 2012, Ireland and U.S.A. look assured of an extra slot to compete at the 2012 Olympic Games in London on 2 - 9 August 2012. With the Colombian team failing to reach their Minimum Eligibility Scores, two additional slots on the reserve list have opened up.
A team of four Colombian riders have been trying to score 64% twice at CDI competitions in Europe. With only one more show to go -- the CDI-W Lipica in Slovenia -- before the June 17 deadline,  Maria Ines Garcia on the bay Kupfermann has been the only Colombian rider able to obtain her first MES at the 2012 CDI Fritzens in Austria. The other three potential Colombian team members have not succeeded in their Olympic campaign.
This means that an additional two slots on the reserve list have opened up. The first reserve slot became available for a Polish rider last week when New Zealand announced the withdrawal of one of its riders. With three qualified Polish riders, the Eastern European country can now field a team.
With Colombia failing to materialize their Olympic qualification obtained at the 2011 Pan American Games, two further slots have become available to Ireland and U.S.A, which were next on the reserve list
The Irish spot will go to Italy based Irish number one Grand Prix rider Anna Merveldt on the bay Coryolano. She already competed at the 1992 Olympic Games in Barcelona.
The United States has already qualified a team for the Games, but will now be eligible to field a fourth, individual rider. The U.S. Olympic Selection trials are taking place this weekend and next week at the 2012 Festival of Champions in Gladstone. Steffen Peters and Ravel are already secure of a team spot, the other two team plaes as well as the individual berth will be battled for in Gladstone.
The new Olympic format enabled teams to bring along an individual as well. This system was instituted to enhance the sport and open it up for more competitors. Unfortunately it has generated a reverse, thwarted effect, as only four nations so far were able to get that extra spot - the four biggest dressage nations in the world (Germany, The Netherlands, Great Britain, USA). This has made it even harder for smaller dressage nations to grow and obtain a berth at the Games.
Photo © Astrid Appels
Related Links
Eurodressage "On the Scene" at the 2012 Olympic Games
Poland Fields Team, Ireland Closer to Individual Slot at 2012 Olympic Games