2012 Olympic Games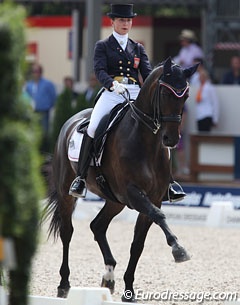 Ireland has moved a step closer to securing an individual slot in the dressage competition at the London Olympic Games following the publication of a revised list of qualified nations by the sports governing body the Fédération Equestre Internationale (FEI).
With New Zealand unable to field a team of three, Poland will be represented by a composite team of three individuals. Ireland now moves up to the top of the reserve list followed by the USA and Austria.
The Polish Olympic dressage team will be constituted by Katarzyna Milczarek on the Polish bred Holsteiner stallion Ekwador (by Heraldik xx), Beata Stremler on her Polish warmblood Martini (by Deryl SP x Madryt), and Michal Rapcewicz on the Polish warmblood Randon (by Czuwaj SP x Fanimo).
With the final qualification deadline of the 17th June rapidly approaching, Colombia still has no riders qualified and is in serious danger of forfeiting their team slot. Colombians Maria Ines Garcia (Kupferman), Marco Bernal (Don Akzentus), Constanza Jaramillo (Wakana) and Raul Corchuelo (Gusarapo) have not yet achieved the minimum eligibility score (MES) of 64% and with two minimum scores required by the deadline, time is running out. Team Colombia will compete at the Austrian CDI4* show in Fritzens-Schindlhof this week and all eyes will be on their performance in the Grand Prix class.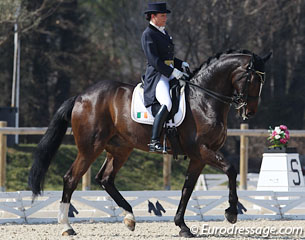 Anna Merveldt is Ireland's leading rider in the latest FEI World Individual Dressage Rankings, ranked 63rd.  She recorded a personal best score of 75.72% in the Grand Prix Kür (freestyle to music) at the international show in Vienna last November. Anna will be competing at the four-star show in Fritzens-Schindlhof, Austria with her 16-year-old Bavarian warmblood gelding Coryolano. Merveldt is the only Irish competitor ever to reach the Olympic dressage final. The Italian-based rider qualified for the top 16 at the Barcelona Games in 1992, completing in 11th place.
Photos © Astrid Appels
Related Link
Eurodressage "On the Scene" at the 2012 Olympic Games