2012 CDI Compiegne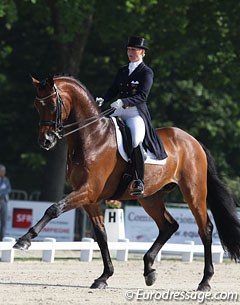 Kristy Oatley and the 10-year old Ronan (by Riccione) won the Grand Prix Freestyle at the 2012 CDI Compiegne with a score of 74.475%. The pair was convincing in their victory and comfortable winners over second placed Pierre Subileau and Talitie of France who scored 72.750%.
"Ronan's a new young horse that's come to form at the right time. He's a lovely horse and their test was wonderful to watch," said National Performance Director for Dressage Deb MacNicol. "It was a great class. Mary Hanna's test with Umbro was one of their best also."
"We've had a great day and a great weekend here at Compiegne and its really special to be able to cap it all off with a victory and seeing the Australian flag raised while the national anthem plays," she added.
Kristy was naturally delighted to be leaving Compiegne with a win. "I'm so overwhelmed, this is totally unexpected, I didn't think that I would win something here, he's such a fantastic horse and he deserves this win, he's very special to me," she said. "It's been a long journey to get to this point. We've had a lot of hard times together so it's nice to share a win with him," Kristy added.
"If I make the (London bound Australian Equestrian) team the next couple of months will be tough but I think these next few days while we wait to find out who is in the team will be the hardest. I'm going to be very anxious for the next few days."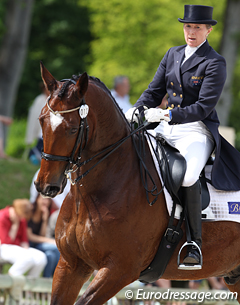 Earlier, the Grand Prix Special saw Australian combinations once again perform strongly with five riders placing in the top ten.
Lyndal Oatley and Sandro Boy were the best placed combination scoring 71.556% to finish in third position. Rozzie Ryan and GV Bullwinkle were seventh with a score of 68.400%, trailing them in 8th were Hayley Beresford and Belissimo NRW who scored 68.222%.
Finishing on a score of 68.045% was Brett Parbery and Lord of Loxley who secured ninth position. Mary Hanna and Sancette were 10th with a score of 67.933% and Kristy Oatley and Clive were 12th with a score of 66.911%.
Chantal Wigan and Ferero competed in a consolation GP and scored 66.596% to place second.
Photos © Astrid Appels
Related Links
Scores 2012 CDI Compiegne
Lyndal Oatley Set to Make Olympic Games Debut After High Score at 2012 CDI Compiegne
On the Road: "Magnifique Alors" at the 2012 CDI Compiegne