2011-2012 KNHS FEI Pony Cup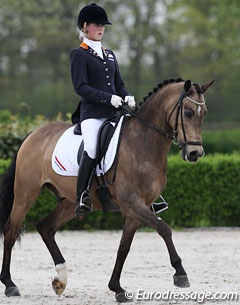 Sanne Vos has taken her tally to six victories on the 2011-2012 KNHS FEI Pony Cup show circuit. Aboard her German Riding Pony Champ of Class (by Champion de Luxe) she booked her sixth win at the sixth and last qualifier held in Ermelo, The Netherlands, on 19 May 2012.
Vos and her buckskin pony scored 75.9 and outclasses all competition. Trainer Coby van Baalen praised the combination for "its nice contact with the bit and Champ had a very nice silhouette the entire time."
Vos referred Febe van Zwambagt on the bay German riding pony stallion Dr. Watson (by Don't Worry) to a second place with 71.28%. Demy Kurstjens and the Dutch bred mare Nina van de Beekerheide (by Neptune van de Beekerheide) were third with 68.42%.
The 2012 Finals of the KNHS FEI Pony Cup takes place at the 2012 Dutch Dressage Championships in Hoofddorp, The Netherlands. The first round is on Friday 8 June and the Kur to Music on Sunday 10 June.
Results - 2012 KNHS FEI Pony Cup Qualifie - Ermelo
Judges: Gerritsen, Blanken, Peutz
1. Sanne Vos - Champ Of Class - 75,9
2. Febe van Zwambagt - Dr Watson - 71,28
3. Demy Kurstjens - Nina Van De Beekerheide - 68,42
4. Zoe de Booij - Voltage - 67,31
5. Zoe de Booij - Kantje's Renaldo B B. - 66,45
6. Joelle Peters - Geronimo B - 66,41
7. Patricia Bielefeld - Tunja's Eduard - 65,3
8. Jeanine Nekeman - Hoby - 65
9. Kaylee Gouda - Dollar Girl - 64,91
10. Floor van Manen - Divano Du Bois - 64,91
11. Aurora van der Laarschot - Ysselvliedt's Mathador - 64,7
12. Bo Oudhof - Bodethal's Kosima - 64,53
13. Bo Oudhof - Day Of La Divinia - 64,23
14. Laurie Vervoort - Westerhuis Bruno - 64,23
15. Veronique Van Der Panne - Rhyfedd Spike - 64,06
16. Kaylee Gouda - Don Camillo Du Bois - 63,55
17. Paulette Kral - Orchid's Borneo Ii - 63,55
Related Links
Sanne Vos Works It at 2012 KNHS Fei Pony Cup Qualifier in Uden
Sanne Vos Rakes in Fourth Victory in 2011-2012 KNHS FEI Pony Cup
Sanne Vos Takes Third Consecutive Victory in 2011-2012 KNHS FEI Pony Cup Qualifier
Sanne Vos Continues String of Success at Second Leg 2011-2012 KNHS FEI Pony Cup
Sanne Vos Leads the Pack at First Leg of 2011-2012 KNHS FEI Pony Cup