2012 Olympic Games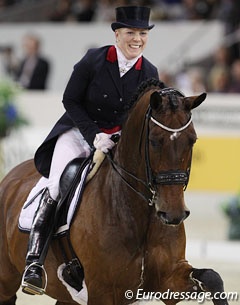 Norwegian Grand Prix rider Siril Helljesen has been officially selected for the 2012 Olympic Games today. The 32-year old Helljesen will be the first Norwegian dressage rider to compete in the Olympics in 60 years.
"I'm so happy, proud and excited," Helljesen said about her official Olympic selection. "It's totally awesome. This has been the major goal of mine for many years, and now dreams can come true," she added.
Helljesen has given her top horse Dorina, a Danish warmblood mare by Don Schufro, a month off in May. She competed at two internationals in April and will be preparing her for the Games in the next few months.
"It was done deliberately with regards to possible Olympic participation," Helljesen told Dressur Sa Klart. "She has only been exercised and kept fit." Siril plans on competing Dorina at the CDIO Rotterdam at the end of June and then move to Paul Fielder's in Great Britain for a training camp before the Games.
Helljesen's operates her own training yard  Østre Sneis Gård in Vinterbro near Oslo, Norway. Norway's previous Olympic dressage rider was Anne-Lise Kielland, who competed at the 1956 Games.
Photo © Astrid Appels
Related Links
Siril Helljesen Backed Up by Norwegian Dressage Enthusiasts
Helljesen and Dorina Award Recipients at 2012 Norwegian Horse Gala