Australian Dressage News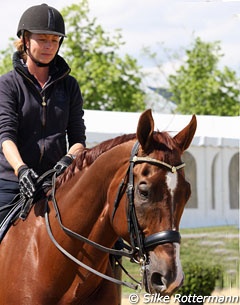 Sydney 2000 Olympian Rachael Sanna is now out of contention for the London 2012 Olympic Games after her number one horse Jaybee Alabaster was forced to withdraw based on veterinary advice.
Sanna is currently in Europe with Alabaster to contest the Dressage Nomination events for the London Games, and despite showing at the first nomination event in Mannheim have since been advised not to continue. While the injury sustained is not long term, Sanna admitted it was just a case they had run out of time for the Games.
"It is hugely disappointing for me and my wonderful supporters, but we have been trying to resolve the issue, and it has finally caught up with us. While the issue is not long term and will be fine, unfortunately it won't be resolved in time for the Olympic Games. I would like to thank everyone who has tried to get us to the Games, especially my groom Helen Bray who has worked tirelessly, but we have just run out of time.   We gave it our best shot", said Rachael.
Even though Sanna's departure from the nomination process is a loss for the Australian team, Equestrian Australia's High Performance Manager Brett Mace said the Dressage shadow team showed strong depth.
"While it is an unfortunate blow losing one of Australia's leading combinations over the past two years, such is the quality of combinations we currently have contesting the selection events, I am confident we will still have a very strong team for the Olympics and achieve what we have set out to do in London," said Mace.
Selectors together with the remaining combinations will now turn their attention to the final nomination event will take place at the Compeigne CDI in France from 31 May - 3 June 2012.
Photo © Silke Rottermann
Related Links
Australians Pull Out the Stops at First Olympic Selection Trial at 2012 CDI Mannheim
Kristy Oatley Added to 2012 Australian Olympic Shadow Team
Mannheim and Compiegne 2012 Australian Olympic Team Selection Events