Interviews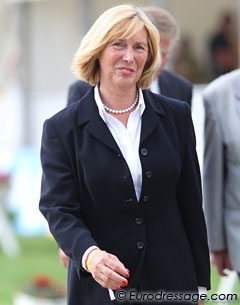 German I-judge Angelika Fromming is a source of information when it comes to the dressage world. With over 50 years of knowledge and experience as a Grand Prix dressage rider and international judge, Fromming is a first hand witness of the evolutions and developments in the dressage world. 
As a follow-up to the in-depth article "Angelika Fromming: Half a Century of Dressage", Eurodressage reporter Silke Rottermann asked Fromming nineteen additional questions about the sport:
Had there been an exceptional experience in your career as a judge?
When 50 spectators are applauding and 500 are booing. If you are very sure of what you did and you have reasonable arguments you can live with it and in hindsight you are understood. The emotions in dressage, like in any other sport, play an important role, the more so if there's much money or the future of a stallion involved.
Which rides over the last decades you experienced as judge have impressed you the most and for which reason?

Firstly there had been those pony rides. In my childhood it was absolutely non-existent. There were no pony classes, no championships for Juniors and Young Riders. These championships had been brought to life only in 1963 when I was already too old for it. I exactly remember a certain Rhineland pony championships in Cologne years ago, the final on Sunday morning. We judges had been that thrilled because of these children with their most beautiful, submissive and well moving ponies that it was hailing top marks.
Secondly I am especially thrilled by the young horses in the dressage horses classes. When Blind Date won the warm-up class as a 5-year-old in Verden I ungrudgingly had to confess to myself that our horses of the past didn't present themselves so seasoned, sovereign and with these movements. Exactly the same impression I gained last year when I saw the 5-year-old mare Woodlander Farouche. Already at the horse inspection she presented herself like a queen. Such light-footedness and naturalness, we were all completely fascinated.
Judges are always under fire. How did you handle criticism which can be either constructive or unjust?
As a judge you are either very sure of yourself or plagued by self-doubts. The very self-assured colleagues are not prepared to discuss. Either they avoid the conversation with colleagues or they present their opinion and that's it. That happened more often in the past than nowadays. In the 1970s the exchange of ideas between judges after a class even had been rather proscribed and riders didn't like it at all. They feared that the judges would talk a certain horse-/rider-combination into the "6 or 7 pigeonhole". Today there's a lot more discussion and analysis among ourselves. In the past few years it was supposed to be that when there is a significant deviation between the results—more than 5%--the judge at C should ask the colleagues for a short conversation. This didn't always work, for whichever reasons.
Today the JSP (Judging Supervising Panel) even has the possibility during championships to intervene and correct during a class. I was always annoyed about unjust criticism, in particular if it was very subjective and if I couldn't understand it at all. In dressage we regrettably often see very emotional and non-objective argumentation. Often the reason is entirely private interests and not the question if the training was correct. I was always grateful for justified criticism. I wanted to improve and often I was very annoyed with myself.
You are considered an advocate of classical dressage training, not shying away to find clear words in your judging, for example at Verden 2010. Does dressage need more of your kind?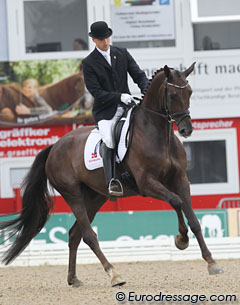 If we want that our riding increasingly improves, becomes more perfect, then we need to be clear and honest in our judgements and commentaries. If you tell somebody that he wasn't that good today the person is distressed. The more so if much personal honour or expensive licensed stallions are involved. Of course it is always a question the way you do it. It seems to be of uppermost importance to argument strictly objectively and to adhere to our rules, which means adhere to our guidelines for riding and driving or to the general rules of the FEI written in  the Dressage Handbook. One formulates his commentaries a bit flowery, the other more objectively. However it is important to say it honestly and reasonably so no one becomes snubbed in any way.
Often one hears that judges are responsible for the popularity of "modern" training methods like the rollkur because they have high scored such horses for years. Do you share this opinion?

You have to imagine that there are situations in which we judges more or less don´t know anything about the horses and the riders we are judging. For example when you are judging abroad you often don't know riders and horses. I experienced this for example in the USA, Ireland, France or Portugal. If a judge is neither informing himself through the print media nor via the internet one doesn't know which way a horse has been trained. On an international level a judge has no place in the warm-up ring and doesn't know what happens or happened there. He only sees the horse in the arena and compares it with the demands and in relation to the rivals.
And here the problems begin: The judge has to decide with lightning speed: rollkured horse, LDR-method, draw-rein-horse, boot camp training or classical trained horse? I cannot comment on the "boot camp training", that's how the print media titled it recently. It is said that this training method evolved from the Harnass horses which are driven in The Netherlands and where the "nice lift of the shoulders" is very popular. I don't know this training method. But the ones knowing it claim that one can recognise a horse trained after it at the way they move.
I consider it as particularly difficult to spontaneously assign the performance to a certain training method, because there are always border cases and a so called classical training is not always clearly recognisable. Some horses just get tense entering the arena. Then you really can´t differ whether it is tension caused by the situation or the result of a certain training method. Of course you can inform yourself nowadays about riders on the internet, if you have time and are willing to do so, but many colleagues who are working full-time just don´t have the time to do this.
And, by the way, in all my clinics I gave during the last two decades I always explained to the judges what my personal attitude is: "Whenever you start judging forget what you have heard or what you know about the horse/rider-combination. Each start is an new beginning! Judge only what you are going to see! Never forget that the performance of a horses can change not only within a week, it can change within a day or often even within a test." For me it is most important that judging is done without prejudice. If you, while judging, remember some kind of training you get into problems with your personal embarrassment and you can't be really objective any more.
In dressage sport there are not many horses which on the one hand move excellently and on the other hand move almost faultlessly. Because of the strong allocation of a programme in several single marks it is possible that weak spots are revealed which influence the end result negatively. This means that results of 80% to 85% are something very special. Some years ago it was quite rightly remarked that in other sports like figure-skating or gymnastics there are higher marks awarded at championships like in dressage. But we cannot lump together our horse-rider combinations. They are different by nature regarding their way to move, their confirmation, type and interior which means there will always be discussions because of certain preferences one has.
We judges make an effort to come to an rightful mark, based on the internationally valid principles. It is right that some horses are lacking the correct self-carriage with the poll as the highest point, that horses are not swinging over the back and stepping under the centre of gravity in the trot extensions. Also the swishing tail doesn't seem to be an assessment criterion any more now and then. But even with these horses there are moments in which they look convincingly and express a special aura.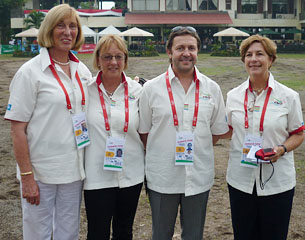 At the moment one often talks of the "modern dressage sport" without defining it exactly. Often one means the more freely moving shoulder, the very obvious uphill tendency in canter and the occasional almost passage-like and very freely executed trot half passes. There are also arguments that we need more positive tension nowadays to create an increased expression. But we always need positive tension for a well trained dressage horse, exactly like in other sports!
If one takes a closer look at the judging panel of the pre- and post war times one can find legendary trainers and Olympic riders amongst them. Nowadays there are international judges who haven't been trainers or successful riders. Does this have an effect on the judging?

It doesn't have to be like that. There have been successful riders who haven't been secure judges and accomplished judges who never had presented or trained a Grand Prix horse. Also in the art of music there are critics who for example are limited in playing an instrument and still they are highly regarded. It is important for young judges that they very often assist experienced judges, get visual instructions from successful trainers, visit as many seminars as often as possible, train the eye and experience the rides live! It is insufficient to watch rides only on the internet or on DVDs and then think one is fit enough for bigger tasks.
The judging procedures have been changed repeatedly in the course of many decades. Which procedure has convinced you the most?
Assuming that every judge intends to fulfil his task responsibly and prejudice doesn't play a role, neither in nationalistic, nor training, nor financial regard, then two judges would be sufficient in my opinion,: One at the short side at C and one at the long side at E or B. A luxury, but in my opinion ideal, is the judging procedure at the World Championships for young dressage horses: two judges are at the short and two at the long side of the arena and both groups of judges are acoustically connected with each other which enables a permanent exchange of thoughts. The "collaborative judging procedure" was used in Germany until the 1960s, but had been abolished due to the initiative of the riders. They feared that in a group of judges a dominant judge would set the tone and less secure judges would hide behind them. But in principle the judges, represented by the German Judgers Federation, were in unison that with the "collaborative judging procedure" a more comprehensive and more accurate judgement was possible. With the "separated procedure" it is sometimes the arithmetical average which decides over victory and placings.
During the time when not classically trained horses won titles and medals a suggestion arose some years ago to include the warm-up in the result of the competition. Apart from the question in which way the warm-up should be judged and be included in the final result, do you consider such a suggestion rational and practical?

At the moment I don't know how one could put this into practise. From personal experience I know that one has to prepare every horse individually for the competition. One horse needs to be encouraged, the next one calmed down, one horse is a "cold-starter", the next one needs more time to warm-up. Slightly lazy horses or an easily distracted stallion need to be worked differently than a capricious and ticklish mare. I consider our German system of supervision at the warm-up ring better than the international steward system. In Germany the judges not in charge for the running class also have the supervision in the warm-up ring and are able to intervene with yellow and red cards. They are trained judges and need to be able to judge on the preparation of a horse. I have the feeling that riders are more careful with this system because they know if the judge supervising the warm-up in the M-class is judging the S in the afternoon, they rather don't want to leave a bad impression since they fear disadvantages in the other class. In the meantime the international stewards increasingly get intensive schoolings and in future they will not only have to focus on the adherence to rules.
Wouldn't it be sufficient to punish poor training in the competition itself? Is this happening enough?

Yes, it would be sufficient. The world wide judges' trainings focuses on that. Everywhere people are talking about lightness, effortlessness and unrestraint, the artificial and tense should be marked negatively. It is written down in the Dressage Handbook as well as in the international rules.
Sometimes one can read in the equestrian media that certain dressage horses which are trained strictly classical are presented in a frame too open. Do such commentaries reveal that we have partly lost the view for the essential?

I cannot judge on this because I needed to see it live. We expect an open frame, but the horse isn't allowed to become too long which means it is not quick enough in its hind legs and doesn't step under the centre of gravity. Sometime it is amazing what happens when the horses should continue to move with given reins ("Zügel-aus-der-Hand-kauen-lassen"): the horses almost fall apart, the hind legs are dragging. Fortunately we have this exercise more often in our new 2012 programmes in Germany, in the middle of the test. This enables the judges to get a better impression of the natural way of moving the horses have.
What is the most difficult aspect in judging?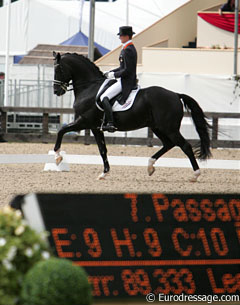 To decide in seconds on a mark and this for several hours at a time. It is easy to detect technical mistakes and also a dull way of moving is easy to recognise. The problem begins if the judge immediately has to decide if he sees impulsion or negative tension. The spectacular movements following the motto "In the foreleg the horse is already quite good" are especially difficult to judge. One isn't allowed to be blinded by the forelegs, but the hind legs and the back of the horse have to be primarily observed.
Until the end of the 1970s no one talked about "spectacular" movements. They were dynamic, impulsive, space-consuming or ground-disdaining. Then the classes for young dressage horses evolved and with them came the judgement on their perspective and potential in the sport of dressage. In this correlation the idea came to look for "spectacular" movements. With the term "spectacular" we are currently on a tightrope-walk. We try to thrill the crowds and hope to get high viewing figures. These efforts can tempt us to encourage the spectacular. The circus riders in the 19th century had to offer something spectacular, this was the way they earned money and the crowds were satisfied. I am in unison with Dr. Reiner Klimke who once said "What looks beautiful, is good!" I am strongly convinced that in particular good, natural and unconstrained riding is honoured by the crowds. They recognise the harmony between man and horse, the lightness, the elegance, the effortlessness. Like that riding will remains an art. The renowned pianist and conductor Professor Justus Frantz once correspondingly told me that sport becomes an art when there's perfect harmony. The only problem is that good equitation is extremely difficult!
You especially like to judge classes for young dressage horses, why?

I like it because the horses are more or less still unknown which means it is also a special challenge to judge them. I also like that they still express a lot of naturalness.
In the extended gaits they still show lots of overtrack, in particular in the extended walk and in the trot extensions. One has to differ very exactly what is the exuberance of youth and curiosity and which horse is lacking throughness and obstructiveness. And young horses often express an incredible charm.
What are you especially focusing on?

I focus on energetically moving and swinging hind legs and the suppleness of the back. In principle I try to look first at the hind legs and then at the back of a horse. The naturalness of the movements, the ease and effortlessness are very important, but also the clearly recognisable ability to take weight in the transitions without becoming wide or askew with the hind legs. And in the end I also focus on the demanded relative elevation, according to the level of training.
Which changes did you observe over the past 20 years in the field of young dressage competition?

The quality of the horses has become more even and has improved in the way to move and the rideability. The bit contact has become better, a tight neck isn't a true problem any more. I have already remarked on it: Our young horses didn't perform so well, but on the other hand they took part in jumping classes, cross country rides and in hunting.
In what way do you actively work on setting a proper standard for judging young horses?

I was assigned by the FEI along with Mrs. Mariette Whitages, Jan Bemelmans and Dr. Gerd Heuschmann to contribute to several Young Horses seminars abroad, in Brasil, Thailand and Australia for instance. Mrs. Whitages had been the moderator of these seminars and was exerting herself to make these kind of classes more popular world-wide. Dr. Heuschmann lectured on functional anatomy, Jan Bemelmans on the training of young horses and I was allowed to show the judging of young horses with a power point presentation and practical demonstrations.
When where you entrusted with the training and examining of judges' candidates in Germany and what had been of uppermost important for you?

I think I did this task from 1990 to 2008. It was very important to me that the candidates learnt to recognise the difference exactly between the formal and quality characteristics of a ride and to describe the seen things exactly, also in commentaries.
Of course the awarding of marks itself was very important. Very good sessions took place at the German Riding School in Warendorf. If one is a speaker at a seminar one has to be able to argument clearly, without thinking of owners and riders. And this was the case in Warendorf. The riders there knew me for many years and that they get high marks if they were riding well and if not they get low marks. There was never any problem.
Positive commentaries have been a special concern to me. The candidates had to become aware that they want to help riders with their comments. I have always asked myself if the given commentary has helped the rider to realise what he has to improve. The term "okay" was as good as forbidden. Horrible are also terms like "demanded" or "fulfilled". A problem is the remark "more expression".
It was also very important for me to discuss the tiresome and decade old problem of prejudice. In our sport the temptations are big wanting to discuss and take part everywhere. The Swiss chairman of the FEI dressage committee, Wolfgang Niggli, once said many years ago that a dressage judge is a lonely person. Many derided him, but in principle he was right. Nowadays many judges want to get something from the big cake called equestrian sport.
What is most important in the schooling of judges nowadays?

In the basic exam in Germany the separated judging procedure is getting more important again because the new programmes L 10 and L 11 are intended to be judged separately. We had this kind of judging procedure in the basic exam for the first time in the 1990s because one can see very well which candidate recognises what.
In the S- and Grand Prix classes the candidate has to be able to explain very exactly what the different movements have to look like. The theoretical background knowledge is ever more important. It is like with soccer: Everybody talks about it, but nobody is able to explain exactly the offside rule.
Is there a need for more international seminars on the judging of young dressage horses?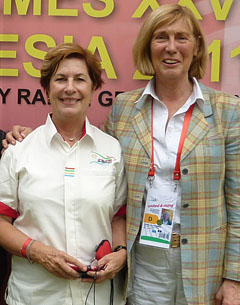 This makes sense for sure. Schoolings are always good. Last year there has been a much noticed international schooling seminar for young horses during the World Championships in Verden, conducted by Dr. Dieter Schüle and Stephen Clarke. And during the 2011 Bundeschampionate the International Judges Club (IDOC) organised a seminar for young horses where I was allowed to comment on the rides of the finals of the 5- and 6-year-old dressage horses.
You have recently written a much-noticed book, published by the German FN, on the history and evolution of equestrian sport. What was the most fascinating topic to write on?

Everything I read on riders and horses was extremely interesting for me because I noticed that tendencies of development arose systematically and necessarily: new weapons, new ways of riding, different spirit of time, different ways of treating the horse, different positions in the saddle, different impact on the horse. The discovery of the correct rhythm in the basic gaits was a highly interesting topic. Nowadays we speak of the purity of the gaits as the highest good, but slow-motion thwarts our plans. Either we have to better school our eyes to recognise impurities in rhythm and mark them accordingly, or we refrain from exaggerated movements, or we have to define the purity of the rhythm differently.
There are films now on TV or on the Internet – and not only in slow-motion - in which horses don't show a clear two-beat-rhythm in the extended trot nor in the half passes. Also in the piaffe the two beat rhythm is clearly missing at times. The same is valid for the canter: more and more uphill and more and more forced it leads to a failing three-beat-rhythm. Then there is an argument that there's no clear three-beat-rhythm at galop speed, but we don't ride racing speed in a dressage class! Here we have to ask ourselves what we actually want to have. With photos showing wrong movement sequences there are arguments that it is only a snapshot. This is right, but nobody can be sure whether the photo is only a momentary slip-up or a longer lasting process which somebody with a less schooled eye just wasn't able to recognise. We have to decide if we want to follow traditional and proven principles and present the basic movements after the motto "Less is more" in a required clear rhythm. Or if we have to define the purity of the gaits differently in favour of the show effect. We have already done this in the canter pirouette: no clear three-beat-rhythm is required any more, only a clearly recognisable canter.
by Silke Rottermann for Eurodressage
Related Links
Angelika Fromming: Half a Century of Dressage
A Coming Together of Minds at the 2011 FEI Young Horse Seminar and Judges Course