2012 Olympic Games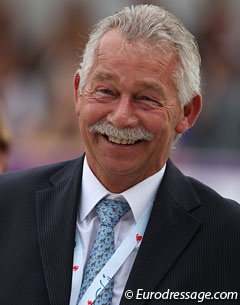 Chosen as President of the ground Jury for the 2012 London Olympic Games, five star British judge Stephen Clarke will represent his hosting nation with pride. "I feel extremely privileged, and hope that I can live up to the faith that the FEI has put in me," Stephen says.
Having  enjoyed a successful international Dressage career throughout the 1970s and 80s, Stephen took up training and judging full time and throughout his career has officiated at five World Cup Finals, three European Championships and three World Equestrian Games. But the Fellow of the British Horse Society, says he was likely chosen for the top job not just for his experience, but because of his nationality.
"It would seem fairly natural to have a British Judge as President, as the Olympic Games are in London."
Presented with a Queens Award for equestrianism in 2010, Stephen says his role at the games will be " first and foremost to try to do the best and fairest job possible in my assessment of each performance, as will my co-judges.
He says he will also need to ensure his co-judges are kept up to date with all practical arrangements and that they are provided with everything they need to make their London experience as pleasant and as exciting as possible. "Camaraderie and team spirit are very important in situations like these."
With his comrades to be Leif Törnblad (DEN), Maribel Alonso (MEX), Jean-Michel Roudier (FRA), Gary Rockwell (USA), Wim Ernes (NED) and Evi Eisenhardt (GER), the FEI completed a rigorous selection process. The other six judges, plus one reserve, were selected from a long list of twelve of the most experienced  "Five  Star" judges in the world by a ballot system about nine months before the Games.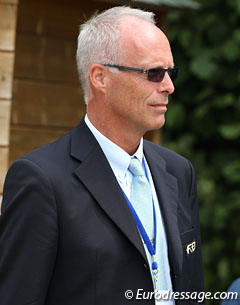 The appointment of the Olympic ground jury was purely a matter for the FEI and the FEI Dressage Committee and the Judge's Supervisory Panel, who made their recommendations to the Manager of FEI Dressage Mr Trond Asmyr.
However the decision of who sits where will be reserved for the president, who usually sits  at C. "I chose Dressage judging as Dressage is such a wonderful sport," Stephen says. "To see beautifully trained horses being virtually turned into "works of art" is truly magical. Basically what I love about dressage judging is the challenge of simply trying to get it "right" by awarding the correct score to every exercise that is shown by every horse and rider."
And what does Stephen Clarke think the judges will be looking for at the Olympics?
"Exactly the same as at every other competition. Hopefully we will be able to reward high quality rides with high scores. I doubt that we will see any poor quality rides due to the qualification process, but with horses and riders you never know, everyone can have their good days and bad days!"
When looking at a dressage combination Stephen says he looks to see if the training they have received completely complies with the criteria of the "Training Scale" and has fully developed and enhanced their natural paces.
"A judge must search to see if each of the exercises are presented with absolute precision and boldness, showing clear and well defined transitions within the gaits.
To see horses working with maximum impulsion and genuine harmony is so exciting to watch as it is this that brings out their full potential and real expression of movement , provided that they still remain in balance and with complete confidence in both themselves and their rider."
While these qualities may earn the points, "Grand Prix is obviously very difficult, and there is very little respite between each of the highly demanding exercises." Stephen says that "if something goes badly wrong in one  exercise  there is little time to restore order before the next".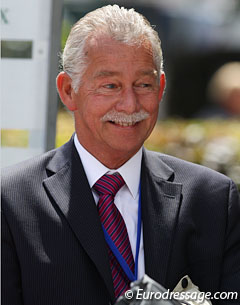 But generally, apart from obvious mistakes, Stephen says it's "the accumulation of smaller problems or a lack of quality and definition that leads to the poorer scores".
"To win these days involves a lot of "risk taking", it really can be a case of 'who dares, wins'!"
It is well known that the dressage world has been dominated for many years by a select few nations and top horse breeds. However as the lesser known equestrian nations advance through their training and breeding programs, the competition at the top is now being shared amongst a number of nationalities and horses.
The breeding programmes in many countries are producing wonderful horses with more and more natural ability for the sport.
But as far as I'm concerned, I don't care if it's "sky blue pink with spots on" as long as it can fulfill the criteria of each of the exercises."
Excited to see the best in the World competing against each other on British soil, Stephen knows these Games will surely be a "clash of the Titans" as there are several really top class combinations at the moment fighting for the medal spots.
"I am sure that we will see a wonderful variety of horses at the Games, each of whom will have their own particular strengths and weaknesses.
The winner obviously will be the one with the greatest strengths and the smallest weaknesses.
More importantly for the chosen president is how best to prepare himself and his judging team for their massive task.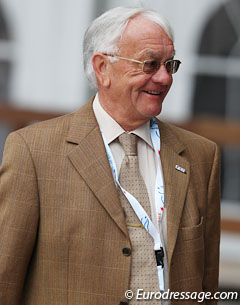 "We all meet several times a year at major competitions and seminars where basic principles and the assessment of the exercises are constantly monitored and discussed," Stephen says.
"We also have the JSP on hand, to correct any mathematical mistakes, and with a jury of seven judges, hopefully any mistakes that we do make will therefore have the minimum impact on the competitor concerned. To my mind the biggest mistake a judge can make is to overly worry about the points that their colleagues are giving. Each judge's job is to give as fair a mark as possible to every horse within every single movement of the test. If we always rely on this, the correct winner will naturally find themselves."
But even so, Stephen admits that we can all make mistakes, as we are only human after all, and despite the rigorous selection process and training criteria a judge still feels pressure to get it right.
"Just like the riders, there is always a feeling of pressure to perform at your best. Personally I have always felt that most people perform at their best when under a certain amount of "positive" pressure. I think if I ever stop feeling this pressure, then maybe it's time to stop judging! "
Text by Sarah Warne
Photos © Astrid Appels
Related Links
Back to the 2012 Olympic Games
Ground Juries Appointed for 2012 Olympic Games and World Cup Final