2012 Bundeschampionate Qualifier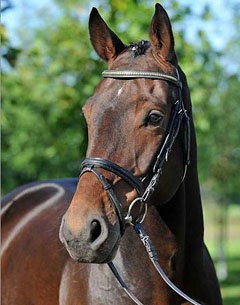 Tessa Frank and Count Helmut von Fircks' Westfalian gelding Stern von Nymphenburg were the winners of the 6-year old Bundeschampionate qualification class held at the 2012 CDI Munich, where the World Dressage Masters were taking place on Friday 18 May 2012.
Judged by Dietrich Plewa, Uwe Mechlem and Reinhard Richenhagen, the class featured a modest field of 9 competitors. Gestut Nymphenburg's assistant trainer Tessa Frank reigned supreme on the bay gelding by Sir Donnerhall x D'Accord. Scoring 8 for canter and submission, 8.5 for walk and general impression and 9 for trot, Stern von Nymphenburg totaled a winning score of 8.4.
Johanna von Fircks placed second on her father Helmut's Westfalian stallion Dream of Nymphenburg (by Dark Fire x Disco Prince). The bay stallion scored 7.5 for trot, 8 for canter, submission and general impression and 8.5 for walk. With an 8.0 she was second and together with the winner the only rider able to qualify her horse for Warendorf at the trial in Munich.
Results - 2012 Bundeschampionate Qualifier Munich
6-year olds
1. Tessa Frank - Stern von Nymphenburg - 8.4
2. Johanna von Fircks - Dream of Nymphenburg - 8.0
3. Daniela Waxenberger - Amore San Remo - 7.4
3. Ralf Kornprobst - Balesteros - 7.4
5. Andrea Vodermaier - Professor Dumbledore - 7.3
6. Cornelia Herbert - Sammy Davis Jr - 7.2
7. Marc Oliver Blessing - Bellevue - 6.9
8. Julia Gress - Sunshine - 6.7
Sandro Kopf - Delaunay - RET
Back to the 2012 Bundeschampionate Index