German Dressage News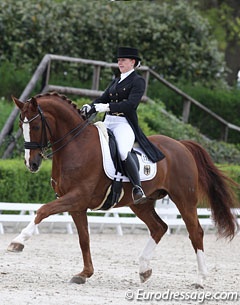 Following the 2012 Preis der Besten, the dressage selectors of the German Olympic Dressage Committee (DOKR) made up the long lists of combinations which are allowed to compete in the German selection trials for the 2012 European Pony, Junior and Young Riders Championships this summer.
The picked combinations are allowed to compete at the two official selection trials, held in Wiesbaden (24-28 May) and at the CDIO-PJYR Hagen (14 - 17 June). The European Junior and Young Riders Championships will be held in Berne, Switzerland, on 11 - 15 July, while the Pony Europeans take place in Fontainebleau, France, on 16 - 22 July.
The long-listed combinations are:
Pony Riders
Anna-Christina Abbelen -  Dornik's Donovan
Pia Böhmer - Wengelo's Ricardo (only Hagen)
Paulina Holzknecht - Carrie WE
Sophie Kampmann - Voyager
Celine König -  Dorn
Nadine Krause - Danilo (only Hagen)
Luca Michels - Dein Freund
Vanessa-Theresa Oppowa - Casino Royale K WE
Semmieke Rothenberger - Deinhard B, Der Feine Lord or Golden Girl
Lena Charlotte Walterscheidt - Equestricons Lord Champion and Don Davidoff
Anouk Wiemers - Die feine Chanel
Hannah Cichos - Massimiliano   
Junior Riders
Anna-Christina Abbelen - Fürst on Tour
Claire-Louise Averkorn - Condio B
Kristin Beer - Indira
Janet Egbers - Daniel Craig
Jessica Krieg - Special Edition
Vievien Niemann - Cipollini
Bianca Nowag - Dauerbrenner
Leonie Richter - Romanowa
Johannes Rühl - Flying Lady
Vivian Scheve - Bellheim
Pia-Katharina Voigtländer - Laetitian R
Maxi-Kira von Platen - Flamenco Girl
Young Riders
Charlotte Dassler - William
Sophie Holkenbrink - Piko's Son and Show Star (only in Hagen)
Nadine Husenbeth - Florida and Riverdance (only in Hagen)
Florine Kienbaum - Don Windsor OLD
Marc Lingelbach - Rolex
Louisa Lüttgen - Habitus and Diamantenbörse OLD
Petra Middelberg - Moncassado
Juliette Piotrowski - Flick-Flack and Dornfelder
Sanneke Rothenberger - Wolke Sieben
Tara Schneider - Little Diamond
Charlott-Maria Schürmann - Donna Jackson and Burlington
Lars Schulze Sutthoff - Love's Devine
Related Links
Eurodressage On the Scene at the 2012 European Pony Championships
Eurodressage On the Scene at 2012 European Junior/Young Riders Championships