2012 Preis der Besten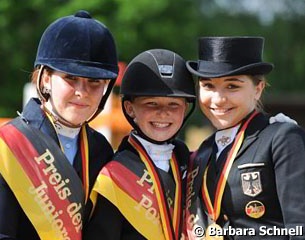 German pony rider Semmieke Rothenberger, junior rider Vivien Niemann and young rider Charlott-Maria Schürmann became the grand champions at the 2012 Preis der Besten in Warendorf on 12 - 13 May 2012. The annual Preis der Besten is an inofficial German youth riders championships and important qualifier for team selection for the 2012 European Pony, Junior and Young Riders Championships.
Rothenberger Rules
The 12-year old Bad Homburg based Semmieke Rothenberger saddled her brother Sönke's former German Riding Pony stallion Deinhard B (by Dornik B) for the competition in Warendorf and ended up going home with the champion's sash. Semmieke also brought along the 10-year old former European Pony champion Golden Girl (by Don't Worry), but it was the palomino stallion who reigned supreme at the Preis der Besten. Rothenberger scored 73.162% and 73.740 in both rounds with Deinhard.  The 15-year old Anna Christina Abbelen became the reserve champion with her 8-year old palomino Dornik's Donovan, scoring 68.889% in the first round and 73.33% in the second. Lena Charlotte Walterscheidt surprisingly earned silver with her second FEI pony, Don Davidoff (by Don Joshi) instead of her number one Equestricons Lord Champion (by Le Champion) which spooked in the final round. On the 9-year old bay Don Davidoff she ranked third and fifith to finish in bronze medal position.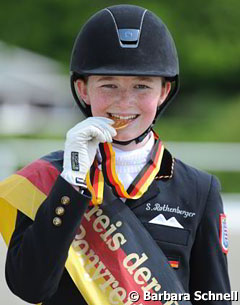 "Semmieke is incredibly experienced on different ponies. Last year she won team gold at the European Championships with Domino Dancing and here she rode two different ponies to the top," said German pony team trainer Connie Endres. "Anna Christina performed very consistently here. Already in Saumur she showed good form with three victories. It's a good starting point. Lena has been successful internationally in her third year now. She stands out with her refined riding."
While Germany has been in a power position at the European Pony Championships for years, Endres acknowledged that her kids are not yet on top form. "In regard to the European Pony Championships, this year we don't seem to be as solid as last year. There is just not an unlimited amount of combinations who consistently score over 70%. But I saw many very promising combinations with a lot of basic quality for next year. These young talents still need to get more experience on national and international level. That's why I'll take a larger group of riders to the next qualifier."
Niemann Back on Top
2011 European Individual Test Junior Rider Champion Vivien Niemann and her 10-year old Hanoverian gelding Cipollini (by Compliment) ruled the junior riders' roost in Warendorf. She won the first round with 70.378% and placed second in the finals with 71.053%. Maxi Kira von Platen and the chestnut Hanoverian mare Flamenco Girl (by Fielmann x Weltmeyer) were the runners-up after a third place in round one (68.541%) and the victory on Sunday (71.684%). The bronze medal went to 2011 European silver medalist Pia Katharina Voigtlander on her 11-year old Oldenburg Laetitian (by Lord Sinclair I). The Berlin based rider was second in round 1 (68.919%) and fourth in the finals (69.158%).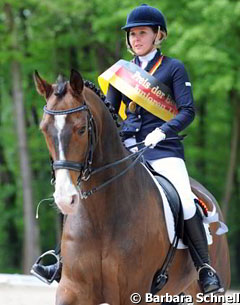 "Vivien rode two secure tests. Because of her achievements at last season's European Championships she could benefit from that experience, but there is still more in the tank" said German junior riders' team trainer Hans Heinrich Meyer zu Strohen. "Maxi rode a quiet round at first and was much more active with more expression in the Finals. The suppleness of her mare in the transitions really stood out. Pia Katharina and Laetitaen showed good form after the winter, but didn't ride at full risk."
Meyer zu Strohen commented that too many riders had inaccuracies in their tests on day one. "The juniors were too safe in their riding on the first day and there were many mistakes due to tension. In the finals the rides became more secure and more brave. At the top we have a good density in power."
Schürmann Untouchable
Charlott-Maria Schürmann and her drop dead gorgeous 9-year old Hanoverian stallion Burlington (by Breitling x Rohdiamant) were untouchable in the young riders' division with two victories because of her 74.632% and 73.895% scores. Schürmann also brought her second horse, the liver chestnut mare Donna Jackson (by Dr. Jackson) to Warendorf and twice finished third. However only one horse gets ranked overall  for the final standing. The silver medal went to Sanne Rothenberger on the 13-year old Hanoverian mare Wolke Sieben (by Wolkenstein II) with 72.368% and 72.421% earning rides. The Kerpen based Louisa Lüttgen and the Oldenburg chestnut mare Diamantenbörse (by Diamond Hit) were good for bronze after finishing fourth in round one with 70.421% and fifth in the finals with 68.316%.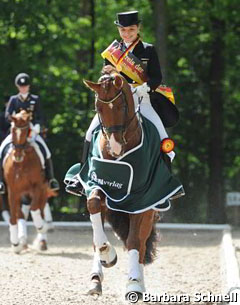 "Charlott-Marie showed a very high level today," said German young riders' team trainer Hans Heinrich Meyer zu Strohen. "After Burlington's long recovery from injury in the autum he is back on full form. The stallion has high quality basic gaits and is very secure in all the movements. Sanneke's Wolke Sieben really copes well with the difficult movements and showed very secure pirouettes today. Louisa had her mare very nice on the aids and rode with more expression. Today she rode with pep and risk."
Meyer zu Strohen is very pleased with the quality the German young riders have to offer. "I'm truly very pleased. The young riders were much better this year than the juniors," he said. "Now we focus on Wiesbaden (the next JR/YR qualifier) and check if they can keep up these performances."
Photos © Barbara Schnell - No Reproduction Allowed
Related Links
Scores 2012 Preis der Besten
Participants for 2012 Preis der Besten Announced
Six Winners at 2012 Kronberg Preis der Besten Qualifier