2012 CDN Schilde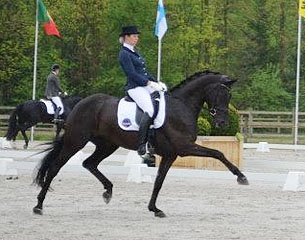 The 5-year old Westfalian mare Athena Nike and 6-year old Dutch warmblood stallion Bon Bravour were the grand winners at the fourth Belgian selection trial at 2012 CDN Schilde for the 2012 World Young Horse Championships in Verden. The national show in Schilde attracted a massive group of young horses. Sixty-six youngsters gathered on Saturday 12 May 2012 at Stable Brabo in Schilde to earn valuable show experience and Verden qualification scores.
In the 5-year old division the 32-year old Natasja van den Bogaert and Bart Maerevoet's Westfalian mare Athena Nike (by First Final x Laomedon) aced the class with a powerful score of 82.40, staying well ahead of second placed Isabel Cool on the Dutch warmblood gelding Constand (by Vic x Jetset D) with 79.40 points. Katrien Verreet and the SBS and Oldenburg licensed stallion Bailamos Biolley (by Sir Donnerhall x Florestan) were third with 77.80.
"Athena Nike is such a great mare. She's very sweet and very dependent. She has a strong personality, is extremely gifted and has talent for everything you offer her," said Van den Bogaert who swoons at the thought of  this horse which she has been riding for almost one year. "I've never had a horse like her.  We have put her a lot in the field, she doesn't need to be ridden often." Van den Bogaert confirmed the horse is very consistent at shows. "She felt in Schilde just like she feels at every show: incredible. She's such a nice horse to ride. She always gives it her all so all credit goes to her.
Tom Franckx and the Dutch owned KWPN licensed stallion Bon Bravour (by Painted Black x Chronos) continued their string of success with a fourth consecutive victory on the Belgian young horse circuit. The dark bay stallion scored 81.20 points despite some tension but still referred Katrien Verreet on the grey licensed stallion Galliani Biolley (by Sir Donnerhall x Lanciano) to a second place with 78.00 points. Andre de Vlieger and the KWPN bred Banner Man S (by Van the Man x Symfonie) finished third again with 75.40.
"It wasn't my day," Franckx said after he finished competing his three youngsters at the show. "My horses were very distracted by the horses which stood next to the show ring.  Bravie did show his qualities but the guy was more focused on those horses next to the arena instead of on me. Still we were first with 81%. It can't always be perfect when you're dealing with horses."
No less than 28 combinations were entered for the 4-year old division in which Isabel Cool and the Dutch warmblood Dario (by Metall x Ro-Lex x Ferro) topped the leader board with 81.20 points. They stayed a fraction of a point ahead of Larissa Pauluis on the Dutch warmblood mare Dorelja (by Vivaldi x Calypso III) with 80.80, while Dominique Rombouts and the Dutch mare Doris Day (by Uphill x Jazz) were third with 80.40 points.
Results - 2012 Cup of Belgium for Young Horses - CDN Schilde
4-year olds
1. Cool Isabel  - Dario - 81,201
2. Pauluis Larissa   - Dorelja L  - 80,801
3. Rombouts Dominique  - Doris-Day - 80,401
4. Van Laer Nick - Il Duce vd Kwaplas - 75,601 
5. De Deken Julie - Dolcherie -  75,401
5. Missiaen Simon - Dkny - 75,401 
5. Van Ingelgem Stefan - Sanchez - 75,401
8. Vileyn Bjorn - Feel Good - 74,401 
9. Fassaert Claudia  - Disaronno vd Haagakkers - 74,201  
10. Gielen-burger Verena - Farazzano - 73,801  
10. Timmerman Mercedes  - QC Star Performer  - 73,801
12. Verhulst Thais - QC Wonderfull Girl - 73,001
13. Dries Mieke - Champione vd Kempenhoeve -  72,401
14. Vischschoonmaker Shelly - Faustland - 70,801
15. Fassaert Claudia - Idomingo -  70,001 
15. Peeters Nicky- Condiblesse v/d Kempenhoeve - 70,001
17. Dieltjens Stefany - Il Locco van het Molenzicht - 69,801 
18. Rombouts Dominique -Dainty Rose - 69,601
19. Belien Jens -  Lord Deauville II - 68,001
20. Gielen Yves - Fallada - 67,801
21. Bogaert Frederik - Dinzindee - 67,401
22. Painblanc Sophie - Donald  - 66,801
23. Helsen Gert  - Sir Crusador - 66,601 
24. Laffineur Celine - Deep Fritz - 66,401
25. Rauw Alain - Dante - 65,401
26. Goosse Lyse Marie - Cayenne des Allies - 60,601
27. Bruyland David - Ice-Age v/h Broekdal  -  58,801
28. Van Hulsen Yehudi - Ariane s Wadest - 55,801
5-year olds
1. Van Den Bogaert Natasja - Athena Nike  - 82,400 
2. Cool Isabel - Constand - 79,400
3. Verreet Katrien - Bailamos Biolley - 77,800
4. Dossin Julie - Cartier  - 76,200
5. Mohimont Dominique - Chopin - 76,000
6. Van Laer Nick - Sir Donovan - 75,800
7. Van Der Veken Els - Carbana Girl - 74,600
8. Horsting Toby - QC Flow To The Sea - 73,800 
9. Hollanders Stefan - Sir Classic - 73,000
10. D Hoore Brecht- Sambuca Van De Helle - 72,800
10. Daeleman Ingrid - Lorenzo vd Wateringhoeve - 72,800
12. Goen Erik - Celene -  72,400
13. Van Laer Nick - Hyrano - 71,600
14. Dewaegenaere Ona - Calucci Utopia - 69,200
15. Van Orshaegen Mario - Lorenzo Lamas - 68,200
16. Van Den Bogaert Natasja - Corinna - 67,600
17. Timmerman Mercedes - Rose Garden -  67,200
18. Dries Mieke - Bonavonturo vd Kempenhoeve - 67,000
18. Verhulst Thais - QC Hot Chocolat - 67,000
20. Franckx Tom - Fleur Tategoi - 66,800
21. Laffineur Celine - Cupido -  63,800
22. Franckx Tom - Charming Mood  - 63,200
23. Claessens Conny -  Hamlet vd Stuyver - 62,600
24. Hens Dorien - Ronaldo - 62,400
25. Van Den Langenbergh Caroline - Honey B  - 55,600   
6-year olds
1. Franckx Tom - Bon Bravour  - 81,200
2. Verreet Katrien - Galliani Biolley - 78,000
3. De Vlieger Andre - Banner Man S - 76,800
4. Bocklandt Gaetan - Sir Burlington - 75,000
5. Heylen Tom - Gucci 'H'  - 74,000
5. Prevost Amandine - Djibouti - 74,000
7. Defalque Charlotte - Botticelli - 73,800
8. Van Ingelgem Stefan - Debussy - 73,000
9. Van Laer Nick - Glory-Hit-Star - 72,200
10. De Reus Benjamin - Leoville las Cases - 68,800
11. Cool Isabel - Brencis - 67,200
12. Boost Isabelle - Fair Diamond DHB - 65,800
13. Carlens Olivier - Armani du Jade Ewaldress - 61,400
Related Links
Bailamos Biolley and Bon Bravour Win Third Belgian WCYH Trial at 2012 CDN Zandhoven
Sir Donovan and Bon Bravour Win Second 2012 Belgian WCYH Selection Trial in Jeneffe
Constand and Bon Bravour Win First Belgian WCYH Trial at 2012 CDN Zandhoven