2012 Bundeschampionate Qualifier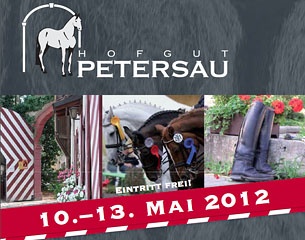 Danönchen and Amadelio were the winners of the well attended Bundeschampionate qualification classes held at the regional show at Hofgut Petersau in Frankenthal, Germany, near Frankfurt on 12 - 12 May 2012. Thirty-three horses made an attempt at reaching the qualification score for the 2012 Bundeschampionate in Warendorf.
Matthias Rath and the Oldenburg bred Danonchen (by Danone I x Rohdiamant) were the winners of the L-level class for 5-year olds. Twenty-one combinations competed in this division and 8.5 was the winning secore. Nicole Casper of Gestut Birkhof and the bay licensed stallion Lord Leopold (by Lord Loxley x Sandro Hit) were second with 8.4, while Matthias Rath and the Oldenburg bred Sansibar's Santa Fuela (by Sir Donnerhall I x Royal Diamond) were third with 8.30. Three 5-year olds finished fourth with an 8.2 score: Dorothee Schneider on the Hanoverian bred Kiss Me (by Kaiserkult x Sandro Hit), Luxembourg based Sascha Schulz on the Oldenburg Frimeur (by First Junior x De Niro) and Katrin Burger on the Oldenburg Diamond Song (by Diamond Hit x Sandro Song).
Only one horse was able to achieve the qualification criterium of 8.0 or higher in the 6-year old division at Frankenthal. Dorothee Schneider won the class aboard the Trakehner bred Amadelio (by Lehndorff's x Lauries Crusador xx) on a score of 8.10. Two combinations tied in second place with 7.60. They were Alexandra Hidien on the Oldenburg Sir Hawk (by Sir Donnerhall I) and Dorothee Schneider on the Rhinelander Louis le Rouge (by Lord Loxley I).
Results - 2012 Bundeschampionate Qualifier - Frankenthal
5-year olds
1. Danönchen - Rath, Matthias Alexander - 8.50
2. Lord Leopold-  Casper, Nicole -  8.40
3. Sansibar's Santa Fuela  - Rath, Matthias Alexander  - 8.30
4. Kiss Me -  Schneider, Dorothee - 8.20
4. Frimeur  - Schulz, Sascha - 8.20
4. Diamond Song -  Burger, Katrin- 8.20
7. Simple Choice  - Gräf, Ut - 7.60
8. Humphrey  - Balzer, Birgitt - 7.40
8. Don Primo  -Ellsässer, Julia - 7.40
8. Herston - Schneider, Anja - 7.40
11. Hofrätin -  Lang, Meike - 7.30
12. Montafon  -  Kempkens, Alena  - 7.10
13. Sandro Girl SN   - Christmann, Meike - 7.00
13. Citano  -  Eidam, Bruno -  7.00
13. Fabulös - Fraikin, Rena -  7.00
16. Donna Rupina -Weiß, Sandra - 6.90
17. San Siro  - Häschke, Antje - 6.80
17. Quando's Rubin -Keser, Simone -  6.80
17. Vision  - Wenger- Rossy, Sophie  -  6.80
20. Ruby Noir  - Rettler, Sebastian Oven  - 6.50
21. Hurricane - Fiebiger, Johanna Helena - 5.50
6-year olds
1. Amadelio - Schneider, Dorothee - 8.10
2. Sir Hawk - Hidien, Alexandra -  7.60
2. Louis le Rouge - Schneider, Dorothee - 7.60
4. Thai Pee - Stegars, Terhi - 7.50
5. Laurice -  Helmling, Bianca - 7.40
6. Froschkönig -  Berlepp, Viktoria - 7.30
6. Wilander R -  Lang, Meike - 7.30
8. For my Live - Skarsoe, Fie Christine - 7.20
9. Remondos quick step  - Ascherl, Steffen - 6.90
9. Cassidos  -  Wittenborn, Carolyn - 6.90
11. Will I am -  Weltpoet    Pfeiffer, Kim  - 6.80
12. Fifth Avenue -  Burger, Katrin - 6.70
Back to the 2012 Bundeschampionate index