2012 Olympic Games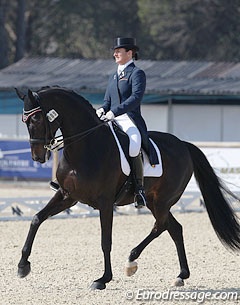 At a press conference at the 2012 CSIO Nations Cup in Lummen, the Belgian Equestrian Federation officially announced the short listed Belgian Olympic candidates. For dressage three riders have been selected for the short list, though one slot is only available.
Belgian Grand Prix rider Jeroen Devroe unlocked the slot for one invididual Belgian rider to be sent to the 2012 Olympic Games by ranking within the top 50 on the FEI Olympic Riders Ranking on 1 March 2012. Even though Devroe enabled this Olympic berth for Belgium, he is not automatically qualified to compete at the Games.
Belgian team trainer Volker Moritz has nominated three riders for the Olympic short list: Jeroen Devroe (Apollo van het Vijverhof), Claudia Fassaert (Donnerfee) and Vicky Smits-vanderhasselt (Daianira van de Helle).
Despite achieving the required Minimum Eligibility Score of two times 64% for Olympic nomination, Belgian riders also have to achieve twice a 70% score (of which at least one at an outdoor show) for the Belgian International Olympic Committee (BOIC). Only Devroe and Fassaert have been able to fulfil this requirement. Smits-Vanderhasselt is still missing one outdoor 70% score. 
"The performances of last year determine who will be presented to the BOIC," Belgian Grand Prix chef d'equipe Jeroen van Lent told Eurodressage. "The Belgian Equestrian Federation makes the suggestion to the BOIC which determines who can go. The rider with the best results and the fulfilled BOIC criteria will be picked."
At the moment Jeroen Devroe and his Belgian warmblood Apollo van het Vijverhof are achieving the best results consistently. "At the moment there is no discussion for us at the federation (who will be nominated)," Van Lent added. "Jeroen has the best results. Claudia is second and Vicky third. Unless someone starts scoring 75% five times internationally than that person will go, but realisticaly Jeroen will be the one if he and his horse stay healthy."
The Belgian federation will make its final decision at the end of June and present the dressage rider to the BOIC for Olympic nomination.
Photo © Astrid Appels
Related Links
Eurodressage Coverage of the 2012 Olympic Games
Jeroen Devroe Withdraws from 2012 World Cup Finals
Fassaert and Hoketsu Prevail in GP Special Tour at 2012 CDI Vidauban
Vicky Smits-Vanderhasselt Continues String of Success with Another Victory at 2011 CDI Braunschweig