2012 CDN Zandhoven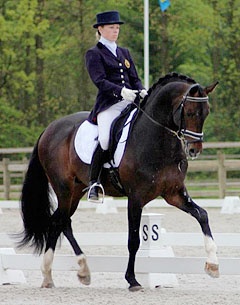 Licensed stallions Bailamos Biolley and Bon Bravour ruled the roost at the third Belgian young horse selection trial for the 2012 World Championships in Verden, held at the national competition in Zandhoven, Belgium, on Saturday 5 May 2012. While Bon Bravour so far has captured three consecutive victories, Bailamos is climbing the ladder and earning high scores for Verden.
Belgian combinations vying for a berth at the 2012 World Young Horse Championships have to compete at at least five out of seven young horse selection trials, held at national shows throughout the spring. The five best results are taken into account for nomination.
In the 5-year old division former Belgian youth team rider Katrien Verreet returns to the big time aboard Brigitte de Biolley's SBS and Oldenburg licensed stallion Bailamos Biolley (by Sir Donnerhall x Florestan). The small but athletic bay stallion received a score of 80.60 points to narrowly edge out Els van der Veken on the bright bay Dutch warmblood mare Cabana Girl (by Serano Gold x Jazz). The pair scored 80.40 points. Belgian based Spanish rider Andrea Villaverde ranked third with her KWPN bred black mare Cartier (by Don Frederico x Gribaldi) on 79.60
"Yes we can," said an ecstatic Katrien Verreet after her victory on Bailamos. "I'm so proud of my sweeties," she added, also referring to her second place in the 6-year old division. Second placed Els van der Veken commented that, "finally it all worked out as we trained the last weeks. Cabana was a super star and scored just 0,2% less than the winner. The judge advised us to work on a more uphill canter. We will do that!"
The 6-year old division was won by routinier Tom Franckx aboard the Dutch owned KWPN stallion Bon Bravour (by Painted Black x Chronos). The duo stayed well ahead of all competition with their 84.00 score. Katrien Verreet and Brigitte de Biolley's bay Belgian warmblood licensed stallion Galliani Biolley (by Sir Donnerhall x Lanciano) were the runners-up with 77.000 points, while Andre de Vlieger and his Dutch warmblood Banner Man S (by Van the Man x Symfonie) finished third with 75.40.
"There were a few minor things here and there but it's going better every single time," said a pleased Tom Franckx, who competed three horses in total on the young horse circuit in Zandhoven.
In the 4-year old division Larissa Pauluis and the Dutch mare Dorelja (by Vivaldi x Calypso III) posted the winning score of 76.801 points. Belgian Grand Prix rider Julie de Deken and her new ride, the Dutch mare Dolcherie (by Painted Black x Krack C), slotted in second with 76.601 points, while Dominique Rombouts and the Dutch mare Doris Day (by Uphill x Jazz) were third with 76.401.
Results - 2012 Cup of Belgium Young Horse Qualifier - CDN Zandhoven
4-year olds
1. Pauluis Larissa - Dorelja L - 76,801
2. De Deken Julie - Dolcherie - 76,601
3. Rombouts Dominique - Doris-Day - 76,401
4. Gielen-burger Verena - Farazzano - 74,001
5. Van Laer Nick -  Il Duce vd Kwaplas - 73,801
5. Helsen Gert - Sir Crusador -  73,801
7. Dries Mieke - Champione vd Kempenhoeve - 72,601
7. Vischschoonmaker Shelly - Faustland - 72,601
9. Timmerman Mercedes - QC Star Performer - 72,001
10. Verhulst Thais - QC Wonderfull Girl - 71,201
11. Rombouts Dominique - Dainty Rose - 71,001
12. Appelmans Eefje -  Chabasse XO N - 70,401
13. Rauw Alain -  Dante - 70,001
14. Gielen Yves -  Fallada - 68,601
15. Dieltjens Stefany - Il Locco van het Molenzicht - 68,201
16. Bruyland David - Ice-Age v/h Broekdal - 66,401
17. Bastaens Magali - Iganini -  66,201
18. Prevost Amandine - Chaïna de Deminche  - 65,001
19. Depuydt Dries - Ariane's Nutello  - 64,601
20. Bogaert Frederik - Dinzindee -  64,401
21. Peeters Nicky  - Condiblesse v/d Kempenhoeve -  64,201
21. De Jonge Yana - Imposanta MJ -  64,201
23. Belien Jens - Lord Deauville II - 63,801
24. Depuydt Dries - Ariane's Funky - 63,601
25. Van Hulsen Yehudi - Ariane s Wadest - 60,001
26. Rolland Thomas - Esprit vd Wijnhoeve Z -  58,201
27. Goosse Lyse Marie - Cayenne des Allies - 53,401
5-year olds
1. Verreet Katrien  - Bailamos Biolley - 80,600
2. Van Der Veken Els - Cabana Girl  - 80,400
3. Villaverde Andrea - Cartier - 79,600
4. Van Laer Nick  - Sir Donovan - 79,200
5. Cool Isabel -  Constand - 78,000
6. Van Den Bogaert Natasja    Athena Nike -  77,800
7. Franckx Tom - Charming Mood - 76,600
7. Horsting Toby - QC Flow To The Sea  - 76,600
9. Hollanders Stefan - Sir Classic  - 76,400
10. D Hoore Brecht - Sambuca Van De Helle - 76,200
11. Dossin Julie - Cartier - 74,800
12. Van Laer Nick - Hyrano - 74,400
12. Van Den Bogaert Natasja - Corinna - 74,400
14. Franckx Tom - FLeur Tategoi - 72,800
15. Verhulst Thais - QC Hot Chocolat - 72,000
15. Dries Mieke - Bonavonturo vd Kempenhoeve - 72,000
17. Goen Erik - Celene - 71,800
18. Dewaegenaere Ona - Calucci Utopia - 71,400
19. Claessens Conny - Hamlet vd Stuyver - 70,800
20. Van Orshaegen Mario - Lorenzo Lamas - 70,400
21. Van Gerwen Sofie - Hitchcock - 70,000
22. Hens Dorien - Ronaldo - 67,800
23. Van Den Langenbergh Caroline - Honey B - 65,000
6-year olds
1. Franckx Tom - Bon Bravour - 84,000
2. Verreet Katrien - Galliani Biolley - 77,000
3. De Vlieger Andre - Banner Man S - 75,400
4. Ducos Guillaume - Bestseller Vdt - 75,200
5. Moordtgat Anke - Believe RT-  74,600
6. Van Orshaegen Mario -  Bizzkit Lusan - 74,500
7. Bocklandt Gaetan - Sir Burlington  - 72,400
8. Carlens Olivier - Armani du Jade Ewaldress - 71,400
9. Van Laer Nick - Glory-Hit-Star - 71,200
10. De Reus Benjamin -  Leoville las Cases - 70,400
11. Boost Isabelle - Fair Diamond DHB - 70,200
12. Dekeyzer Ulricke - Sir William - 69,400
Related Links
Sir Donovan and Bon Bravour Win Second 2012 Belgian WCYH Selection Trial in Jeneffe
Constand and Bon Bravour Win First Belgian WCYH Trial at 2012 CDN Zandhoven