Eurodressage F.O.C.U.S.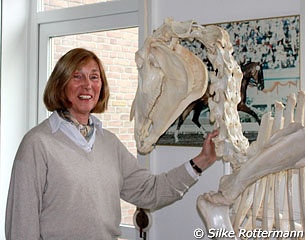 The late Hans-Heinrich Isenbart, probably Germany's most famous equestrian journalist, was legendary for his metaphoric language when it came to describing the relationship between man and horse. Nobody explained the passion and love for horses better than him: "Some people are even born with "bacillus equus caballus" which produces a permanent inflammation of the soul. This lifelong inflammation is not curable (…) because the patient doesn't want to be cured," he said about innate passion for horses.
Surely many dressage lovers can recognize themselves in those wise words. However, there are much fewer in this discipline who transform this passion into an active and honest engagement, advocating that dressage is first and foremost about the quality of training and riding and the harmony resulting from it. This was also something of uppermost importance to Isenbart, who was honorary member of the Xenophon Society until his death.
International judge Angelika Frömming is one of these rare personalities who doesn't shy away from clear words and from taking unpopular positions for the welfare of the sport and the horses involved. Rather in the background than in the big spotlights where some of her judging colleagues like to position themselves, Frömming has influenced dressage in many ways over the past five decades.
With her international judging career coming to the end due to the age barrier, Eurodressage's Silke Rottermann grabbed the opportunity to look back on Angelika Frömming's life and work by paying her a visit at her home near Warendorf.
The Horse Gene
There are many equestrian personalities who come from families in which horses played not the slightest role, but there are many born into families where these noble animals have been treasured and were part of their lives for generations. Angelika Frömming, mostly called by her nickname "Anke", belongs to the latter group and apparently was born with the infamous horse gene.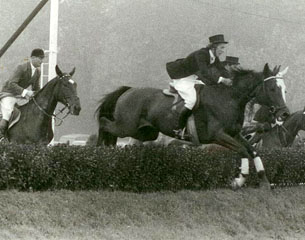 Although both her parents originated from the Rhine-Ruhr-area Frömming was born as Angelika Jucho in the third year of World War II in Munich, where her father Günter studied machinery construction at the university. He was a passionate horseman who, just like his four siblings, had ridden all his life and who had served at the riders' regiment of Paderborn. Angelika Frömming did not sit on a horse before she was able to walk. The circumstances in the first post war years in occupied and bombed Germany didn't allow for such an early start in the saddle.
"For my parents it had been always clear that I would ride one day," Frömming reminisced. "The only problem had been that directly after the end of the war there was absolutely no opportunity for that in Dortmund, where we had moved to. When the Westfalenhalle in Dortmund were built an indoor arena and stables emerged next to it as well and it became the home of the Dortmund Riding Club. There I had my very first riding lesson on 22 November 1954 on the school-horse Auenfee. I remember it clearly because I gave my father a very detailed "horse-diary" for Christmas 1956. Before that day I first sat on a horse I rarely had known horses or how to handle them. My first impression on Auenfee was that riding is quite a shaky affair!"
It didn't remain a shaky, frightening affair for long. Angelika had a good start right from the beginning as her first riding instructor was the dressage expert Paul Riemann, a student of the legendary Otto Lörke, who was still alive during those times in the mid 1950s. Only a mere month after she had started her riding career Angelika's father bought his first horse after World War II to fulfil his own dream of starting riding again. Strong boned and Roman nosed "Asbach" was joined only five days later by Whisky, which like Dr. Reiner Klimke's Olympic eventer Winzerin was sired by Wehrdich xx.
Finally the Jucho family acquired a third horse a year later, "Fuchstanz xx" by the legendary Ticino xx. The horse had been used as the lead horse for the Derby winner Niederländer xx and Angelika remembered a great new sensation on him: "I exactly remember the new feeling this thoroughbred gave me: He was narrow, incredibly comfortable to sit and reacted promptly to all aids."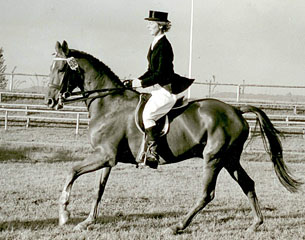 During those times of the 1950s and also in the 1960s it was rather uncommon to specialise a horse or rider in one discipline from early on. The same counted for Angelika Frömming and the horses her family owned. They were all trained up to L-level in the Olympic disciplines and were also hunted. Everybody in the family rode every horse. At 15 Angelika had her show debut in a dressage class for youth riders and she was one of the four winners! Later on when she had graduated from school she got her first own horse, Tenor by the famous Trakehner stallion Totilas, one of the few reaching the West early in 1945 which rebuilt the Trakehner breed after the war. With Tenor she competed in jumping up to M- level and in dressage she won at S-Level, but when it came to highest levels her fear for jumping took over.
"When I reached S-level my anxiety I always had a little bit while jumping forced me to specialise on dressage. Moreover I had a serious fall during a hunting class in the mid 1960s after which I had to rest on a sand-sack in hospital for 6 weeks. After that accident jumping or hunting hadn't been an issue anymore, except when I was crazy enough to do some hunts in Ireland in the late 60s and early 70s."
Still Frömming proudly looks back on a show at Bad Harzburg in the 1960s when she won an S-dressage test on her Hanoverian Wodka (by Wöhler) and a hunting class on her parents' grey Racky (by Ramzes AA) on the same day!
In the 1960s she moved on to the highest level in dressage, Grand Prix, and between 1964 and 1967 managed to place three times 4th at the German Championships for ladies. A mere ten years later her was awarded the golden riding badge for her wins at S-level. Angelika Frömming, then commonly known as "Anke Jucho", had become a household name on the German dressage scene.
Learning from Best
Frömming was not only lucky to always have had different horses to ride as of her teenage days, but her riding education was also aken care of by some of the very best dressage trainers Germany had to offer during the 1960s and 1970s. Each trainer she worked with gave Angelika invaluable advice to improve her riding skills which were so versatile that she not only rode dressage and jumping classes as well as hunt races, but also in the side-saddle; something quite exotic nowadays.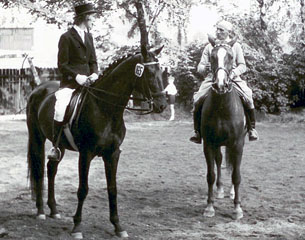 The person teaching her what dressage is really about, absolute accuracy in every aspect, was Heinrich Boldt who was a well respected dressage trainer and whose son Harry would later become one of Germany's best dressage riders. Boldt instilled in his young student that a dressage movement is only useful if it is ridden absolutely precisely. With that in mind Frömming sometimes had to repeat an exercise up to 30 times until Boldt was content. For him the introduction and the termination of an exercise was most important. Nowadays it seems usual to cut corners instead of passing them like a quarter volte, but that was unthinkable when riding with somebody like Heinrich Boldt!
Angelika's father bought Boldt's older experienced Grand Prix horse Brokat, a chestnut Holsteiner gelding on whom his son Harry had ridden the 1956 Olympic dressage trials. On Brokat the young lady learnt an awful lot under the watchful eye of her trainer. This good natured Holsteiner enabled Angelika to compete in her first S-level test in May 1958, a mere 4 years after she first sat on a horse. With Brokat she also earned her first S-placing, an eighth place a bit later at a competition in Essen.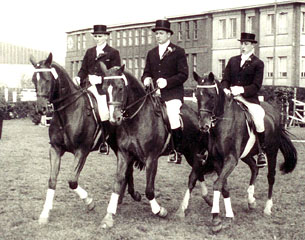 In the 1960s Angelika Frömming's most meaningful trainer was Udo Nesch from Dortmund. Nesch was famous for excelling in jumping and dressage up to the highest levels and he was a very competitive man, something he also expected from his students. "He not only considered a good position and accurate riding as very important, but also the will to win," Frömming told Eurodressage. "He wanted me to risk something at a show and attack. This spirit in me helped when for the first time I was entirely on my own at a show in Saarbrücken. Wodka intended to spook at the first corner and during my ride I became aware that I have to ride more consciously and goal-orientated which I did from then on. Udo Nesch was my role model. He was successful in all disciplines."
Even though Angelika was stamped by Boldt and Nesch she also took part in clinics with Willi Schultheis whom she admired a lot. "I admit sometimes it was almost frustrating to participate in one of his clinics. He sat on the horses which only could do single flying changes. He tried one or two rounds and then he was able to do as many one-time- changes as he asked for. It was simply fascinating! The most impressive thing for me was riding on blank curb. The horses were ridden in the morning and when they were through enough Schultheis allowed us to ride on blank curb in the afternoon. To give aids was child's play then, one could ride with almost invisible aids. But as I said before, the horses really had to be through for it."
Riding and Studying: A Successful Combination
Coming from a horse-loving family, it seemed not unlikely that Angelika wanted to make horses her life after she had graduated from Käthe-Kollwitz Gymnasium in Dortmund. "Of course I wanted to become a riding instructor, but my parents were not ecstatic and dissuaded me from doing it. Their reasonable argument was that I should learn something with which I earn enough money to be able to always own a horse. Because riding would always remain relaxation and delight in that case. How right they were!"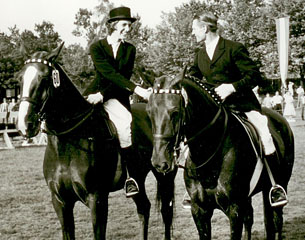 In hindsight it was more than sound advice, even though Angelika "knew secretly that one day I will completely focus on equestrian sport," as she said. Instead of doing that in the 1960s she and her horse Tenor, "named like that because he roared horribly," moved to her birthplace, Munich where Angelika started to study economics. At the same time she trained with another excellent horseman, Ottokar Pohlmann.
Pohlmann was an outstanding eventing rider, having earned fame with a modern looking chestnut called Polarfuchs on whom he had become European team champion in Harewood 1959 and took part in the 1960 Olympics in Rome. Unfortunately Polarfuchs broke down on cross-country there. The rider was later responsible for designing the Olympic cross-country course of Munich at the 1972. Olympics
From him Angelika learnt how useful it is to include little jumps in the daily dressage training, something quite unthinkable for many of the dressage horses of our times, but required in most of the dressage classes back then. "It was always a highlight when I had to take a little fence out of a half pass, for example. It was a principle of Pohlmann's training that jumping was always included in the daily dressage training of the horses."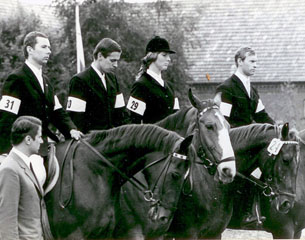 Of course Angelika was not riding just for fun during her student days in Bavaria's capital as well as the other places where she followed university courses. Instead the student riders' shows became a new challenge and thrill and led to new successes. There were a lot of activities on the student riders' scene during those times. In 1968 the first nations cup took place in Münster and Angelika was part of the German team with three men, which she would much later meet again in the judges' boxes: Wilfried Herkommer, Florian Geyer and Dieter Schüle. Their team won ahead of Switzerland and Angelika earned the silver medal in the combined class behind Swiss Martina Keller. The same year Jucho was also member of the bronze medal winning students' team of the Münster University at the German University Championships in Wülfrath.
Angelika remembers that her time on the students riders' scene with great fondness as it not only brought fun and success, but was the place where she got to know her late husband Norbert Frömming. During her final semester before graduating Angelika was too busy to ride regularly, but every time she felt she couldn't bear life without a horse the legendary Paul Stecken, trainer of Dr. Reiner and his daughter Ingrid Klimke, was kind enough to offeri her a ride on one of his schoolmaster horses. "For that I am still very grateful to him," she admitted. In 1969 she graduated from Münster university with an MBA degree and started her working life in the economical department of the Westdeutsche Landesbank in Münster. Time for riding and horses became tighter than the two decades before and she felt she had to move a step forward as a rider, even though it was also a continuing disappointment that led to her decision to conquer new fields of dressage.
Changing the Sides of the Table
Working full-time at one of Germany's biggest banks Angelika was looking for new challenges in the sport which still meant so much to her. As she had reached Grand-Prix-level already in the 1960s she decided to do the amateur riding instructor course and exam at Germany's most renowned institute for the art of classical dressage: Egon von Neindorff's in Karlsruhe.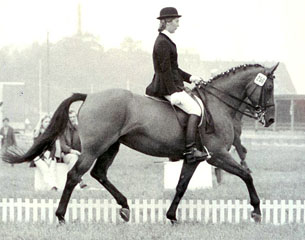 She also turned to something which made her a name world-wide:judging. If one asks judges why they have taken on this job you will hear very different answers, but the motivation that drove Angelika to judging is rare. Frömming could not understand why the judges assessed the first horse she trained up S- level so moderately.
"In the 1970s I had a mare called Pflümli (by Perser xx). My parents had given her to me as a gift for my graduation from university. When I got her she was only 4, a very ticklish and extremely self-confident mare. With the years she became very reliable and I was placed in almost every S-dressage we started. The only thing which I found annoying was that we got so many 6 in the judges' protocols. In my opinion Pflümli went faultlessly, but I rarely got higher marks. I really wanted to find out why and started taking part in judges' seminars. There I became aware that I was still riding not precisely enough and that Pflümli just wasn't active enough in the hind legs and not sufficiently moving under the centre of gravity. So from my own experience as a competition rider I can only advise every competitor to take part in judges' seminars. They give a more objective view on everything and one's own riding improves significantly due to this."
Angelika's own riding had the longest break ever after her husband died in 1982. For two years she was without a horse of her own before she bought the Pasteur xx- son Per Saldo, a horse appropriately named for somebody working at a bank. He stayed with her until his 23rd birthday "when a stroke quickly ended his life."
Working full-time and pursuing her career as a judge left no time to take up dressage as a competition sport again. Instead of appearing on the result sheets as a rider like she did for about 30 years Angelika Frömming began appearing on the scene as a judge. From the mid 1980s onwards she judged Grand Prix classes nationally and in the mid 1990s she was named an official I-judge by the FEI.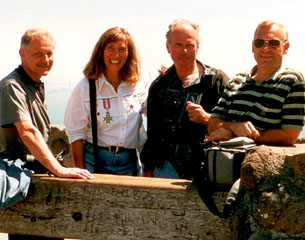 In her judge's career Frömming experienced many unforgettable events she can smile about today. "For example I once judged a dressage class in a horrible thunderstorm in Bavaria when the judge's box at M turned over because of the storm. I could only see the legs of the poor colleague who luckily survived this incident unscathed. Another memorable experience I had was at Mannheim years ago. There was a new Prix St. Georges programme, but the rider didn't know that so we had to ring her off two times before she went to us and asked us to give her the new programme, she would quickly read it and then try again. Of course we didn't allow that!"
At the beginning of the 1990s Frömming gave up her job at the bank in Ennigerloh to dedicate herself completely to dressage. She was entrusted with the education and training of dressage judge aspirants. In the following two decades until her retirement in 2008 she was responsible for (the quality of) the judges' training and examination, which she did with bravura. Umpteen judges went through her stern and meticulous school in which they learnt not only to give marks, but to justify and explain them in a sense that the judged rider can profit from it. "Among others our task as a judge is to help and motivate horse and rider, even if sometimes this is very difficult when there's bad equitation going on," Frömming explained.
When fellow I-judge Christoph Hess remarked at her retirement cerempny in 2008 that Angelika Frömming ""is an institution. With her retirement an era ends," he was more than right in the sense that Frömming not only had stamped countless judges, but also set standards in other fields. She had helped to work on new guidelines for riding and driving in her home-country, was member of the Working Committee of the international Dressage Handbook and was involved for two decades in developing new tests for national competitions. She had conducted advanced education seminars for judges nationally and abroad. For her various merits she was already awarded the Riders' Cross in silver by German equestrian federation in 2007.
Although Frömming has judged in approximately 40 different countries, her particular passion as a judge belonged to the young dressage horse classes. "It is always a challenge to judge these horses of which many still have undiscovered potential. Young horses are unbelievably charming and express so much naturalness!," she said with passion. As a straightforward and honest person, Frömming never left a doubt as a judge that she sticks strictly to the classical principles. She didn't allow herself to be blinded by flying frontlegs and young horses being presented like Grand Prix stars.
No matter at the World Young Horse Championships in Verden or in other international Young Horses class, Frömmingnever shied from unpopular decisions and she was always able to explain them expertly to the riders and crowds alike. Many will well remember the uproar at the 2010 World Championships in Verden, where Frömming had to explain the crowds the relatively low markings Andreas Helgstrand's big moving Honnerup's Driver got, even though he was the World Champion the year before. Skilfully she phrased the fact that the horse had not been ridden according to his young age which brought applause as well as booing from the tribunes. It was a clear message that good equitation is more than directing an impressive mover through the arena and even more importantly that a young horses' class is not the stage to assess the ability for Grand Prix later on. If one has followed her commentaries after the many different rides over the past years one will admit that Frömming not only criticised on the point, but all too often also found encouraging words no matter how much had gone wrong in the test. Her public critiques were not meant as consolation, but Frömming always considered her job to help the riders improve in pointing out where they can build on in their future training.
No doubt during the quarter of a century in which she judged internationally there might have been riders discontent with her judgement because of the emotions, the money and the hard work involved in the sport of dressage. It's a very thin borderline in any sport where marks and not the stop-watch and measuring tape decide the victory and placings. Some riders reported to have been relieved when Angelika Frömming was among the judging panel at a show, because they knew serious work would be honoured the way it deserves.
Restless Retirement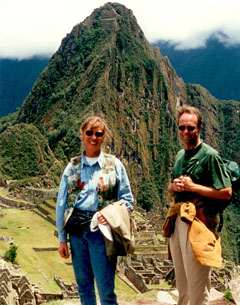 Though truly deserving, some people should never be allowed to retire because they are too important to leave the centre stage. Angelika Frömming undoubtedly is one of these few persons, who still have so much to give. Angelika admitted she does have a rather restless retirement. Having been retired as a trainee of judges and as a judge, she found time to follow another path in her colourful life in the world of dressage.
"When I was young I did not read that much on equitation and its history as I was lacking time for it, but once I started doing it I was really intrigued and continued reading as much as possible on the evolution of equitation. So I started lecturing on the history at the German Riding School in front of bereiter aspirants. I had a script, but I never planned to write a whole book on the topic. It was my partner Ludwig Kühne who had the idea and it was Paul Stecken and then Mr. Friedrich of FN press who thought I could do it. When I started I had no idea that I would fill so many pages and that it would lead me to so many interesting places," she explained.
One of Frömming's passions is traveling, which luckily her horse-crazy partner Ludwig Kühne shares with her. Both followed the paths to the earliest places of equestrian sport in history. It led them to several countries and countless museums, archives and libraries to collect the necessary information for the book while taking photographs of historical places as well.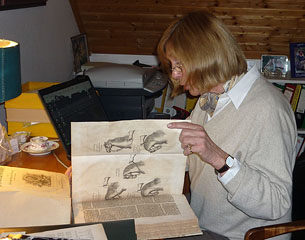 "We were in Greece, in Delphi and Olympia and visited a small archaeological museum on Mykenos. Then in Pompei in Italy, in Istanbul in Turkey, in several museums in Berlin, at an exhibition in Kentucky and in several more places. I always travelled with my notebook and camera, now with my iPad."
For Frömming researching and writing a book on such a global topic was a challenge and great delight at the same time. She felt very grateful that her partner supported her in such a way "that I couldn't have done it without him." In the acknowledgements of her book which was published in 2011 by FN press Frömming stated that "for many hours my partner had to look at horses and riders, had to listen to who had said or written something, which decisive developments had taken place and what we have learnt from history—or not."
Frömming presented a book with stature on the German book market, systematically showing all the developments, changes and problems riders and horses had to endure from the very beginnings of taming horses to our recent Olympic sport. As exciting as the book is to read and look at, one shouldn't miss out on Frömming lecturing on some of the topics in her book. The German Equestrian Federation organises lectures at different places all over Germany. With her humorous, narrative style and personal depth of knowledge, witnessing all the developments and changes of the past five decades at first hand, Angelika Frömming is able to make equestrian history come alive. Her expert knowledge on the topic led her to lecture abroad, for example at the 2011 dressage symposium at the renowned French National School for Equitation in Saumur.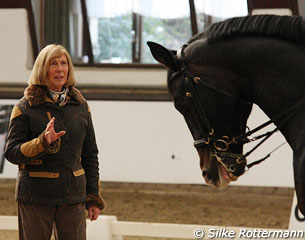 Nowadays Angelika Frömming not only lectures and teaches on the history of equitation, she also occasionally teaches at dressage clinics in which she helps riders of all training levels. Frömming is first and foremost focusing on what she also considers essential when judging the highest levels of dressage: submission, relaxation, correct elevation, impulsion, and lightness in the bridle. Some riders seemed surprised that she first worked on these ever-important basics instead of focusing too much on the movements itself, but the results at the end of only one lesson were convincing.
Unlike too many other trainers Frömming pays attention to minor details like the correct position of the rider's fists or the horse's ears as an indicator of the correct position of the neck in a certain movement. She prefers a friendly respectful interaction with her students, but is firm when it comes to following her instructions. With this mixture of encouragement and objective criticism she is not only able to improve the ride-ability and technical details, but encourages the rider's faith in himself and his horse's abilities.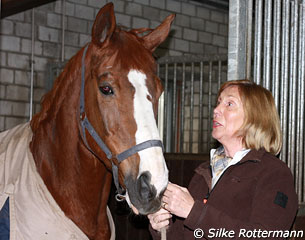 As somebody who has ridden almost her entire life Frömming still owns three horses together with her partner Ludwig Kühne. As she still travels fairly regularly,  only one of them, Gustav, is at her home to serve as her private riding horse. The 18-year-old Hanoverian is trained to Grand-Prix-level and ridden and taken care of by Angelika on a daily basis when her time schedule permits it.
Frömming's and Kühne's second horse is a 15-year old black Trakehner gelding Don Pedro (by Michelangelo x Marduc). "We bought him at the auction at Klosterhof Medingen and he was competed later on by Johanna Wienkamp at juniors level." The horse came 4th at the 2010 German Junior Riders Championships in Aachen. The youngest is Sir Henry (by Fürst Heinrich) whom they also bought as a 3-year-old.
"One day when Gustav is too old to be ridden I hope Don Pedro and Sir Henry will join me here to be my next riding horses," Frömming said. She will probably never stop practising her beloved sport as long as she is able to.
Heroes in Dressage
More than 50 years of a life with horses and dressage raises the question which riders and horses have left the most lasting impressions on somebody as knowledgeable as Frömming.
"Of all the horses I would choose the following four: Doublette with Willi Schultheis (editor's note: Germany's most successful dressage horse at the beginning 1960s, a Hanoverian mare by Duellant who later gave birth to the Olympic bronze medal winnig gelding Dahlwitz) because both did all absolutely effortless. Then Piaff (1968 team and 1972 individual Olympic champion, double European champion 1969 and 1971) with Liselott Linsenhoff because of his outstanding piaffe-passage tour. The grey Lenard (Swedish gelding, one of Germany's best horses to the 1970s) with Rosemarie Springer because of his incredibly good piaffe. I remember him piaffing during the show at Wolfsburg on the show billard to movie music of Bridge Over the River Kwai under Willi Schultheis (Springer's long time trainer)."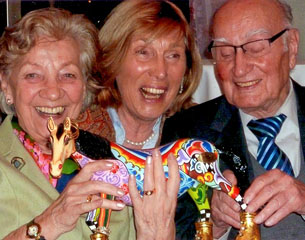 "Another horse I admired was Liostro (1972 Olympic team silver medalist and individual bronze medal winner at the 1975 EuCh with Karin Schlüter) because of his elastic and ground covering movements. Then Rembrandt with his unequalled transitions from passage to extended trot and back to passage. In Stockholm (1990 WEG) a thrilled murmur went through the crowd, but was immediately surpressed because one never knew if Rembrandt would spook the next second."
Of all riders of course her long-time trainer Udo Nesch was a role model to Frömming. "But also Rosemarie Springer since she was a perfect lady with a copybook position in the saddle and extremely discreet aids. And of course Dr. Reiner Klimke! Not only because of his versatility rarely to be found nowadays, but also because of his ability to absolutely focus or switch off on a show. For example he prepared himself for his law exams between single classes on a show. Back then I admired it a lot. And finally because even as a young man he was courageous enough to express his ideas."
No doubt there will be more than just a few equestrian personalities who will name Frömming when it comes to the persons having influenced their riding and equestrian lives in a positive way. Dressage has given Frömming much in half a century, and she hasn't missed out on giving much back to the sport. She continues to do so; let's hope for many more years to come.
By Silke Rottermann for Eurodressage.com
Photos © Silke Rottermann - Fromming Private Archive
Related Links
A Coming Together of Minds at the 2011 FEI Young Horse Seminar and Judges Course
Notes from a Verden First Timer
Bold Judges Send Out a Message at 2010 World Young Horse Championships