2012 CDN Jeneffe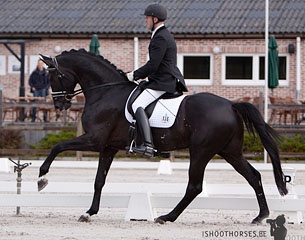 The 5-year old Sir Donovan and 6-year old Bon Bravour were the winners of the second Belgian selection trial for the 2012 World Young Horse Championships in Verden. The second selection event on the 2012 calendar was held in Jeneffe, Belgium, on Saturday 28 April 2012 and featured 31 horses in total in the two age categories.
In the 5-year old division Nick van Laer rode the black stallion Sir Donovan (by Sir Donnerhall x Weltmeyer x Bolero) to a winning score of 80.0. Isabel Cool and the chestnut Dutch bred Constand were on their heels with 79.60, while Natasja van den Bogaert and the Westfalian bred Athena Nike (by First Final x Laomedon) ranked third with 79.40.
Tom Franckx and his experienced 6-year old KWPN stallion Bon Bravour (by Painted Black x Chronos) took the lead in their age class with 79.80. Tthe second placed pair, Katrien Verreet and the Belgian licensed stallion Galliani Biolley (by Sir Donnerhall x Lanciano), were breathing down the winner's neck with 78.60 points while Belgian junior rider Charlotte Defalque and her new horse, KWPN gelding Boticelli (by Jazz x Zep), were third with 75.40.
In Jeneffe also 4-year old horses come in action and that division was won by Mieke Dries on the Belgian warmblood mare Champione van de Kempenhoeve (by Sir Donnerhall x Weltmeyer). With a score of 80.40 the pair was well ahead of Amandine Prevost on the SBS branded mare Chaina de Deminche (by Stedinger x Donnerhall) with 77.80. Celine Laffineur and the KWPN Deep Fritz (by Santa x Jazz) were third with 73.60.
Photo © Ishoothorses.be
Results - 2012 CDN Jeneffe
4-year olds
1. Mieke Dries - Champione van de Kempenhoeve - 80.40
2. Amandine Prevost - Chaina de Deminche - 77.80
3. Celine Laffineur - Deep Fritz - 73.60
4. Stefany Dieltjens - Il Locco van het Molenzicht - 72.20
5. Nicky Peeters - Condiblesse van de Kempenhoeve - 72.20
6. Verena Gielen Burger - Farazzano - 72.00
7. Isabel Cool - Dario - 71.40
8. Thomas Rolland - Esprit van de Wijnhoeve- 70.80
9. Anemone Samyn - Zarasko des Quatre Chemin - 70.40
9. Yves Gielen - Fallada - 70.40
11. Tom Franckx - Queensberry - 69.60
12. Gert Helsen - Sir Crusador - 65.00
13. David Bruyland - Ice Age van het Broekdal - 60.20
14. David Bruyland - Disaronno van de Haagakkers - 57.20
5-year olds
1. Nick van Laer - Sir Donovan - 80.00
2. Isabel Cool - Constand - 79.60
3. Natasja van den Bogaert - Athena Nike - 79.40
4. Stefan Hollanders - Sir Classic - 77.20
5. Dominique Mohimont - Chopin - 76.80
5. Nick van Laer - Hyrano - 76.80
7. Mario van Orshaegen - Lorenzo Lamas - 76.20
8. Tom Franckx - Charisma - 75.80
9. Katrien Verreet - Bailamos Biolley - 74.80
10. Tom Franckx - Charming Mood - 73.20
10. Els van der Veken - Carbana Girl - 73.20
12. Ronny Coenraerds - Let's Rock - 72.00
13. Natasja van den Bogaert - Corinna - 71.80
14. Julie Dossin - Cartier - 71.60
14. Mieke Dries - Bonavontura van de Kempenhoeve - 71.60
16. Toby Horsting - QC Flow to the Sea - 71.40
17. Toby Horsting - Hydane van de Kerkhoeve - 67.20
18. Dorien Hens - Ronaldo - 66. 80
19. Celine Lafinneur - Cupido - 66.40
Isabel Cool - Catcher - RET
6-year olds
1. Tom Franckx - Bon Bravour - 79.80
2. Katrien Verreet - Galliani Biolley  78.60
3. Charlotte Defalque - Boticelli - 75.40
4. Anke Moordtgat - Believe - 74.60
5. Guillaume Ducos - Bestseller - 73.60
6. Nick van Laer - Glory Hit Star - 72.60
7. Tom Heylen - Gucci H - 72.20
8. Benjamin de Reus - Leoville las Cases - 69.40
9. Isabel Cool - Brencis - 67.60
10. Gaetan Bocklandt - Sir Burlington - 62.80
Mario van Orshaegen - Bizzkit Lusan - ELI 
Related Links
Constand and Bon Bravour Win First Belgian WCYH Trial at 2012 CDN Zandhoven
Eurodressage Coverage of the 2012 World Young Horse Championships