2012 Bundeschampionate Qualifier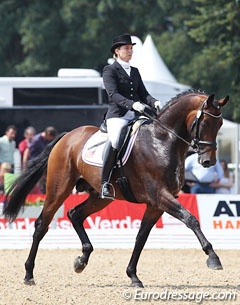 The 6-year olds Florentinus V and Flynn PCH became the winners of the Bundeschampionate qualification class at the Westfalian regional show held at equestrian centre Massener Heide in Unna-Massen, Germany, on Tuesday 1 May 2012. Twenty-one 6-year olds rallied at Unna for the second BuCha selection show of the season.
The first group of 6-year olds was dominated by German born American Jennifer Hoffmann on Gestut Letter Berg's bay stallion Florentinus V (by Florestan x Londonderry). Hoffmann, who moved from California back to German to work as head rider at Letter Berg, scored a winning 8.5 mark and created a big distance with the second placed pair. Ariane Dierkes, who worked with Hubertus Schmidt, Oded Shimoni and Wolfram Wittig in the past, became the runner-up aboard Beilando. With a score of 8.0 Dierkes tied with Anja Wilimzig on the Westfalian licensed stallion Sunday (by Sandro Hit x Donnerhall).
Two riders obtained the Bundeschampionate qualification score in group 2. The class was won by Marcus Hermes and Hanoverian branded stallion Flynn (by Falsterbo x Walt Disney). Finishing 6th at least year's Bundeschampionate Finals, this liver chestnut stallion is owned by American Nancy Gooding of Plum Creek Hollow farm in Colorado, U.S.A. Hermes and Flynn scored 8.2 and had to share the trophy with Lukas Fischer on Gestut Sprehe's licensed stallion Furst Wilhelm (by Fürst Heinrich x Sandro Hit). Fischer also received 8.2 from the judges.
Photo © Astrid Appels
Results - 2012 Bundeschampionate Qualifier - Unna-Massen
6-year olds - Group 1
1. Jennifer Hoffmann - Florentinus V - 8.50
2. Ariane Dierkes - Beilando - 8.0
2. Anja Wilimzig - Sunday NRW - 8.0
4. Alexa Engel - Louidor - 7.7
5. Claudia Ruscher - Famorello - 7.3
6. Catrin Kramer - Dark Dany - 7.2
6. Hermann Burger - Furstentanz - 7.2
8. Daniela Hacheney - Dalai Rubin S - 7.1
8. Anne Horstmann - Fantastic Sommertänzer - 7.1
8. Svenja Irina Meyer - Reatino - 7.1
8. Sabine Egbers - Seneca - 7.1
12. Sabine Nakath - Dana Fee - 7.0
12. Antje Tepel - First Kiss - 7.0
12. Maurizio Taverniti - Rino Mo - 7.0
15. Marion Wiebusch - Lord Moritzburg - 6.9
16. Marc Soddermann - Santanyi - 6.8
6-year olds - Group 2
1. Marcus Hermes - Flynn - 8.2
2. Lukas Fischer - Furst Wilhelm - 8.2
3. Andrea Muller Kersten - Apassionata - 7.8
4. Dorothea Rhode - Batumi - 7.6
4. Ann Christin Wienkamp - Fabriana - 7.6
Back to the 2012 Bundeschampionate index