2012 CDI Hagen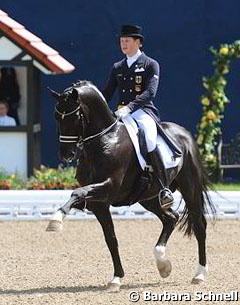 Sunday morning at the 2012 CDI Hagen was pure magic. Charlotte Dujardin rode a world record score in the Grand Prix Special thanks to a phenomenal performance. Her star ride unchained a score inflation which carried through in the Grand Prix Kur in which unrealistically high scores were given for very good rides. While Totilas frenzy continued, Bechtolsheimer consolidated her power position with a second place.
As beautiful as the Grand Prix Special was, the Grand Prix Kur to Music slightly disappointed because the judges seemed to be unleashed, awarding unrealistic marks for tests that certainly lacked polishing. It is better not to compare results from shows but one weekend ago Helen Langehanenberg 'only' got 85.214% for a Kur to Music which Rath and Bechtolsheimer approached in quality. In Hagen, however, the duo scored more than 3 percent higher for less than perfect freestyles. In comparison to yesterday's performances, Langehanenberg needed to have earned 90%.
Of course there were highlights galore on Sunday afternoon at Hof Kasselmann and many of world's elite riders were up for a battle. Riding to brand new music, Matthias Rath and Totilas claimed the class with a bloated 88.025% score. The floorplan accentuated Totilas' strong sides: beautiful half passes in tune with the music, amazing piaffe, flowing transitions to passage, but all executed with a fairly low degree of technical difficulty. The most difficult movements were the quarter pirouettes in piaffe, very short bits of passage half pass and several double pirouettes.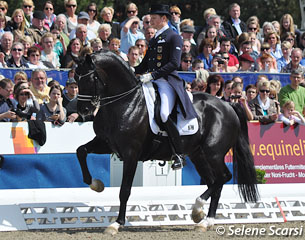 While Rath's Grand Prix test was absolutely wonderful to watch, his kur had less eye for detail. The horse bopped his head regularly and in the left half pass the hindlegs trailed. Some piaffe was slightly forward and hectic. The first trot extension had no overtrack at all, the second one was much better. The walk part was good in rhythm and overtrack, though there should have been more stretch in the neck. Several double pirouettes were too big and there was overall a lot of tail swoosh in canter which signalled body tension. The tempi changes are finally clean but the two's were too exuberant and crooked in the body and the ones were tight in the neck, the head coming below the vertical and all executed with big visible aids from the rider. There was one actual forced error in the test when Totilas made an unscripted flying change in the extended canter.
Rath's music is a medley to Michael Jackson songs, tunes which have been clubbed to death. Several parts of the music are synchronous to the horse's gaits, but the majority is not. Even though Rath showed many beautiful things on his black stallion, his 88% score was generous compared to Valegro's 88% world record for the technically more demanding and far more superiorly ridden Grand Prix Special.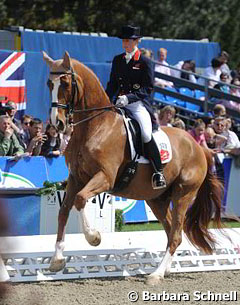 Again it was proven that the judging format for freestyle is inadequate. The artistic part of the test gives far too much leeway to inflate scores. The class was judged by Wessels (GBR), Roudier (FRA), Hess (GER), Fouarge (NED), and Wüst (GER) and this highly experienced panel is normally very much tuned into one another and on the ball in their assessment. However in the freestyle their scores oscillate all over the place, even though their individual rankings are fairly similar. Totilas scored between 83,750% (Wust) and 87.000% (Wessels) on a technical level and 88,000% (Wust) and 96,000% (Fouarge) on the artistic level! Three judges placed Totilas first and two preferred Mistral's test.
Laura Bechtolsheimer and Mistral Hojris also made a change in music after having ridden to The Shadows for three years. A good choice as variety is the spice of life! German Nicole Penzig designed a new kur for Laura to the fun and sweet African tunes of The Lion King. While the production and arrangement are not as professional as her previous freestyle, the choice in music is a hit.
Whereas Totilas' Kur was much flash and hectic, Mistral's ride was controlled and harmonious to a well designed choreography. Laura started out with passage half passes, semi piaffe pirouettes, followed by a direct transition to extended walk. The extended trots were huge. Mistral produced big sweeping canter half passes and good one tempi's on the centerline, but in the two's he missed one change to the right. One of the double pirouettes was big, the others were on the spot. The horse struggled with a difficult transition from canter straight into piaffe but the piaffe and passage work were extraordinary. The big chestnut gelding has swagger and runs like a Swiss watch. The horse did get very strong in the hand in the final piaffe-passage which resulted in heavy half-halting and an unsquare final halt. Nevertheless, it was a fun test with lots of power, energy and self carriage.
Laura scored an overall 87.600% to finish second. Her technical scores ranged from 82,250% (Wust) to 88,000% (Roudier) and her artistic marks were between  87,000% (Wust) and 94,000% (Fouarge). (see video of Laura's freestyle in Hagen)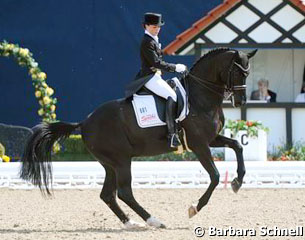 German rising star Kristina Sprehe bit off more than she could chew in the Kur. In the Grand Prix Sprehe and Desperados showed incredible power and expression but it in the Kur it all came too fast and looked like a rushed job. Sprehe's music is inspired by fun songs from the 1980s (Shout Shout, Tainted Love, Fade to Grey) but the tempo was too high and the songs were simply glued together instead of being tailored to her horse's gaits. The hurried job showed in the fact that many transitions were hard while music raced onwards. The transitions to and from piaffe were sloppy but the paiffe was superb. The passage was again very irregular throughout the test with more hindleg activity from the left leg. The half passes and trot extensions were lovely. Desperados executed a great piaffe quarter pirouette. The extended walk was good in overstep but could have had more neck stretch. In canter many of the double pirouettes were very large and while the changes were correct the two's were crooked and the ones lacked ground cover. The degree of technical difficulty was also modest in this test with tiny bits of passage half pass, quarter piaffe pirouettes and double canter pirouettes.
Sprehe scored a lavish 83.775% with technical marks between 80,000% (Hess) and 82,750% (Roudier) and artistic scores between  83,000%  (Hess) and 90,000% (Fouarge). (See video of Sprehe's Freestyle)
Rath, Bechtolsheimer, Sprehe at the Press Conference
Matthias Rath on his new freestyle
This was the first time I had ridden this Kur and, considering that, it was really good. Some things – some transitions for instance – we can work on, but at a show it's always different from trying the music at home so it was very good as a first try.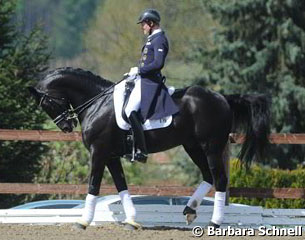 Matthias Rath on the Olympics
Britain are the clear favourites for the Olympics, with last year's European gold and the home advantage. We'll try our best in London and we have some good combinations, Helen Langehanenberg for instance did an amazing test last week so we have a good chance but I don't think we are the favourites. As for the individual, there are quite a few combinations that can score really high. We've seen it today and Uthopia or Parzival aren't even here! If anyone makes a mistake on the day or has a bad test, that can change everything so it is extremely difficult to say who is favourite for the individual –nobody can say.
Matthias Rath on the warm-up photos circulating on the Internet
With Totilas I can do whatever I want and I will always have people complaining about something: it's absolutely impossible to please everyone. I can ride a really good test like yesterday and some people still won't be happy and will say "oh, only 83%". You just can't stop other people complaining about something.
Laura Bechtolsheimer on her new music:
This was the first time doing a new Kur in a competition for me too. It didn't feel so good yet: I'm a perfectionist and I wasn't always in time with the music so I am not completely happy. It didn't feel as easy as yesterday's test, probably because I was concentrating a lot on what I was doing as it's a new test for us. I hope with a lot of practice we'll do even better than this.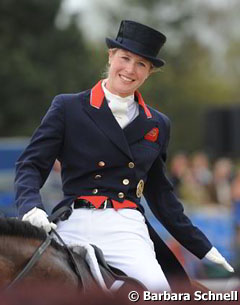 I worked very hard on the choreography in order to show a high degree of difficulty without losing the flow of the test. But we haven't practised it at home much, as we only received the music recently, so it isn't established yet. Although Klaus (Balkenhol) and my dad were happy with how it looked, from a feeling point of view I think it can be even better. Alf felt he was very happy to perform to the music today, and he never felt he was getting upset – he can sometimes be a little too sharp with the music – so that's good.
Kristina Sprehe on her Kur:
First freestyle and some bits we have to work on, some difficulties here and there but no big problems in general and I am really happy with the way Desperados went. Sometimes in the warm-up he is a little too interested in mares, but once the test starts he is 100% with me.
Text by Astrid Appels
Photos © Barbara Schnell / Selene Scarsi
Eurodressage Coverage of the 2012 CDI Hagen