Against the Odds - Exotics in Dressage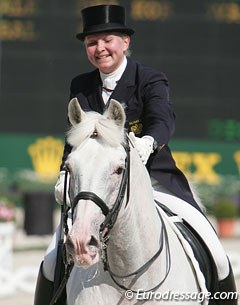 The states of the former Soviet Union have a rich variety of breeds, but in dressage we usually only meet the Russian Trakehners, Latvian and Ukranian warmbloods. A breed not very famous in Western Europe and by far not a breed a dressage lover thinks of first is the one of the Orlov trotter.
As the name says these mainly grey horses are bred to work in front of a carriage, later to race. One horse, however, has changed the image of the Orlov trotter by rising to stardom in the Olympic dressage arena: Balagur.
The Orlov Trotter is said to have been founded by Count Alexej Orlow in the late 18th century as he paired an Arab stallion with mares from Holland, Denmark and Germany. The Orlov trotter of today is a comparatively small and compact horse with an arched topline and a big head. They are used for all kind of horse sport. In Russia they are bred to do races in front of a sulky, but Orlov trotters are also famous as excellent four-in-hand driving horses.As they don't have movements with lots of suspension the Orlov trotters don't seem a first choice when it comes to the higher levels of dressage, although certain other advantages cannot be denied. Never did an Orlov trotter makee it to the Olympic Games in dressage until Balagur, the small pinkish-grey-white stallion with a pink nose, captured the international dressage scene.
From the Racetrack to the Dressage Arena
This typical representative of his breed started his career in the sport in the discipline he was bred for: he was a trotter on the racetrack. Despite the fact he managed to win two races he was just not fast enough to become a successful trotting horse. Subsequently he was sold to the mounted police of the Russian town of Nizhny Novgorod (formerly Gorki) as a 3-year-old.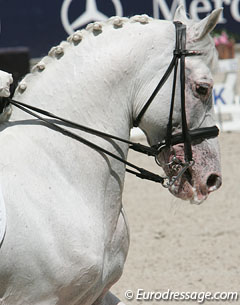 Balagur was on duty for the mounted police from April to November because during the winter it is just too cold and slippery to ask any horse to move in the streets of this big town in Russia. Instead of patrolling in town the police horses are exercised in the indoor arena and in one of these winters the Russian dressage rider Alexandra Korelova met the horse that would make her and the Orlov trotter famous in the dressage world.
"My horses were stabled near the barn where the police horses lived and we always worked in the same indoor arena over the winter. Balagur was trained by a riding master who taught him some dressage movements. As he learnt with such pleasure my attention drew to him. I saw his training every day, but still none of us could imagine that this horse could ever get outstanding results in dressage," Korelova reminisced.
Although she loved Balagur's eagerness, she wasn't keen on having this horse and didn't see an extraordinarily talented dressage prospect in him. It took some more years before she first recognised the horse until she would sit on him. Her interest peaked only when former World and Olympic champion, the late Elena Petushkova, judged some dressage classes held at the Riding Club in Nizhny Novgorod in which Balagur took part as a "borrowed horse" under different riders. Petushkova had observed the horse in the prize givings and recognised the potential the grey had.
"She told Anatoliy Balykin, the club owner and owner of the Grand Prix horse I was riding at that time, that he should pay attention to Balagur as he could be worth trying in dressage, but a few years went by before this happened. My Grand Prix horse became unsound and Anatoliy remembered Elena Petushkova's recommendation," said Aleksandra. Alexandra was far from enthusiastic when Balykin bought Balagur for her to train: "I was embarrassed, because nobody took part at the dressage riding shows on Orlov trotters!"
With the Help of Theodorescu
Before they started serious work with Balagur Balykin wanted to hear an expert's opinion if the horse was really worth training and investing a lot of time and money. So a video of the horse was taped and sent to George Theodorescu. The answer was almost a command: "Bring that horse to me, he's an individuality and we will train him".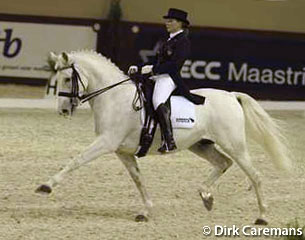 In February 2002, a mere three weeks after Theodorescu had looked at the video, the small grey Russian horse and his young rider moved to Germany to work in the indoor arena of Lindenhof Stud in Fürchtorf near Germany's riding mekka of Warendorf.
Balagur and George Theodorescu instantly liked each other and their mutual respect soon grew to such heights "that much of what Balagur did he did for him. He really loved George and he did his best in his daily training of which he obviously never got tired. He was very proud after George had praised him. They understood each other in their very own way." Theodorescu on the other hand tremendously enjoyed the great intelligence of Balagur whom he accompanied to all the important shows until his death, after which his daughter Monica took over the daily training.
Only seven months after Balagur had arrived in Germany he wasn't only a safe Grand Prix horse, but he was successful enough to start at the 2002 World Equestrian Games in Jerez de la Fronteira in Spain.
Alexandra confirms that the Orlov trotter is a horse eager to work and an easy learner, but still working with them is far from smooth sailing. "If you want them to work with you they first have to trust you. Balagur wasn't as simple as he seemed. If he didn't like a rider he wouldn't work. It happened twice that he just refused to work and instead ran in extended trot all the time or stopped in the middle of the indoor arena refusing to move," Korelova admitted.
Rise to Stardom and Fame
Balagur hugely admired Georg Theodorescu and he loved Alexandra so his career in the dressage arena, which he started at the age 12, became one of remarkable success. This was helped by the fact that Balagur was of outstanding health and work ethic which enabled him to reach his peak when he was 18, when he finished third at the 2008 CDIO Aachen Grand Prix and fifth at the 2008 Olympic Games in Hong Kong.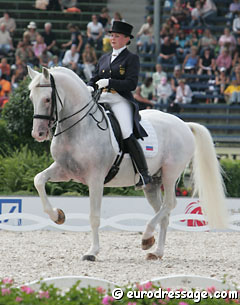 "It is typical for Orlov trotters to have a good health, strong legs, a long back, and very expressive and beautiful eyes. The main thing is a wonderful character," Alexandra reported.
No matter at his first Olympic Games in Athens in 2004 or at World or European championships or even CDI shows, Balagur was the definite crowd favourite wherever he performed. It was not just that people liked him, they loved him, and he used to have a real fan-club with devotees who spared no effort to see Balagur.
"I know some people from Europe who bought tickets for the Olympic Games in Hong Kong when they heard Balagur would take part," Korelova stated. "Spectators on the shows always welcomed Balagur with warmth. He had a lot of real fans. He was especially well-received in Neumünster, Stuttgart, Aachen and of course in Moscow. At the European Championship in Torino Balagur was the only horse who received standing ovations."
For the judges Balagur's appearance in the arena was a startling one as also for them it was their first time they had to judge a horse from his breed. Like all Orlov trotters Balagur wasn't an extraordinary mover when it came to extensions, probably a reason why the breed isn't considered suitable for international dressage. Balagur moved correctly, but he lacked the suspension the huge warmbloods are able to show.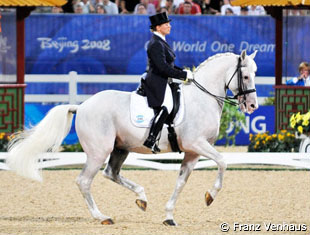 The reason why this charming little horse could become so successful that he only nearly missed individual medals in the last years of his career was his tremendous ability to collect and that he had no major flaws. The three P's -- piaffe, passage and pirouettes -- became the celebrated hallmarks of the "dancing horse". It was not only the absolute technical perfection Balagur reached, and which earned him repeatedly 10s, but also his pure joie de vivre in doing these movements.
"Already at the beginning of Balagur's career I heard admiration from the judges about the way he did piaffe and transitions from passage to piaffe. Some of judges praised him for his canter pirouettes, but most of them enjoyed his desire for competition."
Retirement in Germany
Although he was still going strong after his fabulous fifth place at the 2008 Olympic Games Alexandra retired her horse in 2009 after the European Championships in Windsor. While Alexandra returned to Russia Balagur stayed at Monica Theodorescu's barn ever since.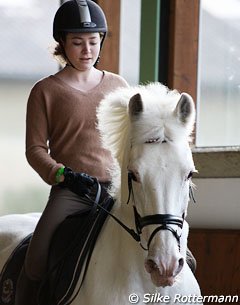 "Currently he is exercised lightly under the saddle, but when spring comes he will just go in the field. After we retired him his owner decided to leave him in Germany. So Balagur and me are living in two different countries for the past two years, but I am calm and confident he's well," Alexandra confessed.
Her journey with Balagur has taught her a lot. Whereas she was embarrassed at the very beginning to work an Orlov trotter in dressage she has advanced two more horses of this breed to Grand Prix which were sold later on. Today to her "a good horse has no colour and no breed."
True to her word Alexandra is prepared to work more talented Orlov trotters if they would come her way.
"I think that horses, which are bred not especially for dressage, still have chances to be on the top of the professional sport. But for that they should have quality paces and they also should be charming and individualistic so to get sympathy from the crowds and the judges."
by Silke Rottermann for Eurodressage
Photos © Dirk Caremans - Astrid Appels - Franz Venhaus - Silke Rottermann
Related Links
Balagur Taking the Orlov Trotter into the 21st Century
Exotics in Dressage: Airthrey Highlander, a Clydesdale Crossbred at Grand Prix in New Zealand
Exotics in Dressage: Seldom Seen, a Connemara Crossbred Going All the Way