2012 CDI Addington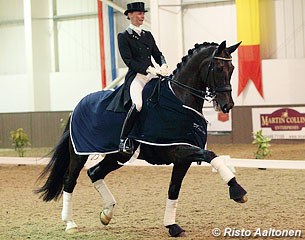 Imke Schellekens-Bartels and the black Jazz offspring Toots made a splashing international show debut dominating the big tour at the 2012 CDI Addington on 6 - 8 April 2012. The Dutch Olympic contenders won the Grand Prix with a score of 75.043% and went on to claim victory in the Kur to Music with 79.701%.
Schellekens dusted off her mom Tineke Bartels' 14-year old (!!) freestyle, produced by Slings & Kerkhof in 1998 for stallion Jazz, because her new Wibi Soerjadi kur is still in production.
"It's so exciting to find how he is internationally and he has coped so well," Imke told Brititsh Dressage following her freestyle win. "In yesterday's grand prix he was amazing – very sharp, and gave me an amazing feeling - tonight he was a bit more relaxed. We have not had much time to practise the freestyle and had few minor mistakes today, but the quality of his work felt really good, particularly the half-passes and pirouettes.
"Toots is still green and there are lots of things for improvement. We still have to work on control - control in every step but with the same power," explained Imke. "He's not young to be starting grand prix but as he's so tall he's benefited from time and feels ready to go now."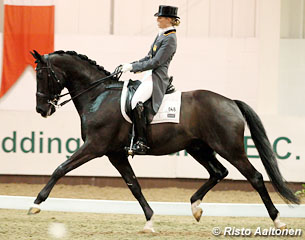 Spanish Morgan Barbançon Mestre and the 15-year old KWPN stallion Painted Black (by Gribaldi x Ferro) finished third in the Grand Prix (72.340%) and second in the freestyle with 78.150%. Barbancon has no original music of her own and borrowed Anky's copy of the 13-year old Tango freestyle, also composed by Slings & Kerkhof back in 1999 for stallion Partout (and later on used for Krack C as well).
"I was really happy with my tests," Barbançon told Eurodressage. "The first day I had a mistake in the 2 tempi's which of course cost points and the piaffe and passage weren't like they could be, but the day of the kür he was amazing. I really felt that he was working with me and really had fun riding my test."
Barbançon will be following her trainer Anky van Grunsven to the CDIO Saumur at the end of April and build up from there on the road to Spanish Olympic team qualification.
Laura Bechtolsheimer and her 17-year-old Hanoverian gelding Andretti H (by Aarking xx) was the highest placing Brit in the Grand Prix with 73.078% for second. The pair's popular freestyle to an upbeat reggae soundtrack earned them 76.67% for third place.
Dutch Madeleine Witte-Vrees made her CDI debut with the 10-year old Vontango B (by Contango x Jazz) scoring 71.511% in the Grand Prix (4th) and they were sixth in the kur with 73.975%.
Nikki Crisp and her elegant Dutch-bred mare Pasoa were on great form after a 15 month absence from international competition. Nikki and the 15-year-old Dutch bred mare (by Damocles) posted 70.14% for fifth in the Grand Prix and 74.15% for fifth in the freestyle.
"I'm delighted with this result," said Nikki. "This was 'P's' first Grand Prix freestyle outing for 15 months so to have finished in the top five is just fantastic. I'm aiming for Saumur in a couple of weeks' time and then also have my eye on another couple of internationals later in the year."
Photos © Risto Aaltonen
Related Links
Scores 2012 CDI Addington
IDRC Meeting at 2012 CDI Addington to Seek Opinions of All Riders on Ongoing Issues