2011-2012 KNHS FEI Pony Cup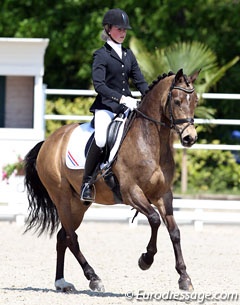 Sanne Vos and her buckskin Champ of Class won the fifth qualifier of the 2011-2012 KNHS FEI Pony Cup held at Stable Olympic in Uden on Sunday 15 April 2012. Plagued by bitterly cold weather, the Dutch pony riders had to compete outdoors for the first time this show season. With a score of 70.81% she topped the leader board well ahead of all competition.
There is no rest for the weary. Sanne Vos and her 8-year old German Riding Pony Champ of Class are storming through the competition circuit as if involved in a relentless stampede. After winning the fourth FEI Pony Cup Qualifier in Assen on 24 March, it was straight onwards to the 2012 Dutch Indoor Pony Championships in Brummen, then the CDI Stadl Paura in Austria followed by the FEI Pony Cup Qualfier in Uden, where she won her fifth qualifier in a row this winter season.
"Champ of Class only needs a bit of time in the field to play and he's ready for the next challenge," Vos commented on the reason why there has been so little rest for her young gelding early in the 2012 show season.
Judged by Drohm, Van Oers and Terra, the FEI Pony Cup qualifier in Uden featured 36 riders, which also got the opportunity to ride a second, individual test on the same day not part of the show circuit.
"Winner Sanne Vos was a league of her own," said judge at C Monica Drohm. "But even with her there were a few moments of tension which prevented her from getting a higher score."
Rosalie Bos finished second and third with her young chestnut Paso Double (by Bokkesprong Czardas) and more experienced palomino Liberty (by Bokkesprong Czardas).
"The top ranked riders distinguished themselves from the rest by their riding and feeling," said the judges. "This is educational for the others who can pull themselves up to their example."
Photo © Astrid Appels
Results 2012 KNHS FEI Pony Cup Qualifier - Uden
Judges: Drohm, Van Oers, Terra
1. Sanne Vos - Champ of Class - 70,81%
2. Rosalie Bos - Paso Double - 66,92%
3. Rosalie Bos – Liberty - 66,58%
4. Lisanne Zoutendijk -  Amaretto - 66,54%
5. Lotte Meulendijks – Botticelli - 66,03%
6. Jelle Peeters  – Nandor - 65,85%
7. Mandy van den Hoek - Sir Donnerwind - 65,43%
8. Karlijn Geelkerken - Molenhorn's Rico - 65,38%
9. Shanna Lust - Stukhuster Orlando - 64,06%
9. Joelle Peters  - Geronimo B - 64,06%
11. Laurie Vervoort - Westerhuis Bruno - 64.02%
12. Febe van Zwambagt - Dr Watson - 63.93%
13. Shanna Lust - Anjershof's Pablo - 63.80%
14. Laurie Vervoort - Leliebelle - 63.42%
15. Susanna van Raamsdonk    Haasendonk's Sultan - 63.25%
16. Zoe de Booij - Kantje's Renaldo B B. - 63.16%
17. Zoe de Booij - Voltage - 62.95%
17. Demy Kurstjens - Nina Van De Beekerheide - 62.95%
19. Guusje van Heeswijk - Amigo - 62.86%
20. Bo Oudhof - Day Of La Divinia - 62.74%
20. Bo Oudhof - Bodethal's Kosima - 62.74%
22. Fleur Hofstra - Duesmann - 62.05%
23. Floor van Manen - Divano Du Bois  - 61.97%
24. Isis Haccou - Cinderella Du Bois - 61.67%
25. Aurora van der Laarschot - Ysselvliedt's Mathador - 61.54%
26. Robin Bernoski - Keulse Hoeve's Zico -  61.20%
27. Britt van der Panne - Ravel - 60.94%
27. Celine Jeurissen - Bolheim's Karel - 60.94%
29. Marit Leegte - Molenhorn's Casanova  - 60.81%
29. Britt van der Panne - Vitell W -  60.81%
31. Veronique van der Panne - Rhyfedd Spike - 60.64%
32. Tessa de Groot - Timo - 60.04%
33. Faye Smeets - Silke - 59.49%
34. Diana van de Bovenkamp - Volltreffer's Volante - 58.97%
35. Carlijn Vaessen - Canto T.g.  - 58.89%
36. Fabienne Jongen - Delta Pro Sander - 57.05%
Related Links
Sanne Vos Rakes in Fourth Victory in 2011-2012 KNHS FEI Pony Cup
Sanne Vos Takes Third Consecutive Victory in 2011-2012 KNHS FEI Pony Cup Qualifier
Sanne Vos Continues String of Success at Second Leg 2011-2012 KNHS FEI Pony Cup
Sanne Vos Leads the Pack at First Leg of 2011-2012 KNHS FEI Pony Cup