2012 World Championships for Young Dressage Horses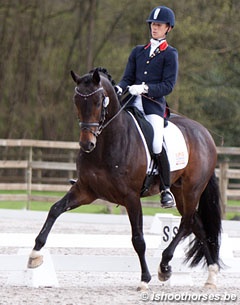 The Belgian national young horse compeition circuit started last weekend with a first show and qualifier for the 2012 World Young Horse Championships  held at Stable De Kraal in Zandhoven, Belgium on Saturday 7 April 2012. The 5-year old Constand and 6-year old Bon Bravour won the WCYH qualifiers while 4-year old Dorelja L garnered first fame in the show ring.
The Belgian selection process for Verden is based on the results achieven at the first seven show of the Belgian Young Horses show circuit which runs throughout the spring and summer. The five best results per horse are taken into account and in case of a tie the best results in the Finals test, which are scheduled for qualifier 6 and 7. At the earlier qualifiers the preliminary test is ridden. The final trial for Verden is the CDN Zandhoven on 9 - 10 June 2012.
In the 5-year old division former Young Rider Isabel Cool steered her chestnut Dutch warmblood Constand (by Vic x Jetset D) to victory with 82.4 points.  Nick van Laer, a professional rider for dressage, show jumping and eventing, finished second with the Hanoverian bred Sir Donovan (by Sir Donnerhall x Weltmeyer) on 81.2 points, while Natasja Van Den Bogaert and the Westfalian mare Athena Nike (by First Final x Laomedon) were third with 79.4 points.
Tom Franckx and the Dutch owned KWPN stallion Bon Bravour (by Painted Black x Chronos) reigned supreme in the 6-year category scoring 84.6 points and leaving the competition far behind him. On her show debut with her brand new horse Botticelli (by Jazz x Zep), former pony rider and now junior Charlotte Defalque scored 77.8 points to become the runner up in the class. Anke Moordtgat and the KWPN bred Believe RT (by Rubiquil x Osmium) finished third with 77 points. She tied with Stefan van Ingelgem on the Hanoverian bred Debussy (by Dimaggio x Western Star).
"I was quite happy with Bravour," Franckx told Eurodressage. "He has no problems with the traversal movements so I occupied myself with the changes because they still need some work. He tends to rush into them so I'm working on control before and after the change." Tom was pleased with his ride in Zandhoven. "He did a beautiful test but when I saw it on video afterwards I realized I rode a bit too conservatively." Bon Bravour's breeding career as a licensed stallion has taken off after his success at the World Young Horse Championships last year. "He has become quite a lot of stallion since last year and he has to cover a lot for the German market. I notice he's a bit more distracted than before. Stallion are not ideal but it's part of it," Franckx explained. "I try to vary my training a lot with hacks and paddocks because it's still a long road. I just want him to have fun, which is so important."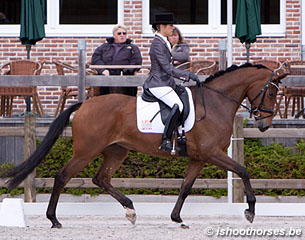 In the 4-year old division Larissa Pauluis and the Dutch mare Dorelja (by Vivaldi x Calypso III) were invincible with 86.6 points, which became the high score of the day. Bjorn Vileyn and Feel Good (by Furst Piccolo x Royal Diamond) finished second on a srong score of 82.8 points, and they referred Claudia Fasaert and the Belgian warmblood stallion Idomingo (by Spielberg x Lauries Crusador x Wagram) to a third place with 78.4 points.
Photos © Sarah Janssens / ishoothorses.be
Results CDN Zandhoven
4-year olds
1. Pauluis Larissa - Dorelja L - 86,600
2. Vileyn Bjorn - Feel Good -  82,800
3. Fassaert Claudia - Idomingo - 78,400
4. Cool Isabel  - Dario - 78,000
4. Timmerman Mercedes - QC Star Performer - 78,000
6. Missiaen Simon - Dkny - 77,800
7. Van Ingelgem Stefan - Sanchez - 77,600
8. Bastaens Magali - Iganini - 77,400
9. Heylen Tom - Iteka - 75,000
10. Gielen-burger Verena - Farazzano - 74,000
11. Laffineur Celine - Deep Fritz - 73,400
12. Dieltjens Stefany - Il Locco van het Molenzicht - 72,800
13. De Jonge Yana - Imposanta MJ - 72,400
14. Van Laer Nick - Il Duce vd Kwaplas - 71,000
14. Dumon Klaartje - Chess van de Burggrave - 71,000
16. Belien Jens - Lord Deauville II - 69,600
16. Samyn Anemone - Zarasko des Quatre Chemins -  69,600
18. Bruyland David - Ice-Age v/h Broekdal - 68,200
19. Helsen Gert - Sir Crusador - 68,100
20. Van Hulsen Yehudi - Arianes Wadest - 67,600
21. Bogaert Frederik - Dinzindee - 67,200
22. Peeters Nicky - Condiblesse v/d Kempenhoeve - 65,700
23. Vernelen Christel - Coraggio VM Bloemenhof - 65,000
24. Verhulst Thais - QC Wonderfull Girl - 64,000
25. Fassaert Claudia - Disaronno vd Haagakkers - 60,800
26. Buyck Yannick - Don Diego - 60,000
27. Goosse Lyse Marie - Cayenne des Allies - 58,400   
5-year olds
1. Cool Isabel - Constand - 82,400
2. Van Laer Nick - Sir Donovan - 81,200
3. Van Den Bogaert Natasja - Athena Nike  - 79,400
4. Horsting Toby - Hydane van de Kerkhoeve - 79,200
5. Pauluis Larissa - Hyrano - 78,800
6. Hollanders Stefan - Sir Classic - 78,600
7. Dossin Julie - Cartier  - 78,000
8. Claessens Conny - Hamlet vd Stuyver - 75,800
9. Horsting Toby - QC Flow To The Sea - 74,600
10. Van Der Veken Els - Carbana Girl - 73,200
11. Coenraerds Ronny - Let s Rock VL - 73,000
12. Van Den Bogaert Natasja - Corinna  - 72,600
13. Franckx Tom - FLeur Tategoi - 72,000
14. Van Orshaegen Mario  - Lorenzo Lamas - 71,400
15. Franckx Tom - Charming Mood - 70,800
16. Dries Mieke - Bonavonturo vd Kempenhoeve - 70,400
17. Verhulst Thais- QC Hot Chocolat - 69,300
18. Timmerman Mercedes - Rosegarden - 69,000
19. Daeleman Ingrid - Lorenzo vd Wateringhoeve - 68,800
20. Hens Dorien -  Ronaldo  - 68,700
21. Van Bambost Steve - Concerto - 67,600
22. Goen Erik - Celene - 67,400
23. Dewaegenaere Ona - Calucci Utopia - 64,600
24. Cool Isabel - Catcher - 64,500
25. Van Bambost Steve - Chicarie - 64,100
26. Ducos Guillaume - Crazzy Sunday Boy - 63,200
27. Swagemakers Veronique - Chopin C.L. - 58,100
28. Van Den Langenbergh Caroline - Honey B  - 57,500
29. Laffineur Celine - Cupido - 54,000
6-year olds
1. Franckx Tom - Bon Bravour  - 84,600
2. Defalque Charlotte -  Botticelli - 77,800
3. Moordtgat Anke - Believe RT - 77,000
3. Van Ingelgem Stefan - Debussy - 77,000
5. Van Orshaegen Mario - Bizzkit Lusan - 76,800
6. Boost Isabelle - Fair Diamond DHB - 76,200
7. Ducos Guillaume - Bestseller Vdt - 74,600
8. Heylen Tom - Gucci 'H' - 74,000
9. Verreet Katrien - Galliani Biolley - 73,400
10. Veenstra Jenny - Samuel Hit - 71,800
11. Bocklandt Gaetan - Sir Burlington -  70,800
11. Cool Isabel - Brencis - 70,800
13. Van Dyck Sakina - Glory-Hit-Star -  70,000
14. De Vlieger Andre - Banner Man S - 69,800
15. Daeleman Ingrid - Gorky G - 69,400
15. Richard Nicky - Solidago du Bel Air - 69,400
17. Carlens Olivier - Armani du Jade Ewaldress - 66,800
18. Van Den Berge Deborah - Bitou - 66,600
Related Link
Eurodressage Coverage of the 2012 World Young Horse Championships