French Dressage News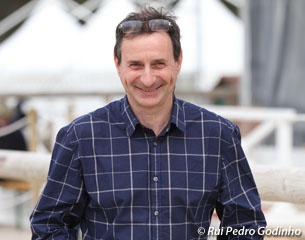 The 57-year old French Didier Ferrer has been appointed discipline manager for dressage of the 2014 World Equestrian Games, which will take place in Caen, Normandy.
The Organising Committee of the 2014 World Equestrian Games in Normandy appointed seven discipline managers in total, who will be in charge of the eight competition disciplines at the FEI's flagship event.
The Pompadour based Ferrer is an experienced show manager having been the director of events such as the CDI Pompadour, CDI Biarritz and CDI Vidauban. Ferrer is a dressage rider himself and was recipient of 2008 Astley Academy Award being proclaimed French Organizer of the Year.
"The FEI is delighted with these strong additions to the Organising Team two and half years before the Alltech FEI World Equestrian Games™ 2014 in Normandy," FEI Secretary General Ingmar De Vos said. "These well respected professionals have a lot of event organising experience in their respective disciplines and we are looking forward to working closely with the Normandy team so that they can deliver an unforgettable event."
"Above and beyond their proven technical skills, the discipline managers have been selected for their enthusiasm and ability to share their wealth of experience and to work as a team," Fabien Grobon, Managing Director of the Organising Committee commented. "They are also supportive of the core values of the Alltech FEI World Equestrian Games™ 2014 in Normandy. All of these factors have been instrumental in the recruitment process, which was done in close cooperation with the French Equestrian Federation."
The managers, who will be working under the leadership of sports director Laurent Cellier, will join the Normandy team next month at a two-day introduction seminar at which they will meet the FEI sports directors. The management team will also attend the London 2012 Olympic Games where they will have an opportunity to examine the technical and logistical aspects of hosting a major equestrian event, as well as  meeting the competing nations in Greenwich.
The technical programme for the World Equestrian Games in Normandy will be finalised in 2013.
Photo © Rui Pedro Godinho
Related Links
Astley Academy Honours French Dressage Figures of the Year 2008
2014 World Equestrian Games Are Awarded to Normandie, France