French Dressage News
On private initiative of a group of French dressage riders and enthusiasts, German trainer Norbert van Laak flew to France for a three-day clinic at Parc de Chapuis Stables in Pamfou, France, on 30 March - 1 April 2012.
Due to the beautiful weather all riders were able to train in the outdoor school and mostly small tour horses as well as a few Grand Prix mounts were trailered to Pamfou for the event. Participants included Marie-Emilie Bretenoux, Pierre Volla, Bertille Pelardy, Jean-François Lagarde, Charlotte Catry, Florian Aubin, Claire Balezeaux, Alizée Roussel, Aurélie Lenglet, Sophie Tanino Quattrina, Virginie Mathys and Camille Judet-Cheret.
As Van Laak was equipped with a microphone, spectators came to listen in on the clinic and learn without being in the saddle. Each training session lasted more or less round 45 minutes and the horses were previously warmed up.
On the first day, Norbert generally wanted to see the horses doing all the movements they knew in order to have a clear view of each combination's current schooling level. More than concentrating on the movements, Norbert then focused much more on the quality of basic training. He insisted on the activity from behind, cadence, correctness of the rider's aids. Most of the riders were leaning too much backwards in the saddle, with knees too open and hands pulling too much. Norbert asked most of the riders to go forwards with their shoulders and keep their hands down and legs down in a correct position.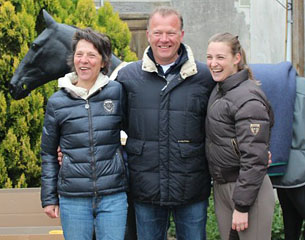 Van Laak made all riders repeat many transitions inside and between paces and he trained much with leg yielding. He further worked on improving the basic quality of flying changes in preparation of the tempi's, as well as trained large pirouettes. With the piaffe  he asked the riders to move more forwards and have the horse sit more on the hind legs.
Norbert insisted that all riders should be really nice to the horses, be focused on their training. He wants riders and trainers to pay a lot of attention to the horse's well-being: not overtrain and be vigilant that the horse works correctly through the back.
Some national French judges were also present to visualize what exactly they are looking for when training and presenting a dressage horse up to the highest level.
"Because we would like this work to really help riders, trainers and spectators improve the quality of dressage training in France, we will
organize clinics with Norbert regularly in our stables one hour from Paris," Camille Judet-Cheret told Eurodressage. "We believe all riders can benefit from concentrating more on the basic training, quality of collection, of movements and attitude than simple repeating all movements up to Grand Prix."
Photos courtesy Camille Judet-Cheret
Related Links
Hans-Heinrich Meyer zu Strohen Returns to Coach French Dressage Trainers
French Grand Prix Riders Prepare with Hans Heinrich Meyer zu Strohen for 2012 Show Season