Against the Odds - Exotics in Dressage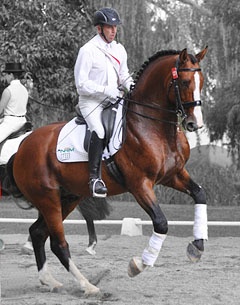 It seems clever to cross a rather elegant type of coldblood like the Clydesdale, often called the "little brother of the Shire", with a thoroughbred to get a strong and powerful horse. However it needs experience and knowledge to cross these two very contrary breeds and not end with a ton on thin stilts.
Countries with both knowledge and experience on crossing coldbloods with thoroughbreds, are countries like Great Britain, Australia and New Zealand. 
Great Britain is the home of the Clydesdale, which originates from Scotland and looks very similar to the English Shire Horse. Most of the Clydesdale horses are smaller than the Shire and are mainly bays with four white stockings and a big white blaze. They own a well formed strong topline and powerful croups and hindquarters.
These horses became very popular in all Commonwealth countries at the end of the 19th century and served as working horse in front of the carriage or plough. In particular Australia's and New Zealand's agriculture profited from the Clydesdale horses' power and will to work. Whereas crosses between Clydesdale coldbloods and thoroughbred horses proved to produce successful jumping horses like the Australian bred Olympic jumper Mulga Bill, a Clyde crossbred at the highest levels of dressage is something of a novelty.
And not surprisingly the licensed New Zealand bred Clyde crossbred Airthrey Highlander started his career as a jumping horse and switched  disciplines successfully after an injury. "Bowie", as he is commonly known as, has ever increasing fan-club. He was bred by Linda Moughan on her Airthrey Lodge Stud on the north island of New Zealand. Her small stud has specialised on breeding Clydesdale crossbreds and Bowie is so far the most brilliant horse of her stock.
He was sired by the well known and now deceased Clydesdale stallion Glendevon Commander. This Clyde had bred several highly successful jumping horses when crossed with thoroughbred or high in blood mares. For example the showjumper Madison took part in the 2004 Athens Olympics for New Zealand and was out of a thoroughbred mare. Bowie's dam is an evented New Zealand thoroughbred mare called About Time (by Coober Prince).
Versatility and Power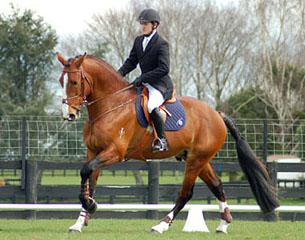 So Bowie was no by-product, but intended to become a sport horse when he was still a brain product. Like so many Clyde crosses he turned out to be a versatile horse, winning Hunter classes as a 4-year-old and preliminary dressage classes a year later with over 80%. However Bowie then started to focus on a career as a showjumper and soon proved his extraordinary talent by placing in smaller Grand Prix competitions when he was 7. An injury stopped him for a while and his owner decided to change disciplines for the benefit of the horse's future. She put him in training with renowned dressage trainer Bill Noble who lives not far away from Moughan's stud.
Not only is Bill an accomplished international dressage rider who was responsible for Mark Todd's double Olympic champion Charisma's dressage training in the 1980s, but he is also known for his ability to train horses of all breeds and sizes to the highest levels. Among the horses he had worked to Grand Prix over the past 30 years are the typical thoroughbred like Wily Imp, which competed in the 1988 Olympics as well as warmbloods and even a Cleveland Bay.
With his respect for and knowledge to train all type of horses Bill was well prepared when he was asked to take over Bowie in 2009.
"I was asked by a neighbour, Linda Moughan of Airthrey Stud, if I would like to ride her Clydesdale grand prix show jumping stallion. How could I refuse? He hadn't been ridden for a year as a result of an injury, but he looked after me well, had a great canter, and a superb work ethic. Linda then asked if I would train him for dressage; I had no idea how far we would go, but thought he would be a great person to work with."
Bill soon noticed that Bowie had a lot of talent for dressage and most importantly the will to make it right and try. Neither Bill nor Bowie's owner pushed the horse in any way. Both were prepared to give the big framed 16.2 hh stallion the time he would need to become a dressage horse. Of course every owner and rider in dressage hopes that the horse makes it to the highest levels, but this is often unpredictable. When Bill started working with an already well schooled Airthrey Highlander he was soon sure to have a future Grand Prix horse in the pipeline.
"I knew very early that the canter work would not be a problem," Noble told Eurodressage. "I was surprised how quickly he accepted piaffe and passage. So fairly early I was certain that he would become a grand prix horse, but I had no idea he would get there so quickly. We did not race, nor push him out of his comfort zone, but just kept on quietly developing the work; because of his nature and his jumping background, he never objected to any of the questions, just kept on trying to understand what I was asking. So it was a big shock to find that he was competing happily in baby grand prix 11 months after starting training."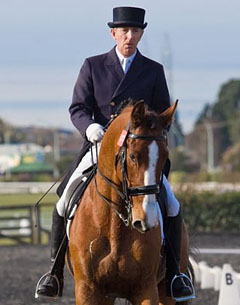 With his powerful hindquarters the massive bay with the big white blaze has lots of energy coming from behind and also shows lots of talent for piaffe and passage work. "Clydie crosses often show aptitude for the most collected movements, but less so for extended work," Noble said. As easy and delightful the stallion's dressage training turned out to be, Bill still had to work a lot on Bowie's athleticism. "Clyde crosses have active hind legs, although they find it difficult to use their bodies athletically. They tend to be energetic but have difficulty showing great cadence. So keeping Bowie's body elastic is an ongoing task."
Unlike other riders riding dressage "exotics" Bill had no problem or useless comments to bear from other competitors when he first started Bowie in a Prix St. Georges competition in 2010. In New Zeaand, on the proverbially other end of the world, the equestrian community seems to be more open minded than in the leading dressage countries. As long as a horse is doing well it rather gets the respect it deserves than over here. This, apart from the costs importing a warmblood, might be the reason that New Zealanders try dressage with horses Europeans or Americans wouldn't even dare taking a look at. Instead New Zealanders are just proud to see a horse bred in their comparatively small country at the highest level of sport.
"We are not so "warmblood driven" as I guess many other countries are, so most riders were happy to see an NZ-bred horse competing advanced, regardless of breed," Bill explained.
A Competition Career Without Facing Prejudice
Bill and Bowie's career was launched in May 2010 when they placed second in the horse's first Prix St. Georges. Within only 4 months the powerful horse managed to win all PSG and Inter I classes entered and had his Grand Prix debut in the autumn of 2010, placing 4th in a freestyle. From then on Airthrey Highlander competed in the most meaningful Grand Prix classes of new Zealand throughout the 2011 season never placing worse than 6th, except for the Grand Prix of the National Championships where he had an off-day and was only 11th.
Like many of the atypically dressage-bred horses, Bowie soon turned out to be one of the crowds' favourite, but it seems it is not only his breed alone, but also the way he does dressage enthuses the people.
"I was rather shocked at last year's Horse of the Year show, in the prize giving, when Bowie came 4th, and received a bigger cheer than the winners – I think that he is hugely popular here, which is fantastic. His popularity comes from, I guess, his breeding, the fact that he was a jumper, and the fact that he competes flamboyantly and cheerfully. He has fun in the arena, he is a joy to ride; we don't always get it right, but we have fun."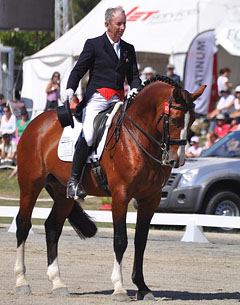 How do the judges handle a horse which is a super type, but cannot deny he was sired by Clydesdale stallion? Bill not only showed his Grand Prix horse to the New Zealand based judges, who might be used to all kind of horses, but also some international judges, who came over for the Horse of the Year Show, the biggest and most important equestrian event in New Zealand, judged Airthrey Highlander.
Bill doesn't spend thinking on how a horse like his will be regarded and doesn't asks himself if Bowie might have disadvantages coming from his unusual breed and appearance: "I don't know and don't really care. The judges' reaction is their concern, not mine. I am enjoying the journey with Bowie, and hope that both he and Linda are, too. I have enough faith in the judges to think that if we produce correct work we will be rewarded regardless of any personal biases they may have. But I think that it is becoming more and more difficult for judges to assess quality of training, rather than quality of horse, and so an unusual horse, regardless of its training, may be at a disadvantage. But this is the judges issue, not ours; it would be tragic for the sport if we only rode horses the judges told us were "suitable". Dressage should be about creating a harmonious relationship and maximising athletic movement with any horse."
Bowie, who is living on the north island at his owner's property a stone throw away from his rider's, is fulfilling his stud duties outside the show season, so he is allowed to fully concentrate on the sport. "He lives out in the paddock all year, with sex and food and competing as our number one interest."
What the Olympic year 2012, the first in which New Zealand will compete with a team of three riders, has in store nobody knows. Considering that the stallion is still a work in progress it doesn't seem unrealistic to see him on a New Zealand squad in the near future.
Bill doesn't rush or focus single-mindedly on seeing the horse compete abroad or at an international championships. He is happy Airthrey Highlander is doing so well and is looking forward seeing him progress, but his superordinate aim is a different one from winning ribbons.
"The Horse of the Year show result, placing 4th, has been our best result to date, but his real success has been in encouraging many riders to train whatever they have available, and stem the thinking that unless they have an expensive warmblood, they shouldn't bother with competitive dressage."
Text by Silke Rottermann for Eurodressage
Photos courtesy Airthrey Lodge
Related Links
Bill Noble, "Every Man's Story is Important, Unique"
Against All Odds: Seldom Seen, a Connemara Crossbred Going All the Way
Dressage New Zealand Announces Performance and Talent ID Squads 2011