2012 World Championships for Young Dressage Horses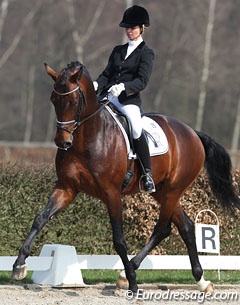 The 5-year old Vitalis and 6-year old Bordeaux were the only two horses to receive a wild card for Dutch selection for the 2012 World Championships for Young Dressage Horses (WCYH) in Verden, Germany, on 1 - 5 August 2012. The Dutch Equestrian Federation and KWPN Society organized a Wild Card Day on Tuesday 27 March 2012 in order to invite exceptional young dressage horses for the official Dutch selection process for Verden.
By organizing a Wild Card Day the Dutch selectors (Wim Ernes, Johan Hamminga and Gert van den Hoorn) aim to pick out extraordinary young stars which have not competed in the 2011 Pavo Cup Finals nor 2011 Subli Championship last year. Both show circuits count as official selection events for WCYH Dutch Team consideration. Dutch horses that also competed in the 5-year old division at the 2011 World Championships are invited to present themselves for Dutch selection for the 6-year old division at the first observation trial on 10 April 2012.
"The goal of the Wild Card Day is to give Dutch horses with medal winning potential a chance to be selected even though they weren't in the Pavo or Subli Cup," selector Wim Ernes told Eurodressage. "We don't want to encourage riders not to try for the Pavo Cup or Subli Cup anymore and just go for a Wild Card. That's why today we only pick the best ones. The other horses have to prove themselves in the Pavo Cup and earn their chance for selection via that process."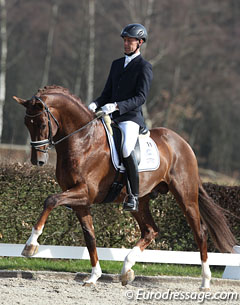 Twelve 5-year olds and six 6-year olds came to the KNHS headquarters in Ermelo on Tuesday morning. In pairs they entered the arena in front of the judges and had to show the collection and extension in all three gaits. The 6-year olds were addionally asked to show trot half passes and two flying changes on the diagonal on the center line.
In the 5-year old division Willeke Bos' and Eugene Reesink's Dutch bred Vitalis (by Vivaldi x D-Day) stood out with his three quality basic gaits, amazing rideability and nice steady contact in the mouth. Vitalis still tends to go wide behind in the trot extensions but has gained power from behind over the winter months. The canter is nicely uphill and the walk ground covering. In trot the sympathetic chestnut stallion, who was the reserve Westfalian licensing champion in 2010, excels with his amazing front leg use and shoulder freedom. Vitalis became the only 5-year old to get a wild card.
"Hans Peter will ride the Dutch selection trials for Verden with Vitalis, but of course if he gets selected for London, we'll have to look for a new rider," Vitalis co-owner Eugene Reesink told Eurodressage. Unfortunately the organizers of the 2012 World Young Horse Championships did not change the date of their show, which now co-incides with the Olympic Games in London. "Willeke and I are thinking of the same person, but of course we would much, much more prefer Hans Peter to ride him."
In the 6-year old division the experienced German young horse rider Eva Möller travelled from Hagen, Germany with  Joop van Uytert's and Paul Schockemohle's 2009 KWPN Licensing Champion Bordeaux (by United x Gribaldi) to earn a Dutch berth in Verden. After his licensing in The Netherlands and Denmark in 2009, the amiable bay stallion disappeared from the scene due to an njury. Now as a 6-year old Bordeaux is totally back and in great shape. 
Möller rode the stallion with much ease and naturalness. The stallion has three very solid basic gaits. He works well from behind and shows off much self-carriage, especially in trot. Möller has the horse light in the bridle. The first flying change was well confirmed, the second slightly croup high. Only in walk, the stallion gets extremely wide behind. Möller had to test her language skills as an announcer asked her to do the movements in Dutch, but the German rider did a super job, even though she performed an unscripted but perfectly executed turn on the haunches in walk.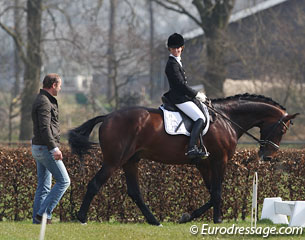 "He is such a fun horse," a very pleased Möller told Eurodressage after her ride. "It was his first time outdoors," she added about her well behaved and relaxed mount.
Returning back to Germany with a wild card in her pocket, Möller will experience a challenging time the next few months as the Dutch selection process for Verden includes six mandatory training sessions/observation trials, where all the selected combinations have to ride and each time a few combinations will be rejected by the selectors when they don't live up to the quality level expected for Verden.
"We'll have to ride the training sessions but six times is a whole lot," Bordeaux' owner Joop van Uytert told Eurodressage. "Two of them are also co-inciding with a competition where Eva has to ride as well. So we'll have to discuss how we're going to do it."
The first official Dutch WCYH observation trials is on 10 April 2012 in Ermelo
Text and Photos © Astrid Appels - No Reproduction Allowed
Related Links
Eurodressage Coverage of the 2012 World Young Horse Championships
Combinations Announced for Dutch Wild Card Day for 2012 WCYH Verden Qualification