2011-2012 KNHS FEI Pony Cup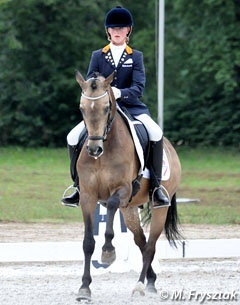 Sanne Vos and her buckskin German Riding Pony Champ of Class (by Champion de Luxe) have raked in their fourth, consecutive victory by winning the 2012 KNHS FEI Pony Cup qualifier in Assen, The Netherlands, on Saturday 24 March 2012. The class was packed to full capacity with 40 combinations riding but only the top two pairs were able to score above the magical market of 70%.
"Wow I broke my personal record in the team championship test," an amazed Sanne Vos said after her victory. "He really went top."
Judge at C Willemien Blanken-van der Scheer said that, "it was very nice to watch Sanne ride her test. She rides very professionally and rides every movement very meticulously. There are no weaker points in her test. The pony has a great canter and I was able to give nines for the extended canter."
The Belgian based Dutch rider Jelle Peeters and Den Ostriks Dailan (by Leuns Veld Lord) finished second with a strong 71.71%. Peeters seems to be the perpetual bridesmaid in the ranking. "Jelle rode her pony very forward," said judge Blanken-van der Scheer. "The pony has a good walk and canter and Jelle also rode the movements to the T."
Febe van Zwambagt on the bay licensed stallion Dr. Watson (by Don't Worry) on 69.36%. "I'm super proud of Watson," van Zwambagt commented. "I'm so happy to be third. This is my second team score."
Results - 2012 KNHS FEI Pony Cup Assen
Judges: Blanken-van der Scheer, Rave, Wolters-van den Berg
1. Sanne Vos - Champ of Class - 75.30
2. Jelle Peeters - Den Ostriks Dailan - 71.71
3. Febe van Zwambagt - Dr. Watson - 69.36
4. Lotte Meulendijks - Boticelli - 68.63
5. Jelle Peeters - Nandor - 68.50
6. Marjan Hooge - Diamonds are Forever - 67.56
7. MAndy van den Hoek - Sir Donnerwind - 67.26
8. Rosalie Bos - Paso Double - 67.26
9. Rosalie Bos - Liberty - 67.09
10. Kim de Jonge - Sandokan - 66.11
11. Samantha van der Lof - Elin's Nonsisdador - 65.90
12. Dominique Marijnissen - High Speed - 65.64
13. Bo Oudgof - Bodethal's Kosima - 65.60
14. Robin Bernoski - Keulse Hoeve Zico - 65.34
15. Demy Kurstjens - Armani - 64.32
16. Fleur Hofstra - Duesmann - 63.93
17. Zoe de Booij - Voltage - 63.80
18. Rachell Fokker - Majos Cannon - 63.72
19. Marjan Hooge - Mr Matcho - 63.72
20. Susanna van Raamsdonk - Haasendonk's Sultan - 63.55
21. Laurie Vervoort - Leliebelle - 63.29
22. Karlijn Geelkerken - Molenhorn's Rico - 62.74
23. Bo Oudhof - Day of La Divinia - 62.69
24. Veronique van der Panne - Rhyfedd Spike - 62.65
25. Celine Jeurissen - Bolheims Karel - 62.48
26. Marit Leegte - Molenhorn's Casanova - 62.18
27. Reece Fokker - Hogewalds Naziri - 61.88
28. Luca de Rijck - Omira - 61.50
29. Melody Vroom - Balthasar - 61.41
30. Carlijn Vaessen - Canto - 60.81
31. Cato Hemels - Rubels Junior - 60.81
32. Isis Haccou - Cinderella du Bois - 60.47
33. Britt van der Panne - Ravel - 60.34
34. Lisa Paping - Coelenhage's Roxette - 59.70
35. Britt van der Panne - Vitell W - 59.70
36. Floor van Manen - Divano du Bois - 59.62
37. Kim de Jonge - Hagelkruis Valentijn - 58.16
38. Faye Smeets - White Dancer - 58.12
39. Lisa van der Hulst - Kulberg's Lancelot - 56.84
40. Carlijn Vaessen - Ciesto TG - 55.38
Photo © Malgorzata Frysztak
Related Links
Sanne Vos Takes Third Consecutive Victory in 2011-2012 KNHS FEI Pony Cup Qualifier
Sanne Vos Continues String of Success at Second Leg 2011-2012 KNHS FEI Pony Cup
Sanne Vos Leads the Pack at First Leg of 2011-2012 KNHS FEI Pony Cup