2012 World Championships for Young Dressage Horses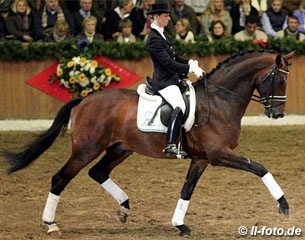 Twenty-seven horses have been entered for the Wild Card Day on 27 March 2012 during which selectors will pick two horses per age category which can continue the Dutch selection process for the 2012 World Championships for Young Dressage Horses in Verden, Germany, begin August 2012.
The Dutch Equestrian Federation and KWPN society work together in choosing the Dutch team. The combinations, which get selected for the young horse training session and selection trials, are picked at an assessment day. The 30 best horses of the 2011 Pavo Cup, as well as the 5 and 6-year old Subli Cup Championship horses, are amongst those invited for that day.
Each year a special wild card day is hosted as well for riders who believe they have a special horses, which did not compete in last year's Pavo Cup or Subli Cup. This wild card day takes place in Ermelo, The Netherlands on Tuesday 27 March 2012 and starts at 10.30h.
The selectors are Wim Ernes, Johan Hamminga and Gert van den Hoorn.
The registered horses for the wild card day are:
5-year olds
Remi Kulik - Caruso (by Painted Black)
Moniek Vos - Coeroeni (by Dutch Dormello x Flemmingh)
Ferenc Damen - Cayenne (by Johnson x Rousseau)
Mirko Bus - Candreo O (by Sandreo x Zeoliet)
Petri Bax - CHT Chico (by Johnson x Chronos)
Leontien Raijmakers Dings - Chapeau D (by Dreamcatcher x Havidoff)
Sofie van Vugt - Cidamorka (by Jazz x Zuidhorn)
Dite van der Schand - Chicago (by Daddy Cool)
Vivian de la Roy - Ciara (by Sandreo x Lasing)
Marcel Heykamp - Captain Cooks (by Johnson x Dublin)
Lennart Bos - Crespo (by Vivaldi x San Remo)
Hans Peter Minderhoud - Vitalis (by Vivaldi x D-Day)
Jessica Gunning - Capetown's Cizran (by Jimtown x Belfalas)
Clementine Voest - Corleone Vh (by Winningmood x Oscar)
Shani Pitcho - Chireine (by Painted Black)
Karen Galema - Cadassa (by Johnson x Negro)
Kebie van der Heijden - Chanell (by Dutch Dormello x Krack C)
6-year olds
Wendy den Hartog - Britta Sollenburg (by Florencio x Inspekteur)
Sandra de Kort - Blud (by Scandic x Cocktail)
Marije Heuvel - Belana (by Sidney x Houston)
Susanne Neall - Byoux (by Krack C x Jazz)
Jeanine Nieuwenhuis - Baldacci (by Havidoff)
Eva Moller - Bordeaux (by United x Gribaldi)
Nynke Frankes - Beckham (by Risky Business x Partout)
Emma van den Hooven - Beaumonde (by United x Fruhling)
Iris Groeneveld - Boogie Woogie (by Tango x Metall)
Simone Kromkamp - Bon Jovi (by UB40 x Krack C)
The first official selection day is on Tuesday 10 April 2012.
Photo © LL-foto.de
Related Links
Dutch Prepare for 2012 World Young Horse Championship Selection Trials
Eurodressage Coverage of the 2012 World Young Horse Championships