2012 New Zealand Horse of the Year Show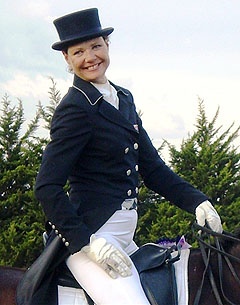 Louisa Hill has won the Grand Prix Title at the 2012 New Zealand Horse of the Year Show held at Hawkes Bay in Hastings, New Zealand on 16 - 18 March 2012.  Her triple win at Horse of the Year cements her place as New Zealand's best Olympic hopeful.
Hill and her super-talented Antonello (AJ) are the sole New Zealand dressage combination to have qualified for a spot at the London Olympic Games. Vanessa Way from Taranaki and Jody Hartstone from Raglan are currently based in Europe attempting to meet the New Zealand qualifying criteria.
Hot on the heels of Hill's win at the recent New Zealand Dressage Championships, expectations were high – and she delivered. Few NZ dressage riders break the elusive 66% barrier, but Hill racked up scores of 68.68%, 68.62% and a massive 71.05% in today's musical freestyle test.
Best of all is the news that there's plenty more to come.
"AJ was definitely a bit tired today which is quite unlike him, but he had a sleepless night with kids running around letting ponies out which freaked him out. He ended up with a swollen eye and bashed shoulder which wasn't ideal."
Also stepping up a gear was Nicky Pope (Whitford) and Fabarchie (Archie), part of the team of four who travelled to Australia, earning New Zealand the right to an Olympic spot.
This time last year Pope decided she would never compete at HOY again, after her second consecutive year of having to retire from the arena with Archie completely overwhelmed by the atmosphere.
"However our trip to Australia really helped him adjust to that sort of thing so I thought we'd have another try. It's a fantastic show and I'm so glad we came. He was an absolute star and although we had a few moments, he held it together and coped better than I hoped."
Pope achieved her best scores, of 64.40% and 67.28% - finally cracking the 63% barrier she has been aiming for all season.
"I'm over the moon. It's the first time I have made it through HOY and to top it off, Archie did his best tests ever so we've both gained a lot of confidence."
Another unexpected rise through the ranks was the youngest rider in the class, Hannah Appleton (Nelson) who just a couple of years ago was National Young Rider Champion. Now she has stepped up to Grand Prix on her self-trained mare Zactac Graceful, showing significant improvement since her debut last season. The pair impressed with moments of real expression and their consistency saw them finish third overall ahead of more expected combinations.

2012 NZ Horse of the Year:
1. Louisa Hill (Clevedon), Bates Antonello
2. Nicky Pope (Whitford), Fabarchie
3. Hannah Appleton (Nelson), Zactac Graceful
4. Bill Noble (Hamilton), Airthrey Highlander
5. Kieryn Walton (Taumaranui), Saraceni
6. Christine Weal (Te Awamutu), Spielzeit
Related Links
Hill and Welten In Front at 2012 New Zealand Horse of the Year Show
Louisa Hill Draws the Crowds at 2012 New Zealand Horse of the Year Show